Share this item with your network: BACKGROUND IMAGE: iSTOCK/GETTY IMAGES
The new infonomics reality: Determining the value of data

iSTOCK/GETTY IMAGES
News
Stay informed about the latest enterprise technology news and product updates.
How Dell CIO turned Dell IT from order takers to business partners
Dell CIO Andi Karaboutis spent Dell's first year as a newly private company turning her 5,000-strong IT group into a business juggernaut. Here's how.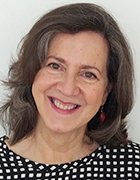 By
When founder Michael Dell announced plans last year to take his company private, IT pundits speculated that the Dell CIO would be under tremendous pressure to cut costs. That's just how it goes in deals like this. So did Andi Karaboutis' budget get cut?
"That's probably one of my favorite questions, because that is what everybody thinks," said Karaboutis, vice president and Global CIO at Dell since 2011. "There hasn't been a year as CIO, or even before that, where I haven't been asked to take efficiencies and drive productivity."
She estimates that her IT budgets of the past two years were within about 5% each other. "I am really proud of the fact that the leadership team has taken the position that the privatization is about accelerating our strategy."
For Karaboutis, accelerating Dell's strategy has entailed turning a 5000-strong IT group prone to executing orders into avid students of the business. "You've got to be the business. You've got to have a visceral connection," she said.
The change in attitude has resulted in some exhilarating new roles for IT. According to Karaboutis, Dell IT is making a name for itself as the go-to consultant and enterprise test bed for new Dell products, a champion of self-service analytics, a partner to the marketing department and a welcomer of BYOD -- provided the "D" is also a Dell. "We have a skip in our step," she said.
Karaboutis sat down with SearchCIO during a recent visit to Cambridge, Mass., where she was slated to speak at the National Symposium for the Advancement of Women in STEM conference, to give us the specifics. (This interview has been edited and condensed.)
What was your biggest challenge as CIO over the past year?
Adriana "Andi" Karaboutis: Changing the mindset of the company and the IT organization. This the era of the customer -- it's all about the customer, the end user, about the experience -- and we've had to take a 360-degree view of Dell employees. That means learning how they do work, where they do work, what experiences they are looking for, what information they're looking for. We've done a tremendous amount of 'day in the life,' 'week in the life' of our Dell employees -- and that is a mind-shift change. This has been the biggest change.
A politically incorrect observation: When you're dealing with IT folks who might be slightly set in their ways, how do you get them to do something so out of character as observe and interact with their business colleagues?
Karaboutis: That's not politically incorrect. It has got to start with the CIO. People say align to the business, enable the business -- those are the typical terms. But you've got to be the business. You've got to have a visceral connection. And you have to say, 'How do I like to do work? Do I like what's going on with my phone, my tablet, my interfaces? How do I work at home?'
My team now understands they own understanding that business strategy; it's not bringing in their business partner to tell us about it.

Andi KaraboutisVice President and Global CIO, Dell
At home, when I want to know about something, I'll go to a search engine and type it in and have the information show up. So how come at work, [IT sets] up 15 menus that people have to comb through -- 'HR/payments/my paycheck' … as opposed to going into a search engine that lets you say, 'Where do I find my paycheck?' So we now have a mindset of, 'How do I do work, and how do our engineers do work?'
How did you get Dell IT to embrace this mindset?
Karaboutis: You measure them on it. We have our IT dashboard -- it is literally our cockpit. We measure the capabilities that we are building. We're measuring how much BYOD adoption we have; we are measuring if people are truly happy with the devices and the IT experiences they have. We measure how many of the requests that we do get around user experience components are we actually fulfilling.
I'll give you a great example of how we did this. We used to have multiple configurations of endpoint devices for our employees, but we didn't have people expert in supporting them; it caused a lot of complexity and cost. So we went out and said, how many different types of use cases do we have? You have your frequent traveler executives, you have your heavy-duty engineers, your admins and everything in between.
We started offering tools to those people that help them do their jobs, as opposed to saying, 'Here are 10 standard tools; configure them the way you want, but you can't use anything out of these 10 standards.' So we started taking the view of the customer and offering them options for what they need.
And, I should add, one of the big measurements of IT is through social. We have a section within our social site, where people can log incidents and tell us issues that are going on. We monitor that to do a temperature check on how IT is doing.
Could you give an example of a user experience where employees complained -- and what IT did to address it?
Karaboutis: We've had that at various levels. Our networks in India were a little bit under the weather, I'll call it. We were getting that data. We ran throughput tests as well, because we were getting complaints through the social site. Typical CIOs, you know, would say, 'They're whining; it's not that bad.' But there was enough chatter on the social site on how slow things were running that we invested millions, actually, and got all of that back up to speed. We had the same issue in Latin America.
Millions of dollars -- does IT make that call?
Karaboutis: We do make the call on it; it didn't happen in that quarter, but we were able to adjust. Which is the other thing: Although I have a budget annually, we adjust quarterly to what we're doing. You've got to stay to close to heartbeat of the company.
So the bigger transformative initiatives, we stay completely on the course. But I have an infrastructure and run the business budget, where we want to be responsive to our users. And that's where we have our incubation team; I have a team called User Experience. Now, everybody in the organization is responsible for user experience, but this group actually goes out there and says, 'Hey, let's do an incubation on something and see if it will work to roll out to a broader base.
You hear CIOs talk about setting aside a budget for innovation, but to have flexible budget for running the business spending is really smart.
Karaboutis: You have to react. Business changes. I have another cute little saying: 'We have to move at the speed of the customer, not at the speed of IT.' Nobody cares that we have to get approval and go through procurement. Yes, we have to do that, but let's figure out how to be nimble and do things quickly.
Dell CIO on owning business strategy
You mentioned last time we talked that you have a monthly meeting called Strategy Day, where you check on where IT strategy is in relation to business strategy. Can you give me an example of some of the things that come up on Strategy Days?
Karaboutis: A lot of it is to make sure IT leaders understand the strategy of their business partners and the company. Think of it, I could bring in various business people into my Strategy Day meetings and say, 'Talk to us about your strategy,' and we're all sitting there and nodding. But when you tell the IT leader responsible for that business that they have to come in and talk about it, it's a whole different dynamic. There's that culture change.
My team now understands they own understanding that business strategy; it's not bringing in their business partner to tell us about it. That's where you get to that mindset of: 'I'm not partnering with the business; I'm not just supporting the business; I am part of this business, by golly, and I have to understand it as well as those people sitting in P&L [profit and loss departments].'
Hard management question: Have you had to get rid of some people and bring in new people in order to instill this new mindset?
Karaboutis: No question. I've done a high percentage of turnover, and it's not that people aren't good. There are people who can culturally make the shift, and there are people who don't want to and say they really just want to go back to a traditional 'box it up' thing. There are people who are truly embracing innovation, not just talking about it.
I brought in a new vice president of infrastructure from the retail business; I brought in someone in from consumer-packaged goods; I have lead enterprise architects across the globe, from Ireland to Malaysia, depending on their expertise. I have created a business office within IT so that people recognize IT needs to operate as a business as well. So there have been significant changes -- and it continues. You don't just put it in place and stop.
We have a very strong people strategy. I have very strong beliefs in depth and breadth. People who have been in the same area for 15 years are probably expert in that area, but they are probably expert in the way they have always done things too. So we've developed rotation programs -- as a lot of my colleagues have across industries. And sometimes it's kind of fun: 'So, you don't like the way she does it and he doesn't like the way you do it; then swap jobs.' That is something I learned from my old CIO at GM.
As my cohorts and I age, we have a tendency to get stuck in our ways. Are you relying on young people?
Karaboutis: As a 51-year-old, I will answer this question. In my world, I think it is very important to have diversity of age too. You want people who have done things, who have seen the evolution of the tech industry and can share it and share why certain things have happened. You also want people who are completely untainted and unencumbered by legacy and history.
I think the more important thing is that in all these diverse groups you need people who are open-minded and can listen, because you can't have the older people saying, 'Oh those kids.' … They have to ask the questions, 'Why are you on social sites? What are you getting out of it? Why do you prefer to work this way?' And you need younger talent who should understand the legacy of our company and our products. So, diversity, diversity diversity -- people need to carry that to more levels than just gender and nationality.
In part two of this SearchCIO Innovator interview, Dell CIO Andi Karaboutis talks SMAC (social, mobile, analytics, cloud).
Let us know what you think about the story; email Linda Tucci, executive editor, or ask her on Twitter at @ltucci.
Dig Deeper on Leadership and strategic planning