 BACKGROUND IMAGE: iSTOCK/GETTY IMAGES
News
Stay informed about the latest enterprise technology news and product updates.
The IT master plan for 2014: IT managers look ahead
TechTarget's annual IT priorities survey finds that the IT master plan for 2014 includes heavy doses of business intelligence, mobility and Windows 8.
The slow crawl out of recession will be more like a power walk in 2014 for U.S. IT managers, putting them ahead of their European counterparts' still-hesitant climb out of recession and behind the sprinting Asian, African and Latin American markets, according to TechTarget's annual survey of IT priorities, which was sent to members and drew 5,241 worldwide respondents, including 1,368 in the U.S. and Canada.
As for what IT departments are going to invest in, 2014 is a tale of overlapping waves of change. For almost 10 years, the wave of consolidation that ultimately brought with it virtualization and cloud services has dominated IT departments. Now, that wave is interacting with growth-driven trends in business intelligence and mobility. In turn, both waves need improvements in security and network infrastructure to succeed.
Amid all of that, IT shops are going through the normal Windows upgrade cycle with both desktop and server versions. What will surprise some is the relatively high first-year level of Windows 8 adoption.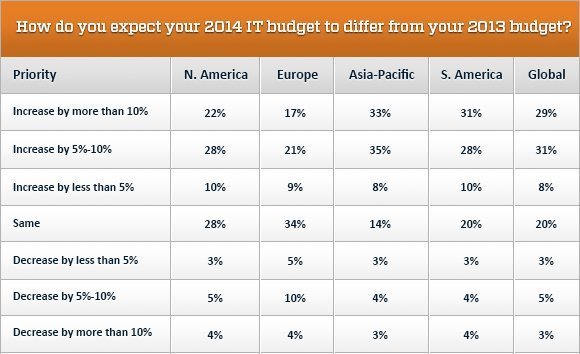 IT more upbeat than last year
The last two years saw a pretty firm pattern, with 58% of respondents reporting budget increases, but this year that rose to 60%. At the same time, the number of people cutting budgets dropped from 19% last year to 12% this year.
Overall, respondents report budget growth of 5.1%, compared with 2.8% in 2013. As has been the pattern, Asia and other parts of the world with a significant number of developing nations showed the greatest increases. But North America also showed robust growth this year of 4.6%, up from only 1.4% last year.
For the first time, TechTarget did extensive surveying in Latin America, and growth there is among the most vibrant in the world: 6.5% on average, with 65% of respondents reporting an increasing budget and 30% reporting an increase of more than 10%. Growth is especially strong in the tech sectors, media, agribusiness and financial services.
The global laggard is Europe, where well-publicized economic woes are keeping IT budget growth at 3.3%, the lowest of any global region. It would be slightly lower without the U.K.'s stronger 3.8% growth.
IT managers helping business grow
When North American IT pros were asked what their departments were focused on, the largest single response was "expanding IT to support business growth," at 32%. That response was actually much higher in many industries, hitting 40% in major sectors such as manufacturing, financial services and high tech. Without question, the most depressed sector for IT in 2014 looks to be the public sector, where only 14% are focused on growth. But entertainment-related industries -- media, travel -- and the natural resources sector were only at 22% and 27%, respectively.
Still, only 12% of North American respondents reported overall budget declines. Compare that with our 2009 survey, when 26% expected a decrease, and only 44% expected an increase. The recovery, in IT at least, seems to be well on the way.
For more in IT project priorities in 2014, see part two.
Dig Deeper on IT spending and budgeting