 BACKGROUND IMAGE: iSTOCK/GETTY IMAGES
News
Stay informed about the latest enterprise technology news and product updates.
Learning native tongue of your business is key to reviving role of IT
If CIOs are to remain relevant and strategic, they need to teach their IT teams the lingua franca of business.
In part one of this SearchCIO two-part series, IT leaders from some of the world's most technology-savvy companies dissected the role of IT in an era of consumerization at the recent MIT Sloan CIO Symposium. Their first bit of advice? Stop apologizing for IT's technology know-how. Here, the MIT panelists talk about the importance of language skills – namely, being able to talk the talk of business.
"The biggest challenge I'm finding in IT is not finding the talent -- sometimes it can be difficult, but you can find them. … The biggest challenge is getting IT not to talk the IT language," said Georgia Papathomas, vice president and CIO at J&J Pharmaceuticals headquartered in New Brunswick, N.J.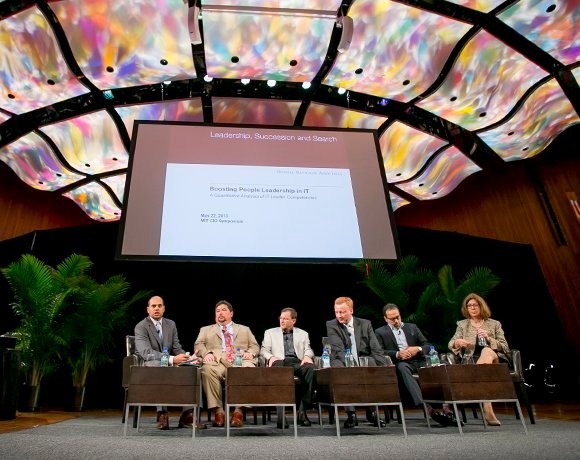 Papathomas was joined by CIOs from EMC Corp., SAP AG, Avaya Inc. and SAS Institute Inc. for a panel discussion that shined a spotlight on the business-IT relationship. Moderated by Shawn Banerji, managing director at New York-based consultancy Russell Reynolds Associates, the panel discussed ways to transform the role of IT.
Talk the talk
The role of IT has to shift from demand manager to business solutions consultant, Papathomas said. Other panelists replaced "consultant" with "broker," "facilitator" and "enabler," but the point was the same: CIOs and their IT teams must become trusted technology advisers to the business.
Before that can happen, CIOs had better give their IT teams some remedial language lessons.
[CIOs] have to have the courage to participate in the process; they have to have the courage to step up and contribute to the process.

Michael Loovice president of global IT, Avaya Inc.
The acronym-rich land of SLAs and ERP and PPM can be confusing and a downright turnoff for business users, panelists said, but finding a common language can overcome that friction. Banerji shared an example of a CIO in the consumer package goods industry who approached his new job in the usual manner -- typical protocol, typical verbiage -- but gained minimal traction with the business. Then someone pointed out that the company's lingua franca was marketing-speak. The CIO decided his department had nothing to lose by using the lingo. Software releases became "product launches," and terms such as "design," "packaging" and "pilots" were used to help describe the role of IT.
"It was very powerful because suddenly it went from IT being this enigmatic, somewhat mystical function where [business users] snap their fingers, click their heels, and it should appear in production the next day," Banerji said. Once business users saw the connection between technology delivery and their own work processes, the relationship between IT and the business changed. "Suddenly there was this great sense of collaboration that hadn't existed, through this speaking of a common language."
Controlled chaos is part of the role of IT
The example underscores another important requirement for success: the willingness to take risks, according to panelists. The CIO who adopted the language of the company changed a variable to see whether the outcome would improve. This experimental, risky approach is also key to driving IT innovation, a "skill that was fostered out of IT organizations," as panelist Michael Loo put it.
"[CIOs] have to have the courage to participate in the process; they have to have the courage to step up and contribute to the process," said Loo, vice president of global IT at Santa Clara, Calif.-based Avaya Inc.
After all, there's no shortage of either chief executives willing to take IT matters into their own hands or ways to do it. "What's stopping the [chief marketing officer] from building a slick app that can deliver great stuff to their internal or external customers? How is IT playing a role to enable as opposed to blocking that?" asked Sanjay Mirchandani, executive vice president and former CIO at Hopkinton, Mass.-based EMC Corp. "The roles are changing. To me, that's the important conversation to have."
CIO panel participants
Shawn Banerji, managing director, Russell Reynolds Associates
Michael Loo, vice president of global IT, Avaya Inc.
Keith Collins, CIO, CTO, senior vice president, SAS Institute Inc.
Georgia Papathomas, CIO, vice president, J&J Pharmaceuticals
Michael Golz, CIO of SAP's Americas division, senior vice president, SAP AG
Sanjay Mirchandani, former CIO, executive vice president, EMC Corp.
CIO risk-taking can also mean having the courage to acknowledge IT doesn't have all the answers and doesn't hold a monopoly on innovative thinking, agreed Michael Golz, senior vice president and CIO of SAP's Americas division Inc. headquartered in Newtown Square, Pa.
Realizing how easy it is to build a quick mobile application, SAP established an internal app gallery and invited anyone in the company to build their own. After the app is uploaded, the IT department takes it from there, running it through a security check and keeping tabs on the number of times it's downloaded. So far, the app has been a success and has even churned up great ideas from some surprising places.
"There's this kid in purchasing that built the greatest single-sign-on app three years ago, which has now become part of the standard product," Golz said. "Mobile document management folks came up with a secure way of distributing documents from behind the firewall to iPads, and that's now a part of a standard product."
Amid the controlled chaos of technology innovation, IT has to figure out the right balance between iron fist and anarchy. "The question on the role of IT is how do you become that broker, how do you make that happen and how do you still maintain the integrity of the system, the security?" Golz said. "How do you make that visible and not get into this rogue-anything goes situation."
Eventually, as IT departments figure out the language of its users, spend more time talking to the business and bring forward new, innovative ideas (and keep an open mind to those that materialize outside the department), the perspective of how the company perceives the department will also have to change. For J&J's Papathomas, that means moving away from talking about IT costs to talking about IT investments.
"A $25 billion company will spend $1 billion on IT in a year. So, how are we investing that money? How do we proactively provide ideas and make a business case for a return on investment?" Papathomas asked. "IT now becomes another investment. Just like we say we invest x% in R&D and x% in sales."
Let us know what you think of the story; email Nicole Laskowski, senior news writer, or follow her on Twitter at @TT_Nicole.
Dig Deeper on Leadership and strategic planning