Share this item with your network: BACKGROUND IMAGE: iSTOCK/GETTY IMAGES
PPM: Validating the Value of IT

iSTOCK/GETTY IMAGES
News
Stay informed about the latest enterprise technology news and product updates.
CIO's mastery of M&A puts her at center of Dell's turnaround strategy
Dell Global CIO Andi Karaboutis expounds on being in the thick of Dell's turnaround strategy.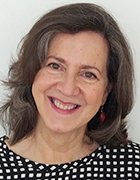 By
A bold move? A last-ditch effort? Whatever the markets make of Michael Dell's $24 billion offer to take his namesake company private, one aspect of the deal seems clear: Dell Inc. Global CIO Adriana "Andi" Karaboutis, named to her post in January 2012, is taking a lead role in the company's turnaround strategy to transition from PC maker to IT services provider.
In an interview with SearchCIO.com following Dell's big announcement, Karaboutis revealed she occupies a prime spot at the table for the many acquisitions critical to Dell's turnaround -- eight and counting, just on her watch as CIO. The Michigan native is no stranger to business strategy shakeups. Before becoming CIO, she led a transformation of Dell's manufacturing operations. Before that, she was in the thick of big change at General Motors, where she oversaw a major move to outsource manufacturing and supply chain IT, and at Ford Motor Co., where she tapped her Six Sigma expertise to help boost efficiency.
What's it like at Dell right now?
Andi Karaboutis: Really exciting days. It's a great go-forward plan for the company. Obviously we are still publicly traded; we know what's on the horizon. Personally, I'm excited and looking forward to Dell's new chapter.
Do you see IT as the change agent or the internal glue as Dell executes on its turnaround strategy?
Karaboutis: Yes and yes. We have our transformational objectives and agenda, and we also don't lose focus on operational excellence. There are some fundamental things: you've heard the old terms -- uptime and keeping the water running. That's everything from making sure our employees have seamless communications to good user experience devices and tools, all the way up to the transformational agenda of supporting our solution-selling focus and the fact that we have done 18-plus acquisitions over the last couple of years -- and knitting all of that together.
IT is part of the discussions around acquisitions from early days.

Andi Karaboutis,
global CIO, Dell Inc.
Dell's many acquisitions in recent years are critical to its transformation from hardware supplier to a technology services company. Do you have a template for quickly folding in acquisitions, like a Wyse Technology, into Dell?
Karaboutis: Absolutely. IT is part of the discussions around acquisitions from early days. Dell is very strong at making sure that all the functions within the company are engaged during the early assessment process, during the finalization, during the close process and obviously during the integration. We design all the checkpoints and all the analysis we need to do for each integration. And each one is different. But the topics -- the things you have to cover and need to assess -- are pretty much the same. We have a playbook that takes us from Day 0, Day 1, Day 30, Day 90 and final integration to complete. The definition of what needs to be done for those milestones differs by acquisition, and we go in with fresh eyes to every one of them. So, a playbook to ensure we're covering all bases is kind of our gospel.
That's impressive. A former CIO of Citigroup who also had worked at IBM was talking to me recently about the different flavors of integration strategies: One approach is to standardize your acquired companies on your systems as quickly as possible. Another strategy is to let these companies do their own thing, with the understanding this was a successful business to begin with and it's not productive to mess too much with its processes. It sounds like your Dell playbook is able to encompass both approaches.
Karaboutis: Absolutely right. And that's the key thing. You don't go in with absolutes. I have found Dell as a company to be very good about not going in with predispositions. We go in with the base principle of 'I'd like everything integrated on one platform' -- that is kind of the CIO's dream. But the reality is there are shades of gray. For me, the companies that don't do successful integrations are the ones that don't assess and analyze what 'functional integration complete' should be. I've got integrations where we've fully brought them in -- 100% integrated on our platform, and I've got integrations where we've said, 'There are spaces where we really like how they handle areas and where we don't have the capability internally,' so we adopt that as part of our base platform. But what we don't do is leave gray areas: It is positive checkoff and then ensuring that we've got a good plan for every acquisition coming in.
Can you give me an example of where that adaptability was put to use?
Karaboutis: Our Quest acquisition, one of the best acquisitions we've done, that came with 300-plus offerings we were using prior to the acquisition and continue to use. This was a software acquisition. Traditionally, Dell was a hardware-centric company. As part of the acquisition, we realized they had some great fulfillment capabilities around software, recurring billing capabilities, renewal capabilities that come inherently with the software business. Recognizing that we are going to be a strong player in the software industry with the Dell Software Group, we said those are the plan-of-record systems within Quest, and that's become part of my base platform. And we're looking, for example, at our App Assure and SonicWALL acquisitions and using some of the base platform we have from Quest for the software capabilities we need. It's that adaptability that's key.
One of the analysts who sounded off on Dell's turnaround strategy expressed doubts it will succeed because the Dell culture is not geared toward selling services, in particular to CIOs. Does your work at Dell include helping the sales force sell to CIOs?
Karaboutis: One of the core objectives of Dell IT is to serve as the reference account for our own solutions. We are the large-scale IT organization that successfully consumes our own products and services. Dell Services provides the resources that enhance and support our application development, delivery and infrastructure management. We use our own storage (Compellent, EqualLogic), device management, monitoring and security tools, to name a few. We are in the process of setting up our own converged infrastructure (Active System 800 in our data center). Dell not only knows how to sell services, [but we also] show how we also are consuming our own services successfully.
In part two of this interview, Karaboutis answers questions about her internal IT initiatives, from bring your own device, or BYOD, to enterprise collaboration; and about her relationship with Michael Dell.
Let us know what you think about the story; email Linda Tucci, Executive Editor.
Dig Deeper on Leadership and strategic planning