News
Stay informed about the latest enterprise technology news and product updates.
Salary statistics reveal modest growth in IT sector in 2012
TechTarget's salary statistics reveal the average pay raise and salary rates for the most common roles in the IT organization.
In the IT industry, it's no surprise that the big money comes from the coffers of larger companies. TechTarget's IT Salary Survey 2012 looks at the latest salary statistics and delves into the differences between the average salaries of senior IT leaders and IT talent at enterprise organizations, as well as between CIO and CTO average salary rates. If 2012 was any indication, typical IT staffers shouldn't hold their breath waiting for an average yearly raise greater than 4% in 2013.
The salary survey, conducted among readers across TechTarget's network of sites, gathered 2,277 responses from IT professionals in North America, including 778 senior IT leaders who were a vice president or CIO or who reported to a C-level executive. Participants in the salary survey reported having specialties in 40 areas of IT, and they hailed from all fifty U.S. states, Canada and Mexico.
Salary averages were in direct correlation with the role the survey respondents played in the IT organization. Respondents who held senior IT leadership positions -- vice president or CIO -- or who reported to a C-level executive -- reported salaries that were on average about 15% higher than the professionals who reported to them. On average, senior IT leaders reported an average salary of $104,589, compared to the $88,763 average salary that was reported by general IT staff and subject matter experts. This delta remained consistent in all companies with fewer than 1,000 employees, but for enterprise companies, senior IT leaders made an average of 25% more than their reports.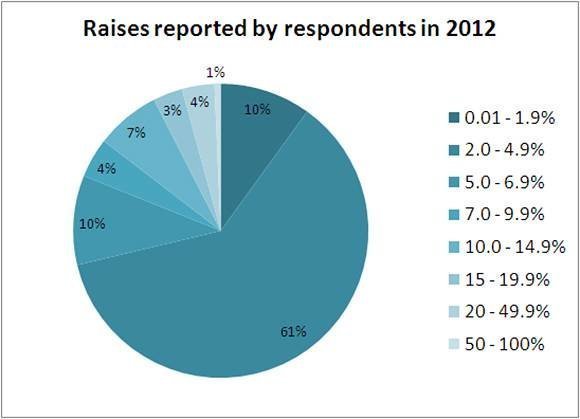 Raises reported by respondents in 2012.
Across the board, company size was a predictor of salary -- professionals at smaller companies made significantly lower average salaries than professionals at larger ones. The salary statistics suggest that senior IT leaders at organizations with fewer than 100 employees actually receive lower pay, on average, than general IT staff and subject matter experts at companies with more than 1,000 employees: The average salary for senior IT leaders at small companies is $92,303, compared with $93,165 for general IT staffers at enterprise companies.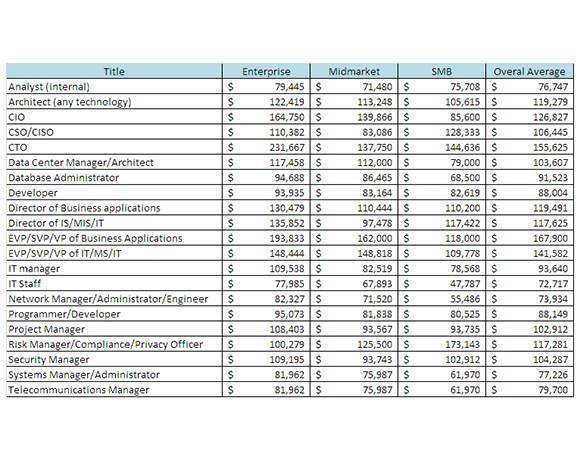 IT salaries by position.
Salary statistics by job title
Across the salary survey, the average highest-paying IT position was the position the survey titled EVP/SVP/VP of Business Applications. Survey respondents who identified themselves as an executive vice president, senior vice president or vice president of business applications reported an average salary of $167,900; their individual base salaries were widely spread between $56,000 and $300,000 annually.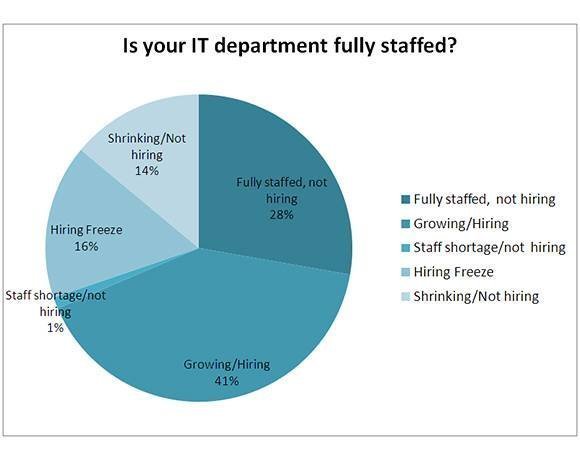 Is your IT department fully staffed?
If you've ever wondered what the real difference is between a chief technology officer (CTO) and a CIO, the difference is more than a simple middle initial. Survey respondents who identified themselves as a CTO reported an average salary of $155,625, and CTOs' base salaries ranged from $80,000 to $275,000. Meanwhile, CIOs reported an average salary that was $30,000 less than the average salary reported by CTOs, and CIOs' base salaries varied more, ranging from $45,000 to $360,000.
Compare your salary to the IT industry average
Here are the average salaries for the most popular IT job titles, according to the TechTarget IT Salary Survey 2012, as reported by survey respondents:
EVP/SVP/VP of Business Applications: $167,900
CTO: $155,625
EVP/SVP/VP of IT/MS/IT: $141,582
CIO: $126,827
Director of Business Applications: $119,491
Architect: $119,279
Director of IS/MIS/IT: $117,625
Risk Manager/Compliance/Privacy Officer: $117,281
CSO/CISO: $106,445
Security Manager: $104,287
Data Center Manager/Architect: $103,607
Project Manager: $102,912
IT manager: $93,640
Database Administrator: $91,523
Programmer/Developer: $88,149
Developer: $88,004
Telecommunications Manager: $79,700
Systems Manager/Administrator: $77,226
Analyst (internal): $76,747
Network Manager/Administrator/Engineer: $73,934
IT Staff: $72,717
CTOs in general reported larger average salaries: Among CTOs, 85% reported earning more than $110,000, while 58% of CIOs reported the same income marker. CIOs in larger, enterprise-level companies tended to earn larger average salaries that were larger than CTOs' average salaries -- $164,750 was the average salary reported by CIOs in enterprise organizations -- but similarly, CTOs in enterprise-level organizations also reported a higher average salary ($231,667 average salary).
"In my mind, the 'right' salary for CIO depends on the size of the institution, its complexity and your negotiation skills. A CIO touches every corner of the institution and feels he or she should be under the same compensation as the business executives," said Jaime Manriquez, CTO at the Santa Cruz County Bank in California.
The lowest average salary rates were reported by respondents who identified themselves as being in the survey categories of IT Staff and Network Manager/Administrator. The average salaries across the board for those individuals were the lowest, at $72,717 and $73,934 respectively, but professionals in those roles in organizations with fewer than 100 employees reported the lowest average salaries of any group in the survey ($47,787 and $55,486, respectively). See the sidebar for the average salaries paid for the most common IT job titles.
Insight into the average yearly raise
If 2012 is any indication, the average pay raise for 2013 is going to be modest. By far the majority of respondents (61%) received an average yearly raise of 2.0% to 4.9%, with another 10% of respondents receiving an average pay raise of .01% to 1.9%. While the number of respondents receiving an average pay raise of.01% to 1.9% has climbed over the last three years of TechTarget's IT salary surveys (up from 7.2% in 2010), so has the number of respondents receiving more than a 7% average raise. In 2010, 12.4% of survey takers reported receiving an average pay raise of 7.0% or higher. In 2011, the percentage of survey takers in that group rose to 15.7%; and in 2012, about one in five survey takers reporting average raises higher than 7.0%.
| | | | |
| --- | --- | --- | --- |
| Annual salary increases | 2010 | 2011 | 2012 |
| 0.01% to 1.9% | 7.2% | 7.5% | 10.0% |
| 2.0% to 4.9% | 65.3% | 62.9% | 61.3% |
| 5.0% to 6.9% | 15.2% | 13.9% | 9.8% |
| 7.0% to 9.9% | 3.7% | 5.1% | 4.3% |
| 10% to 14.9% | 4.9% | 4.4% | 7.1% |
| 15% to 19.9% | 0.9% | 2.4% | 3.2% |
| 20% to 49.9% | 2.6% | 2.9% | 3.6% |
| 50% to 99% | 0.0% | 0.7% | 0.7% |
| 100% or more | 0.2% | 0.2% | 0.0% |
Here are more takeaways from TechTarget's IT Salary Survey 2012:
The majority (47%) of respondents had been in their current roles for one to five years. About a quarter (24%) had been in their roles for six to 10 years. However, while the average time spent in any given role is usually less than 10 years, the majority of respondents had been in the IT field from 11 to 20 years (42%), and more than a third (36%) of respondents had been in the IT field for more than 21 years.
One-fifth (22%) of respondents were happy in their current roles, while almost half (47%) had their eyes on internal advancement in the next three to five years, in either IT or another area of the business. Only 17% were interested in leaving their current organization.
IT staff working in larger companies were more likely to report being contacted by recruiters. More than 70% of respondents in enterprise organizations had been tapped by executive headhunters, compared to 57% of respondents in companies with fewer than 100 employees.
About half (57%) of the salary survey respondents felt their overall compensation had improved or increased compared to 2011, while 17% felt that it had declined or taken a negative turn. We looked at our 2011 salary survey data, and the statistics were nearly identical, with 56% reporting a positive trend compared to 2010.
There are still strong indicators that the recession is still having an impact on IT departments, but an optimistic 41% of survey respondents reported that their IT department is growing or is actively hiring. Almost one-third (30%), however, reported their departments are shrinking or under a hiring freeze, while 1% reported they currently have a staff shortage but are not able to fill the positions.
TechTarget will be bringing you deeper dives into this first-ever network-wide salary survey event. We'll be looking at the ways salaries are affected by size of company, industry and gender, as well as the secret to retaining IT talent in 2013 and beyond.
More on salary statistics and CIOs
Let us know what you think about the story; email Wendy Schuchart, Site Editor. For midmarket IT news and updates throughout the week, follow us on Twit.
Dig Deeper on CIO and IT salaries