News
Stay informed about the latest enterprise technology news and product updates.
Information technology costs must consider the human factor
Despite the emphasis on products and services, information technology costs are still mostly human, new survey data shows.
Though specific costs vary by industry and size of company, businesses for the most part spend more on labor or employee compensation than on anything else. One notable exception is the airline industry, whose expense for fuel (no surprise there) averages about even with labor costs, with each at about 25% of operating costs, according to the Bureau of Transportation Statistics.
Of course, information technology costs are a big chunk of business expenses too, between 2% and 4% of revenue, according to Gartner Inc. But since much of IT costs also consist of human capital, it quickly becomes obvious why the role of IT and transforming the IT department for the future should be core strategic functions for CIOs -- as much if not more so than which technology to buy and to deploy.
Starting next week, the CIO/IT Strategy Media Group, including SearchCIO.com and SearchCIO-Midmarket.com, will publish the first in a series of articles that look at the big picture of IT careers, salaries, job satisfaction and drivers for productivity. This series will include CIO and senior IT views and reports from TechTarget's media groups that cover the data center, applications, security, storage and networking products, and professionals.
This information should help those who work in IT see how their salaries compare with their peers,' and how companies compare with their competitors. But we also think this information about one part of information technology costs will be useful for IT strategists, helping them to see what motivates IT workers and how different levels of IT employees are treated when it comes to compensation.
For instance, senior IT leaders are nearly four times more likely to leave their jobs because they need a new challenge (26%) than because they want higher pay. Leaving for a new challenge is also important to IT staffers (21%), but leaving for more money is a bigger issue for them (12%) than for their bosses (7%). Also, IT staffers (6%) are more likely than their senior IT leaders (2%) to leave because of business uncertainty. This makes sense if you consider that senior IT leaders have more insight into what's being done in the business to address the changing climate and are better able to gauge optimism about those changes.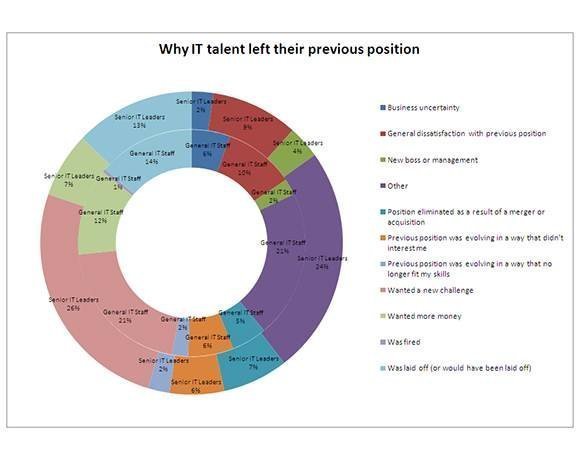 In other data, we found out something that might not be a big surprise, but the implications could be: The higher ranking the IT executive, the higher his or her salary increase is likely to be (see table). In short, the majority of both IT staff (64%) and senior IT employees (56%) received modest raises in 2012, ranging from 2% to 5%. For raises ranging from 20% to 50%, however, the parity no longer exists: Senior IT leaders were much more likely (8%) than their IT staff (2%) to be awarded big raises. This could be related to the fact that senior IT executives have compensation tied to the completion of a big project or for hitting ROI.
| | | |
| --- | --- | --- |
| Salary Increases | General IT Staff | Senior IT Leaders |
| 0.01 - 1.9% | 12% | 6% |
| 2.0 - 4.9% | 64% | 56% |
| 5.0 - 6.9% | 10% | 9% |
| 7.0 - 9.9% | 3% | 7% |
| 10.0 - 14.9% | 6% | 9% |
| 15 - 19.9% | 2% | 5% |
| 20 - 49.9% | 2% | 8% |
| 50 - 100% | 1% | 1% |
Clearly, general IT staff cannot make these types of big increases, but this should be considered when a company tries to find skilled IT personnel for the types of IT specialties that will emerge over the next few years -- in services management, collaboration and data analysis, among others. Perhaps a strategy of giving incentives to certain low or midlevel workers to get retrained in needed areas will enable your company to retain workers rather than go through the time and expense of finding new ones.
The strategy of IT never ceases, and it should be worthwhile to stop and consider how the wealth of IT salary and career data we have compiled can help you run your IT department more effectively, efficiently, and productively.
Additional reporting by Wendy Schuchart, former site editor.
Dig Deeper on CIO and IT salaries