Share this item with your network: BACKGROUND IMAGE: iSTOCK/GETTY IMAGES
Disaster recovery ascends to the cloud

iSTOCK/GETTY IMAGES
News
Stay informed about the latest enterprise technology news and product updates.
Governance and leadership lessons from a health care CIO
A seasoned CIO acts as the governance and leadership beacon for a statewide health care initiative spanning 12 groups and millions of dollars.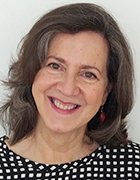 By
"My personal style is very collaborative," Catherine Bruno explained. "And yes, there were politics, but the best way to handle that in this community was with transparency and openness. Meetings were open. Nothing was secret."
Bruno, vice president and CIO at Eastern Maine Healthcare Systems (EMHS), was talking about her role as executive sponsor -- the CEO, if you will -- of a health care initiative in the Bangor, Maine region that is leveraging electronic health records (EHRs) to help people with chronic diseases.
For the past two years, Bruno has provided the governance and leadership for the Bangor Beacon Community, one of only 17 such communities nationally to receive a $12.75 million federal grant for using health care IT to improve medical outcomes. The Bangor Beacon project focuses on four chronic diseases -- diabetes, chronic obstructive pulmonary disease, congestive heart failure and asthma. It uses EHRs to identify people in the region with these diseases -- but that is just the starting point.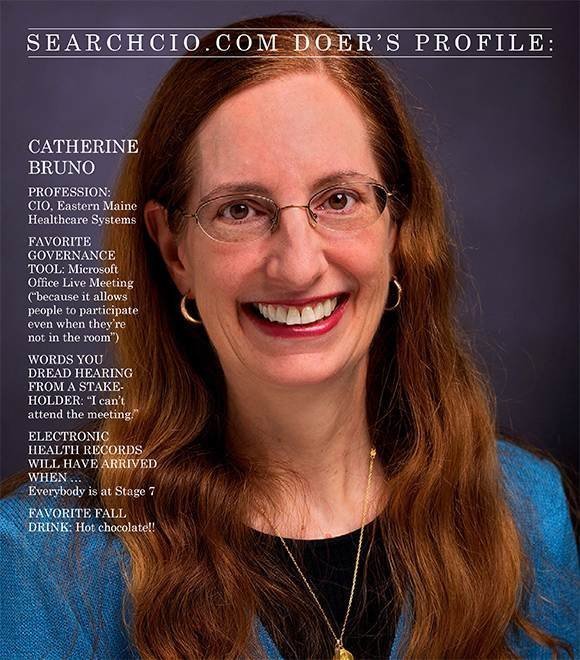 The project's goal is to transform how the health care community at large manages disease. Health care professionals from 12 medical information and care providers in the region -- including Maine's HealthInfoNet health information exchange -- work together with IT professionals to collect, share and analyze information about the patients being treated by providers. This information is used to track and improve the medical care provided to patients, give patients more responsibility for their health and make the EHR system more comprehensive.
A tradition of collaboration in a big state
In her eighth year as CIO at Eastern Maine Healthcare Systems, Bruno has amassed plenty of experience facilitating collaboration among disparate groups and across a wide swath of geography.
With $1 billion in revenue and 8,000 employees, Eastern Maine Healthcare Systems (EMHS) covers the northern two-thirds of the state of Maine, from Waterville to the Canadian border. Over the years, telecommunications services have been slowly improving, Bruno said, allowing for extensive collaboration among EMHS's seven hospitals, as well as with outside health facilities. Her IT staff of 210 has been a pioneer in facilitating telemedicine services that allow medical professionals at the system's Bangor tertiary facility to provide remote facilities with consulting services that allow patients to say closer to home. EMHS provides the picture archiving and communications systems, or PACS, that store electronic radiology images, to hospitals and centers throughout the region.
Bruno oversees an operating budget of $25 million. One of her big pushes going forward is analytics. A business intelligence team was recently appointed to plot the long-term BI goals of EMHS. In the meantime, she is busy readying a plan to consolidate three databases -- clinical and financial databases and a disease registry. "Our vision would be to have the information for all three in the same data warehouse with analytical tools sitting on top, so you could analyze the whole business."
"Once we got the grant, I had to make sure that everything pulled together -- getting the committees together, people mobilized, a project manager in place and interacting with the national grant givers to make sure we were lining up with their expectations," Bruno said.
The alignment of health care providers and sophisticated health care IT systems has made an almost immediate impact in the Bangor community. Within the first six months of the project, hospital admissions for the nearly 600 people in the program dropped by 46% and emergency room visits by 40%. Bruno, meanwhile, was asked to co-chair the governance and leadership committee of the national Beacon Community program, a testament to her success in spearheading the project. She was selected as one of two winners of the MIT Sloan CIO Symposium Award for Innovation Leadership based on the Bangor Beacon project, and she was named the 2010 CIO of the Year by the New England Healthcare Information and Management Systems Society.
So, what leadership and governance challenges did she face in aligning IT with the health care mission at hand? To be sure, there were technology issues, Bruno said. Two of the Bangor Beacon project's three primary health care partners had electronic health care record software in their primary practices; the third did not. Systems had to be set up to feed the information from hospitals and practices into the state's central HealthInfoNet exchange and from physician practices into a disease registry data warehouse maintained by Eastern Maine Healthcare Systems (EMHS) for analysis. The terminology fed into the EHRs by the participating entities had to be consistent so the data pulled into the data warehouse would be comparable. The success of the project, however, Bruno said, has less to do with the mechanics of collecting and analyzing and cleaning up the data than in getting the dozens of health care practitioners to share the data -- and building the governance to make that happen.
Lessons in governance and leadership
No. 1: Getting the right people involved takes perseverance
Setting up committees for a project of this scope and staffing them with the right people was Bruno's first big challenge. Her solution was to organize a one-day retreat of key stakeholders and hire a consultant to facilitate the meeting. "It took me a month by the time I could get them together," she said. Over the course of the day, project goals were set and committee leaders emerged on the IT research side and for the clinical leadership team, the heart of the program. When the need for subgroups arose, she facilitated that.
Two subgroups of the clinical research team proved critical to the project's success: One was a forum of the care managers assigned to each patient identified in the project; the other was a performance management committee of physicians. The care managers meet on a quarterly basis to share best practices and data on how they are doing with their patients. The leaders of the performance management committee share unblinded data on how they are doing on the quality indicators they have set for each of the chronic diseases.
No. 2: Improving performance requires building trust at every level
Sharing unblinded data means naming names: How physician A compares with physician B, how one care manager is doing compared with another. "We shared the clinical data openly, not with the world, but with the practices and among care managers," Bruno said. "A good way to improve is to look at the data and develop plans to follow up and measure again."
Getting buy-in for that kind of sharing requires governance and leadership. The strategy Bruno and team leaders used was to start at the highest level, showing data and sharing best practices initially only at the organizational level -- then going down a level from there, to physician practices, and eventually to individual providers. "We introduced it at a high-enough level so people could see the results of that data sharing and that these are valid things to be doing for patients," Bruno said. People want to improve and learn from best practices. It also helped that the physicians at Eastern Maine Medical Center, the system's hub hospital, had used a performance management approach already and "learned how to talk about performance in ways that were helpful and not threatening or condemning," she said.
No. 3: Keeping people on track calls for strong project management
The committees periodically develop 90-day patient improvement plans. As the Bangor Beacon Community set and revised goals for the project, they began with the national standards set by the National Committee for Quality Assurance for managing such chronic diseases as diabetes and congestive heart failure. When they exceeded the threshold, they set a higher goal. "That is another useful thing for buy-in -- having targets and metrics that are already nationally accepted," Bruno said.
Strong project management is the glue and the gas pedal for such projects, Bruno said. "We have people actually tracking the work that is supposed to be done and reminding people when it is due." Mundane matters, such as scheduling meetings at times when people can attend, are important for keeping the project on track. The clinical leadership team, for example, meets at 7 a.m. because that is when the doctors are able to attend.
One more thing? Bruno has sworn off using acronyms of any kinds -- from IT or health care -- unless she's sure everyone in the room is in on the jargon. "It's hard work," she says, to communicate with disparate groups, but "it's a lot of fun."
Learn more about Bruno's work at EMHS in this SearchCIO.com video.
Dig Deeper on IT governance