 BACKGROUND IMAGE: iSTOCK/GETTY IMAGES
News
Stay informed about the latest enterprise technology news and product updates.
Rethinking enterprise mobile apps in three steps
American Airlines' mobility guru offers three tips for getting enterprise mobile apps off the ground.
Phillip Easter, director of mobile applications at American Airlines Inc., likes to point out that American has been in the mobility business for 80 years. Its assets are mobile. Employees are mobile. The airline's 86 million passengers certainly count on being mobile after boarding one of its 900 aircrafts.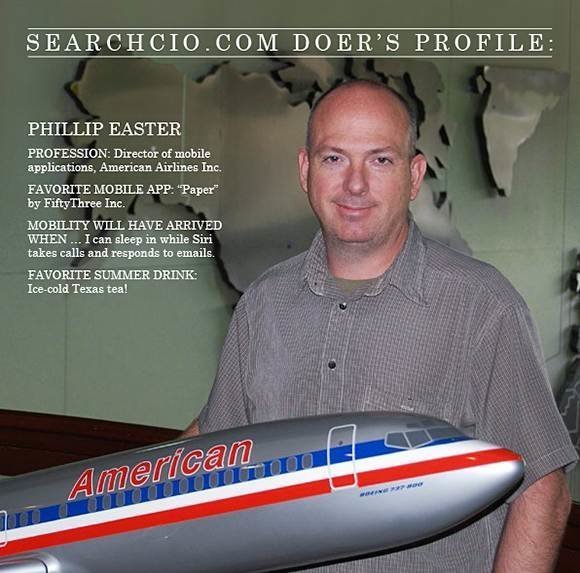 Doer's Profile
As for enterprise mobile apps? Roving airline agents were carrying handheld devices and WiFi-enabled printers on their belts back in 2000. "We've been doing mobile for over 12 years in the enterprise," Easter said.
Today, however, doing mobile has new meaning for the financially challenged airline, which filed for bankruptcy protection in November. Over the past 18 months, American has worked at making mobility a core business process, most visibly in its offerings for travelers. A suite of mobile apps that work on an array of devices, for example, has become a big selling point for the Fort Worth-based airline.
At a recent conference crawling with technology reporters, a PR person handed out a paper laying claim to the company's "mobility leadership position," complete with a large chart contrasting American "yeses" on device compatibility with competitors' "nos." The Barnes & Noble NOOK tablet and Kindle Fire are the two latest launch pads for American's mobile app.
But, Easter explains, it's arguably three "yeses" voiced by American's internal IT operations -- making great user interfaces [UIs], opening up backend systems and thinking about user intent -- that will keep American competitive in enterprise mobile apps.
Tip No. 1: User interface quality
To rev up its enterprise mobile apps development, IT first had to concede that it no longer owned IT, Easter said. Having ruled the technology playground at the enterprise, IT "was schooled" by Apple into realizing the game has changed -- especially on the front end. "UI is the new song for mobile apps. Everything about the mobile app has to have great user interface," said Easter, whose team develops apps for the consumer space and consults with internal IT on developing American's enterprise mobile apps.
Tip No. 2: Opening up backend systems
To really make use of those great UIs, the back end at American had to change, too. "We have over 50 years of legacy data securely captured in our enterprise. We don't let it out. And now come these mobile devices needing access," Easter said.
This is not an old system that allows a mobile device to get megabytes of data and then leaves it to the device to figure out how to manage it and sort it.
In the past, anything that was mobilized at American was usually a "one-off," built specifically for an application. As mobile devices matured and could receive data in a more standardized fashion, IT needed to build a middle layer and new application programming interfaces [APIs] for its backend systems to expose data in consumable chunks for mobile devices.
"This is not an old system that allows a mobile device to get megabytes of data and then leaves it to the device to figure out how to manage it and sort it. These APIs are designed for more RESTful /JSON types of transactions for smaller bytes," Easter said, referring to representational state transfer, an architectural style developed for distributed systems, such as the World Wide Web, and JavaScript Object Notation, a lightweight data-interchange format.
Developers can call an API to get data and quickly create enterprise mobile apps. "They should not have to worry about how to open up a channel, how to do the security, nor how they should find this type of data. They should be able to call the data in an object-based API," Easter said.
For organizations eager to jump on the enterprise mobile app bandwagon, the goal is to create a middle-layer API that is documented through a wiki or in some other place where any developer in the enterprise can get that data. "Once you have that exposed to developers, the apps just flow in," Easter said. "It will take some time to create this middle layer that is open and robust to your system, but once you spend time there, it really becomes agile."
Easter said he and others were surprised by how rapidly American's full- and part-time developers started pumping out apps -- and how quickly employees started using them. The 12- to 18-month development approach -- from proof of concept to testing, analyzing and committee reviews to then tweaking the end product year after year -- doesn't exist anymore in the realm of enterprise mobile app development.
"When we say proof of concept, that really means production, because the internal user could be using it in matter of weeks," he said.
Tip No. 3: Focus on user intent
Easter has another tip for organizations eager to jump on the enterprise mobile app bandwagon: Think intent, not location.
"Knowing that you are at a certain latitude/longitude is great, but if I know why you are there, that is key," he said. With enterprise mobile apps, the temptation is to cram in a lot of features, but Easter advises his people to try to do three things well.
"If you know who the customer is and what is their intent, then you know what to bubble up in the app. You can have 30 different things, but only show three things at any given time," he said.
Meanwhile, Easter's team also continues to push the envelope on opening up internal systems to provide innovative mobile services to American's travelers. Working with its partner on IP telephony systems, Easter's teams became intent on pushing Voice over Internet Protocol (VoIP) into the mobile space. The result is a soon-to-debut service that will let passengers chat with American agents on the ground over a WiFi connection -- while airborne -- to adjust travel arrangements.
Because American's systems know who you are and where you're going, Easter says the preliminaries are dispensed with and the business at hand is dispatched in a matter of minutes by an agent 35,000 feet below. That's the kind of mobile app development that revs his engines.
"IT's an example of bringing together tested technology -- WiFi, mobile apps and Internet-enabled phones -- to bring about a new conversation with the customer."
Let us know what you think about the story; email Linda Tucci, Senior News Writer.