 BACKGROUND IMAGE: iSTOCK/GETTY IMAGES
News
Stay informed about the latest enterprise technology news and product updates.
Mobile business solutions liberate bank execs
Deploying cool mobile tech is easy. Deploying mobile business solutions that improve the business isn't. Meet a midmarket CIO who figured it out.
James Gordon says he's happily served as a "personal test bed" for mobile business solutions since the 1990s, when he eagerly embraced the PalmPilot in his then-position as a banking consultant. "I was a heavy user," he said. He was an early believer in tablets, taking to heart Bill Gates' millennium prediction that a revolution sparked by slates (as Microsoft called them) was a-comin'.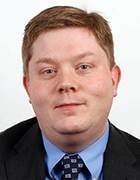 James Gordon
It wasn't until 2008, however, with the introduction of the iPhone 3G, that Gordon evolved from a personal test bed for mobile devices to an aggressive IT advocate for mobile business solutions. He had just joined Needham Bank, a $1.2 billion community bank in Massachusetts, as first vice president of IT. There, he witnessed bank executives struggling to retrieve email and voicemail when they were on the road.
"The most valuable people in banks are typically the people who are most out of the office," Gordon said. He launched an email gateway for the iPhone that changed practically overnight the way the bank's top executives worked. "It liberated them from their desks, and it liberated them from their laptops, which they used mainly for connectivity back to the mail client on their desktops."
From email via iPhone to mobilizing business processes
Since that early iPhone deployment, the use of mobile business solutions has spread across the organization, from commercial loan employees to construction inspectors.
IPads replaced the laptops that caused such headaches for traveling bank executives shortly after the tablet debuted. The commercial loan department seized on using iPads to work with customers outside the office. This transition alone eliminated one of Gordon's personal pet peeves about laptops: "When you put [a laptop] down in front of a customer, you have now erected a wall -- this 16-inch monstrosity -- between you and the person you are trying to make feel comfortable," he said.
Instead of random-access mobility -- which tends to happen all over the place -- you really need to think through processes that make sense to mobilize.
Even at their desks, Gordon sees employees increasingly turn to their mobile devices in lieu of their desktop computers. "When I ask them why, they'll say, 'This one's easier and faster. The email dinged first on my iPad.' So, they pick it up there up instead of going through all the iterations to get it on the Windows PC," he said.
The most recent business process transformation that mobile business solutions facilitated happened in the bank's construction inspection unit, where the iPad consolidated all the tools the job required -- mapping, Global Positioning System, and transmitting photos from the site. The transition from pen and paper to mobilized business process has been a "huge efficiency" gain. In this case, mobile tech has allowed veteran bank professionals in their 50s and mid-60s to revolutionize how they work.
The problem is that in the rush to mobile devices and apps, CIOs might tend to overlook the most critical aspect of mobility: "doing a deep dive into business lines to see where mobile makes sense," said Gordon, who served as a panelist at the recent Enterprise 2.0 conference in Boston. That point was indeed the major theme of the panel, which included Phillip Easter, director of mobile apps at American Airlines; and Scott Snyder, president of Mobiquity Inc., a consulting firm based in Wellesley, Mass., that specializes in mobile business solutions.
"Instead of random-access mobility -- which tends to happen all over the place -- you really need to think through processes that make sense to mobilize. You have to do deep user research," Snyder said. Once the devices and apps are deployed, measurements should be in place already to gauge how -- and how well -- employees are using them, he said.
Another big caution: CIOs shouldn't underestimate change management -- even when they're deploying cool mobile technology. When Needham Bank, for example, moved to the MobileIron mobile device management platform, employees were notified well in advance that they needed to bring in their devices to register for the new email gateway. It wasn't until the old gateway -- which was kept running during the transition period -- was turned off that everybody finally complied, causing a mad rush for IT and some headaches for users. "It is worth figuring out what the change agent is going to be," Gordon said.
Meanwhile, Gordon will "continue to be the test bed or incubator" for mobile business solutions, he said. "In IT we are running Windows 8 on a touch-screen computer. We will be getting [Microsoft's] Surface -- or whatever they call it -- to evaluate."
Let us know what you think about the story; email Linda Tucci, Senior News Writer.
Dig Deeper on Small-business infrastructure and operations