 BACKGROUND IMAGE: iSTOCK/GETTY IMAGES
News
Stay informed about the latest enterprise technology news and product updates.
Hotel app pockets revenue by putting concierge service in your pocket
A mobile hotel app takes customer service to a new level, but not without constant tweaking and heavy-duty promotion, says IT innovator Eric Chao.
What would a luxury hotel be without a concierge service that caters discreetly to every guest? That's just what the SLS Hotel at Beverly Hills was thinking when it launched a mobile hotel app that offers round-the-clock service at the touch of an icon, IT manager Eric Chao said.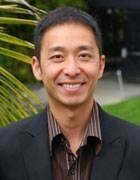 Eric Chao
Looking for a late-night snack, an extra bottle of shampoo, the car brought around? At the SLS Hotel, there's no need to pick up the room phone, fiddle for the right button or, heaven forbid, talk to somebody. "With the hotel app, none of that is required. You can get all that done within minutes, if not seconds, from anywhere you are, on your smartphone or from your computer," Chao said.
Customer service, Chao said, is all about efficiency, gratification, convenience. Managed by Starwood Hotels & Resorts Worldwide Inc., SLS Hotel is part of the Luxury Collection Hotel brand owned by Los Angeles, Calif.-based SBE Entertainment Group LLC. The last thing a luxury hotel wants its guests to feel during their stay is that they're working, he said. "A lot of people don't want to have to talk to somebody."
So, why not cater to the nonverbal? Debuting in 2008 following a $230 million renovation of the former Le Meridien Beverly Hills, the 297-room SLS Hotel is all about delicate sensibilities. The $100 million décor was dreamed up by French modern designer Philippe Starck. The food is the work of celebrity chef José Andrés, pioneer of the concept of small plates and 2011 recipient of the James Beard Foundation's top award.
Free mobile app a boon to hotel's bottom line
GoSLSHotel, the hotel's free mobile app, serves another purpose besides convenience, of course. "A key to a good IT project -- to any business project -- is how it will drive the business and generate more revenue," Chao said.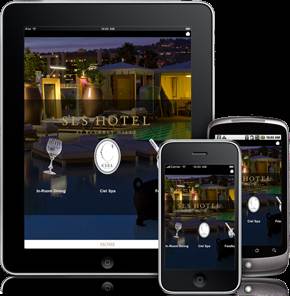 The GoSLSHotel app
The first week after the app launched in 2010, it generated 30 service requests (spa, dining reservations, housekeeping and so forth), 15 room-service orders, and 2,500 "guest touches." Two years and many tweaks later, GoSLSHotel apparently is considered such a competitive advantage that the hotel refused to allow Chao or Runtriz, the app developer, to talk numbers.
But make no mistake; the app's numbers are followed assiduously. Initially designed as a front-end guest service tool, it does some heavy lifting on the back end too -- tracking all guest touches, purchases and requests, and turning them into reports that help the hotel learn about guest preferences and trends.
"The app gathers a lot of data," Chao said. "The key is to predict what guests want."
Take the example of the GoSLSHotel-using guest who always orders Dom Pérignon for the room on arrival. "After five days, maybe you send a bottle of Dom to the room before they even get there," Chao said. Customers who frequent the hotel's 5,000-square-foot Ciel Spa might get a discount on their next relaxation massage. The hotel recently promoted free Internet to guests who were willing to "like" SLS Hotel on its Facebook page. "Those are things that are tweakable and beneficial to the business," Chao said.
But the the app's ROI is just as much about the "intangibles" as it is about the money, Chao insists; convenience generates good feelings. In addition, GoSLSHotel's feedback icon lets guests register complaints in real time and have them addressed during their stay. That's a huge plus for the business. "Because once people are gone, and telling everybody how bad it was, it's too late," he said.
Tips for developing and sustaining a customer-facing mobile app
"There are plenty of challenges" facing CIOs who are involved in developing mobile apps for customers, Chao said. He offers this advice:
If you don't develop the app in-house, it's important to find a partner with the "right chemistry" who knows your business. Runtriz, the developer of GoSLSHotel, specializes in mobile apps for the hospitality industry.
Learn from the power of Google's homepage, and keep the app simple in design and intuitive to use. "If it is too busy, people get frustrated and leave. IT has to cater to everybody, not just the tech-savvy," Chao said. Also, don't make the app too big, or it will take too long to download and respond to requests.
App security is critical, so keep it updated. Communicating an app's security features to customers is also important, so they will feel comfortable using the app. Guests using GoSLSHotel sign in with their room number and name, and are not required to swipe their credit card for any purchase, thus easing the fear factor.
Promote the app to customers. There's a direct correlation between how much an app is promoted and how much it is used. When the hotel slacked off promoting GoSLSHotel, the number of downloads went down dramatically, Chao said. "People use it because you tell them to."
Promote the app to the staff. The app works only if requests are serviced promptly. "Nobody likes to wait."
The GoSLSHotel app has a built-in timer. When the send button is pressed for an in-room dining order, for example, the order immediately shows up on a kitchen computer, where orders are timed by different colored flags, Chao said. Asked if he has thought about tweaking the app to let customers track the progress of their food request online, like a Domino's order, he said that hotel food servers follow strict guidelines for prompt delivery. "We're very efficient. And we're not going to tweak the app to say, 'Your shampoo is entering the elevator,' although we probably could."
Let us know what you think about the story; email Linda Tucci, Senior News Writer.

The SearchCIO.com CIO Innovators profile series highlights how CIOs use technology to meet both IT and business leadership objectives. To suggest a leader for a future CIO Innovator profile, email editor@searchcio.com.
Dig Deeper on Enterprise application development, DevOps and software agility