News
Stay informed about the latest enterprise technology news and product updates.
IT salary survey: High earners think alike, regardless of company size
According to our 2011 IT salary survey, midmarket high earners have more in common with their well-paid counterparts at enterprise companies than with other midmarket peers.
When it comes to compensation, not many would argue that company size matters. The average compensation for U.S. senior and midlevel IT executives at midmarket companies in 2011 was $146,376, or about 11% below that of their counterparts at enterprise companies, according to our annual CIO/IT Strategy Media Group IT salary and career salary.
In one respect related to compensation, however, U.S. midmarket and enterprise-level IT executives are practically joined at the hip: The highest earners at midmarket companies think more like their well-heeled counterparts at large companies than like midmarket executives who are paid less. Regardless of company size, high earners at both midmarket and enterprise companies put a higher premium on building relations with the business than their peers who earn less. They're also more inclined to take a dim view of their IT teams.
The IT salary survey, conducted in November, gathered more than 1,700 responses from IT executives globally across 32 industries.
Of 438 senior and midlevel IT executives, 7% reported a compensation level above $210,000, or so-called high earners; 69% reported earning between $90,000 and $210,000, or middle earners; and 24% reported making less than $90,000.
We found that there's a large divide between high earners and their peers who receive lower compensations when it came to their attitudes about the business and their own IT staff.
Perceptions and IT priorities of high earners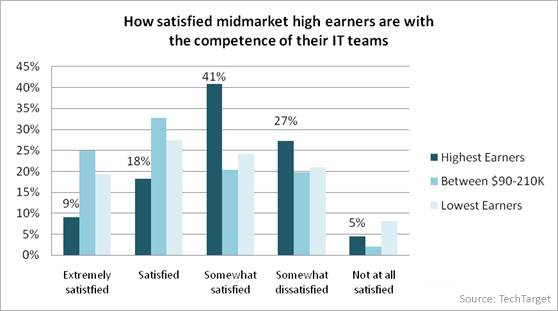 Team competence
We asked how satisfied midmarket IT executives are with how the business perceives IT and found that high earners were more likely to be extremely happy with the business than low earners. A whopping 20% of midmarket high earners said they were "extremely satisfied." In comparison, 7% of low earners respectively said they were "extremely satisfied". By contrast, nearly a fifth of low earners (18%) said they were "not at all satisfied" with how the business perceives IT, compared with just 6% of high earners.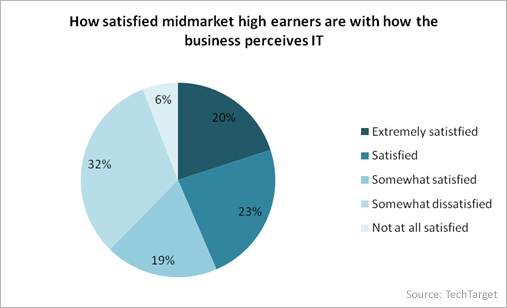 Business and IT
A similar disjunction between the income brackets is apparent on the topic of IT staff. Asked "how satisfied are you with the competence of your IT team," nearly three-quarters of high earners (73%) expressed some dissatisfaction with their teams, compared with 43% of middle earners and 48% of low earners.
When it comes to job priorities, high earners at midmarket companies -- like their counterparts in the enterprise -- use their time on the job differently than do midmarket respondents who earn less. High earners were three times as likely to say they spent most of their time "breaking down communications barriers between IT and business" than the low earners (18% vs. about 6%).
On the other hand, "managing projects" -- the responsibility that consumes the most time for middle and low earners (35% and 33% respectively) -- consumes the majority of the day for only 23% of all midmarket high earners.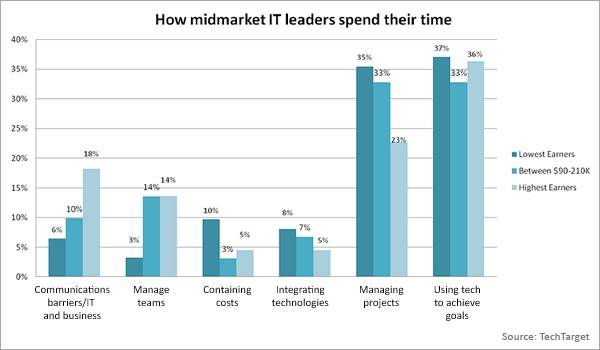 Time spent
Of course, interpretation is everything. CIO Tom Gainer focuses most of his time on managing projects. These include an ambitious desktop virtualization rollout to FirstBank Southwest's employees in Amarillo, Texas. For Gainer, "breaking down barriers between business and IT" is actually a prerequisite for successfully managing projects.
"IT is not about tools. You have to spend time breaking down the barriers to deliver the projects the business needs to be successful," Gainer said. He is assisted by a "highly competent" IT team of five, with whom he said he couldn't be more satisfied. He enjoys strong support from executive management, which just approved his total project budget of $500,000, he said. Gainer also serves as an adviser to the bank's board on technology matters. He said that while he does "use technology creatively to achieve business goals" -- which was deemed the highest priority for 40% of high earners -- his constant aim is to cut costs, consistent with about 10% of high earners and 5% of low earners who responded to our survey.
The main mission of IT is using technology creatively to achieve business goals, according to a high-earning senior IT executive at a midmarket global training company in Southern California. This sentiment is consistent with 35% of high-earning midmarket respondents, but the senior IT executive pointed out that this goal requires close collaboration with the business. Toward these ends, the senior IT executive has worked hand in glove with the business for the past five years to digitize the company's educational training materials -- an initiative that now contributes 25% to the company's revenue stream. Today, IT is focused on staying abreast with social media and mobility, "like everyone else," he said, but with an eye on how these forces affect the business.
The focus on business goals will be key in 2012, according to our survey respondents. With different priorities and perceptions between high earners and their lower-compensated peers, it begs the question of whether the paycheck drives those priorities or motivates IT leaders to see the business and react to pressures and roles differently.
Let us know what you think about the story; email Linda Tucci, Senior News Writer.
Dig Deeper on Small-business IT strategy