News
Stay informed about the latest enterprise technology news and product updates.
CIOs say salary raises small component of job satisfaction factors
Midmarket IT executives are OK with salary increases -- of course -- but say job satisfaction factors include things that aren't in their paychecks.
While they aren't the best paid among their peers, midmarket senior-level IT executives are some of the most satisfied. Senior IT executives surveyed by SearchCIO.com and SearchCIO-Midmarket.com in 2011 for the annual CIO/IT Strategy Media Group IT salary and career survey indicated that good relationships with the business, challenging projects and the appreciation of bosses and peers are major drivers of true job satisfaction.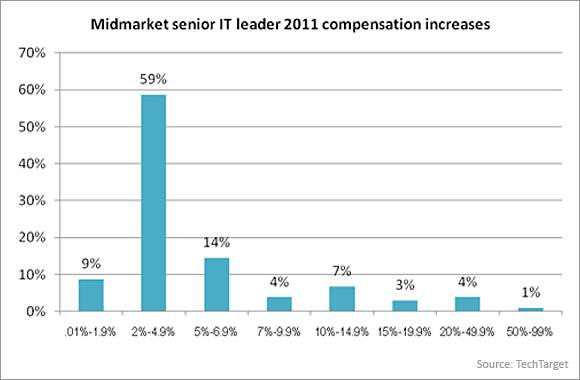 Midmarket raises
It seems 2011 was the year when senior IT leaders cultivated job satisfaction factors outside of a paycheck. In 2010, survey respondents expected to see a 5.2% increase in average salary in 2011. But those expectations were mostly not met by our 2011 survey respondents. In 2011, of respondents who reported receiving an increase in compensation, 59% of midmarket senior IT executives said they received only a 2% to 4.9% increase. The 5.2% bump predicted the previous year was realized by far fewer respondents in 2011 -- of midmarket senior IT leaders reporting an increase, 14% received a raise of 5% to 6.9%. The average salary for 193 midmarket senior IT leaders in 2011 was $146,376, compared with $145,644 reported the previous year.
Job satisfaction factors are tied to more than just how much money is earned. Survey numbers showed IT executives at smaller-sized midmarket companies were happier with their compensation than their peers at larger midmarket companies:
Of the midmarket senior IT executives who worked at companies with 100-499 employees, 29% were satisfied, 12% extremely satisfied and 24% somewhat satisfied.
Among those senior IT executives at companies with 500-999 employees, 10.4% were extremely satisfied; 27% were satisfied; and 16.7% were somewhat satisfied.
The highest levels of satisfaction were found among those working in the largest enterprise companies and the smallest companies. Among senior IT executives and midlevel IT directors at companies with 10,000 employees or more, 8% of respondents were extremely satisfied, 40% reported being satisfied, and 20% were somewhat satisfied. Among IT executives at companies of 100 employees or less, 9% reported that they were extremely satisfied; 34% were satisfied; and 22% somewhat satisfied. More than half (54%) of the IT executives at companies comprising 1,000 to 4,999 employees reported that they were dissatisfied with compensation -- 31% said they felt somewhat dissatisfied and 23% reported being not at all satisfied. This was the only group in which those unhappy with their payouts numbered their satisfied peers.
While compensation satisfaction continues to be a divisive subject among midmarket survey respondents, many admit that money isn't a driving force for their overall job satisfaction. Larry Miller earns "just above" the $90,000 total survey average salary as a MIS/IT manager at Exterior Wood, Inc. A former research chemist, Miller took great satisfaction in revamping the lumber and wood product manufacturer's network and hardware.
"I'm paid very well, and I'm very happy," Miller said. "We're relatively small, 265 employee-owners, and we just have a hell of a lot of fun at what we do."
Perks -- such as donating unused sick days or vacation time to fellow employees and being able to send workers to school to learn new technologies -- add to that happiness, as does the freedom of being a self-sustaining IT organization with a seamless relationship with the business, he said.
"I have a C-level position here and I know what's going on, and I'm blessed to have only one boss, the CEO/president," Miller said. "We don't have the horrors of corporate reporting because we're privately held so we get to focus on growing the business, making things work and succeeding and that makes all the difference."
A majority of 2011 midmarket senior IT respondents -- 62% -- reported some level of satisfaction with their compensation: 27% said they were satisfied; 22% were somewhat satisfied; and 13% were extremely satisfied.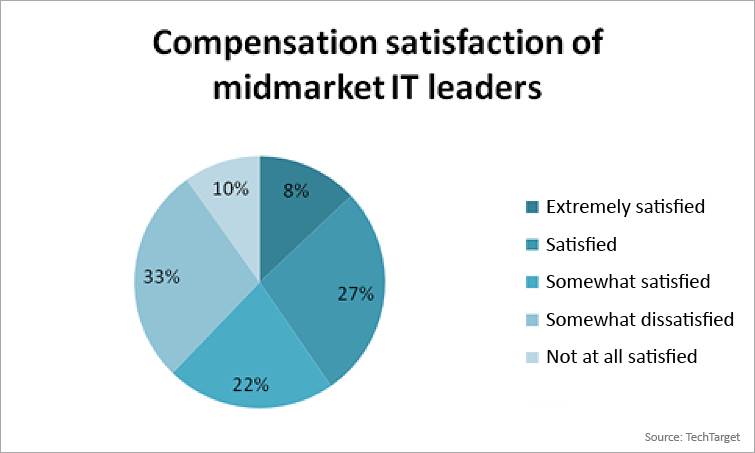 Salary satisfaction
For Jim Beck, director of IT at New Orleans-based law firm Morris Bart LLC, salary is important -- but recognition from management and peers is equally important. Beck said he spends much of his time communicating with the owners and top managers at the firm to make sure technology is in line with business objectives. Having a good staff, he said, frees him somewhat from managing projects and allows him to focus on what's next. Paramount to happiness, however, is the satisfaction of doing the job well, according to Beck.
"It's easy to get caught up in looking at what is wrong in any job; it's also easy to think it will be better elsewhere," Beck said. "The truth is that it is always in your best interest to look at what is good about the job, then look at what you don't like and see how you can fix that or adapt yourself to it."
Let us know what you think about the story; email Karen Goulart, Features Writer.