News
Stay informed about the latest enterprise technology news and product updates.
Salaries don't drive job satisfaction for senior IT executives
Salary increases in 2011 weren't enough to make senior IT executives feel warm and fuzzy when it came to job satisfaction.
As in life, when it comes to work, money doesn't always equal happiness. Of course, money doesn't hurt, but for the senior IT executives surveyed by SearchCIO.com in 2011 for its CIO/IT Strategy Media Group IT salary and career survey, other key elements have to be in place to create job satisfaction. The types of projects one works on, the appreciation of bosses and peers, and even the types of industries IT leaders proffer their skills to -- all are crucial to a harmonious work experience.
In 2011, the vast majority of senior IT executives reported receiving a 1.0% to 6.9% increase over 2010. About 62% of senior IT executives reported an annual salary base increase of 2.0% to 4.9% with another 14% of senior IT executives receiving a merit increase of 5.0% to 6.9%. Senior IT leaders surveyed in 2010 expected to see an average increase of 5.3% in 2011. Of the senior executives who received a raise in 2011, the average increase was about 10% but this average is elevated due to a few outliers who received extreme salary increases (greater than 50%).
The average salary for 292 senior IT executives in 2011 was $163,571. A majority of the 2011 senior IT respondents -- 62% -- reported some level of satisfaction with their earnings. A total of 35% said they were satisfied; 22% were somewhat satisfied; and 5% were extremely satisfied.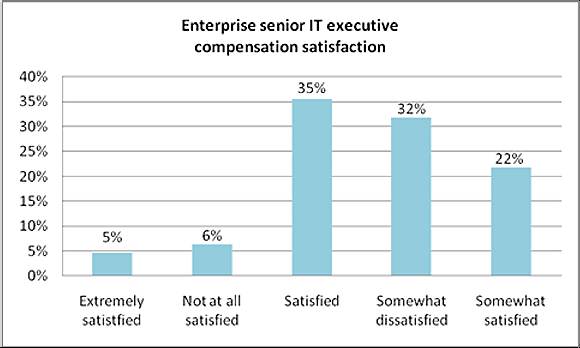 Senior exec satisfaction
Company size factored into how senior IT executives viewed their compensation in 2011. Those working in the largest enterprise companies and in the smallest companies reported the highest levels of satisfaction. Among executives at companies with 10,000 employees and up, 40% of respondents reported being satisfied, 8% were extremely satisfied and 18% were somewhat satisfied. Among IT executives at companies with fewer than 100 employees, 34% were satisfied, 9% were extremely satisfied and 22% were somewhat satisfied.
IT executives at companies with 1,000 to 4,999 employees showed the highest level of dissatisfaction with their compensation: 54%; 31% were somewhat dissatisfied and 23% were not satisfied at all. This was the only group in which those unhappy with their pay outnumbered their satisfied peers. And in which industries were to be found those unhappiest with their earnings? The computer and data processing, education, manufacturing and wholesale/retail/trade industries reported the least satisfaction. Respondents in finance, government, media and health industries were at the other end of the spectrum as far as compensation satisfaction.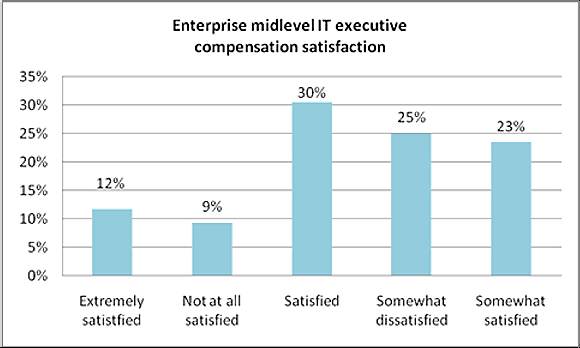 Midlevel exec satisfaction
But job satisfaction isn't just about how much money is earned; it's also about the work done to earn one's salary.
Some IT leaders who communicated with SearchCIO.com following the survey said money is actually among their lesser concerns when it comes to happiness. Work that challenges and expands their knowledge of new technologies and a good, symbiotic relationship with the business are among the less tangible elements that make work more of a pleasure. This isn't so surprising, considering that respondents across all job titles in this year's survey reported spending most of their time using technology creatively to achieve business goals and manage projects.
Aniello Salierno, CIO at Charlottesville, N.C.-based Maxwell Group Inc., a company that plans, manages and operates senior living communities in the southeastern U.S., is on the same page as his peers in this regard. Salary is an important part of total job satisfaction, he said, but it doesn't come before how the organization embraces IT and the positive impact IT is able to provide the organization.
"I have spent the majority of my time building a more firm foundation. I prefer being actively involved in the projects that bring efficiencies; but effectively communicating the benefits of new projects is necessary for adoption -- and it's also rewarding," Salierno said. His greatest satisfaction comes from infusing the traditional approach of resident-patient care with technology that actually improves that care, he said.
"Reducing the time and effort it takes our employees to be in compliance with state and federal regulations, and allowing them to focus on resident-patient care continue to make me happiest," Salierno said. As for the part of IT that provides less satisfaction? "I am least excited working with technologies, processes and vendors that hiccup more than is expected -- videoconferences, mobile device management and data backup processes."
Let us know what you think about the story; email Karen Goulart, Features Writer.