News
Stay informed about the latest enterprise technology news and product updates.
IT salary satisfaction survey shows CIO salaries dipped in 2011
Our annual IT salary survey shows CIO salaries dropped in 2011, but some are still cautiously optimistic about their compensation.
Senior and midlevel IT executive salaries were on the decline in 2011, according to new data from the CIO/IT Strategy Media Group IT salary and career survey. Salary averages stayed flat compared to the 2010 survey data, but total compensation (base salary plus bonuses and other incentives) dropped significantly as senior IT executives battled with reductions in benefits, stock options and bonuses. About 94% of all senior IT executives reported earning more than $90,000 in 2011. Their average base salary in 2011 was $144,000, a figure that was greatly affected by whether a respondent reported to the CEO, the CIO or another senior IT executive.
The survey, conducted among readers of SearchCIO.com and SearchCIO-Midmarket.com in November, gathered more than 1,700 responses from IT executives and roles globally across 32 industries. All 50 U.S. states were represented. The survey defined a "senior IT executive" as a respondent having a title of vice president, senior vice president, executive vice president, CIO, chief technology officer, or chief information security officer. It defined as "midlevel IT executives" those who identified themselves as being at the director level.
The overall mood of the 544 survey respondents in senior IT and midlevel IT executive roles is balanced precariously between optimistic and pessimistic as the Great Recession trudges onward. Just 37% of our senior IT executives reported that the mood in their IT organization is optimistic; that number, however, is nearly matched by the 30% of respondents who admitted they were openly pessimistic.
IT salaries and compensation in 2011
By far, most senior IT executives (74%) reported receiving $90,000 to $210,000 in compensation annually, including base salary, bonuses, stock incentives and the like. Only 14% of all senior IT executives reported receiving total compensation of less than $90,000 annually, and most of this latter group were employed by midmarket or smaller corporations. More than half (54%) of all senior IT executives reported earning $90,000 to $150,000 in total compensation.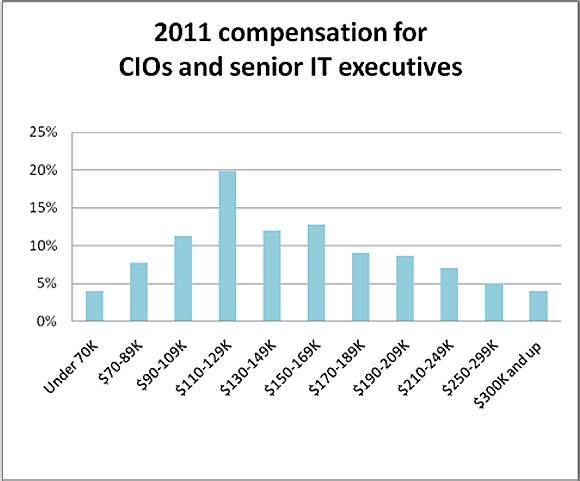 2011 IT exec salaries
Across all sizes of organizations, total 2011 compensation for an average senior or midlevel IT executive was $157,482, a slight ($3,000) decline compared to last year. In enterprise organizations, senior and midlevel IT executives reported an average 11% higher compensation than their midmarket and small-business counterparts ($174,432 per year).
How much should a CIO receive as an annual compensation package? There seems to be a vast divide between perception and reality. "CIO salaries vary by industry, as well as the size of the company. I would say, for smaller companies the "right" salary would be in the $150,000 to $250,000 range, and for larger companies, $300,000 and up, said Craig Schwartz, senior engagement director at Freeborders Inc., a San Francisco-based technology and outsourcing consulting firm.
"As most CIOs are direct reports to the CEO or have a seat at the executive table, the salary and compensation needs to be in line with [that of] the business line leaders reporting at that level, as the position requires not only a grounding in technology but also an understanding of the business goals and how to optimize business need and goals with technology as an underlying force," said Daniel M. Ryan, CIO for the city of Battle Creek, Mich.
Supporting Ryan's point, there indeed was a slight correlation in the survey between reporting structure and total compensation among respondents. For instance, 88% of the senior IT executives who report to the CEO made $90,000 or higher, compared to 99% of respondents who report to another IT executive. A closer look at the highest income bracket among survey respondents shows that of those who reported making more than $210,000 per year, 35% report to the CEO. The second-largest group (16%) of highest earners report to the CIO.
Among senior IT executives reporting to the CEO, the average compensation was $202,608, while executives reporting to the CIO made an average $40,000 less ($162,070). In comparison, the average compensation in 2010 for senior IT executives reporting to a CIO was $178,375: That's about a $16,000 drop in compensation in 2011 compared to 2010 last year. The difference becomes more dramatic when the compensation decreases felt by senior IT executives are drilled deeper into: For those reporting into the CEO in 2010, the average compensation was $220,775; compared to their average compensation in 2011 that's a sharp $17,000 decline for compensation in just twelve months.
Senior IT executives' 2011 salaries decline
When looking more closely at the decline in average IT salaries in 2011 compared to/with 2010, our individual respondents confirmed that compensation was an extremely volatile territory last year. Approximately 17% of our senior and midlevel IT executives reported an overall decrease in IT compensation and benefits, while 18% reported no change in their IT compensation and benefits, and no performance increases.
Average 2011 IT salaries by position
According to our CIO/IT Strategy Media Group IT salary and career survey, these are the average base salaries by position, as reported by respondents in the United States:
Senior IT executive (CIO/CTO/CISO, vice president of IT): $163,571
Consultant: $161,000
Midlevel IT executive, director level: $132,006
IT manager with one or more direct reports: $105,811
IT staff member: $91,512
On the other hand, about 5% of respondents reported an annual base salary reduction in 2011. Among those affected by base salary cuts, it was not uncommon to find major reductions. In the U.S., 23% of senior IT executives reported having their annual base salaries cut by 10% to 14.9%. An alarming 20% of respondents said their annual base salaries were cut 20% to 49.9%, and a small percentage (6%) suffered halved annual base salaries or worse.
A large segment of our survey respondents, however, did report receiving a base salary increase or a bump in total compensation.
Of those senior IT executives reporting an annual base salary increase in 2011, 62% received an increase of 2.0% to 4.9%. Another 14% received an increase of 5.0% to 6.9%. The average annual base salary increase for senior IT executives, however, was 10.33%, mostly because a few respondents drove the average up with as much as a 150% increase.
How long can the IT industry sustain these compensation levels without the IT talent pool being affected? It remains to be seen, but the changes have not gone unnoticed by senior IT executives. "The state of North Carolina hasn't granted any salary increases in three years. Our benefits cost more and deliver less. I am not sure what legislators expect, but they are setting up every state agency for a mass exodus as soon as the economy improves," said Joel Sweatte, director of IT at East Carolina University in Greenville, N.C.
CIOs want more money
The mass exodus that Sweatte predicts could be under way already. The biggest reason that senior IT executives quit their jobs is to chase more money, according to our survey respondents. Almost half (45%) of all senior IT executives and midlevel IT executives who took on new roles in 2011 did so in pursuit of a higher level of compensation. Changes in an organization's structure also played a large part in job churn, with 15% being eliminated in a merger or acquisition, another 3% being affected by layoffs and a small slice (1%) unhappy with a change in their own superiors. The most common response interviewees give when they're asked why they want to change jobs -- that they desire a new challenge -- had a small showing of respondents (12%), and unspecific "job discontent" (9%) also played a part in churn.
"I doubt that anybody would honestly say they make too much," quipped a vice president of IT for an aerospace and defense organization in northern Texas. "[It's] probably a lot of flat salary and incentive issues, just like mine. If there are companies ready to take off once the economy picks up, I am sure the demand will go up until there is some equilibrium."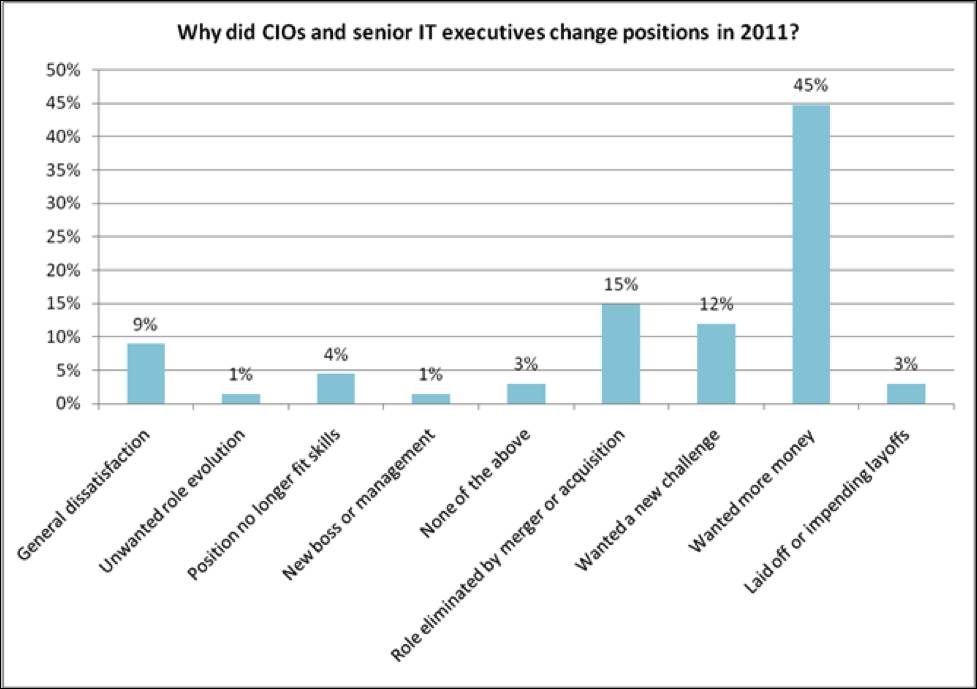 Why CIOs leave
And a senior IT director at a messaging company in New Jersey said this: "It doesn't surprise me. Based on the loss of about seven talented employees over the last four months, I would say that is true. Salaries were frozen and/or cut since the economic downturn in 2008 and 2009. CIOs and senior execs lost their bonuses, stock compensations and even matching-employer 401(k) compensation, while their responsibilities increased since there were so many layoffs around them forcing them to have more responsibilities for the same compensation."
While it could be a sign of the recession, this migration may simply be a facet of employment that we should expect regardless of the state of the economy. "Most of us are in the 'less than perfectly satisfied with our current level of compensation' category. I think it's human nature to always strive for a little more compensation," said Jaime Manriquez, senior vice president and CIO at Santa Cruz County Bank in California. "I learned early on in my career that money does not always equal happiness or career satisfaction."
Satisfaction with CIO salaries
Being dissatisfied about one's compensation is nothing new for our survey respondents: Compared to 37% last year, this year 36% reported being either "somewhat dissatisfied" or "not at all satisfied" with their 2011 total compensation package. Conversely, 44% of last year's respondents reported feeling "extremely satisfied" or "satisfied" with their total compensation, a percentage that fell 1% in this year's survey.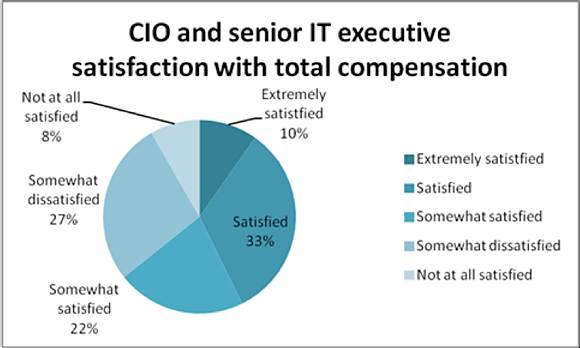 IT salary satisfaction
Compensation satisfaction is a large predictor of career movement, but CIOs are adamant that other aspects of their job play a huge part in their career happiness as well. "My level of job satisfaction is not very much about what's on the paycheck," said Jim Madaris, vice president for corporate project governance at Alfa Mutual Insurance Co. in Montgomery, Ala. "The environmental factors are what it's about with me. Openness to change, allowing executives to set and execute strategies, driving out politics with a data-based decision-making culture … those are the things that make a great quality of life for a senior leader."
Ian Fleming, a CIO in Arizona, confirms Madaris' feelings that CIO salaries are not the most important element of job satisfaction. "My drive comes from having a sense of transcendent purpose. When my team and I are able to accomplish what others only read about, when others listen intently when we are asked to speak at national industry conferences, or when we are able to cut operational costs due to the deployment of a technology we support -- this is where I get my drive."
Let us know what you think about the story; email Wendy Schuchart, Site Editor.
Dig Deeper on CIO and IT salaries