 BACKGROUND IMAGE: iSTOCK/GETTY IMAGES
News
Stay informed about the latest enterprise technology news and product updates.
IT forecast for 2012: Cautious growth in U.S.
Though spending is expected to grow in U.S. IT departments, our IT forecast for 2012 shows a smaller increase than expected.
In November -- while the U.S. economy remained anemic, the eurozone threatened to implode, and there were some hints that economies like China and Brazil might face a little bubble-bursting themselves -- we asked 2,642 IT professionals and business analysts around the world for their IT forecast for 2012.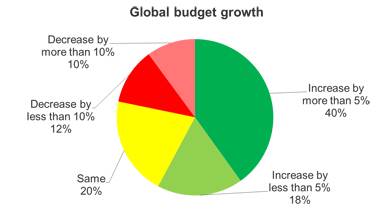 Global budget growth
In 2011 we reported an uptick in IT spending, but this year's survey shows a slight pullback. Although many companies (56%) still expect to spend more this year than last year, the percentage that do is down from 64% in 2011. That's still a far cry from the 38% reported in 2010, when the recession had IT fully in its grip.
Not surprisingly, IT managers in North America and Europe see lowered growth in 2012. IT spending in North America and Europe, in fact, will rise at only 47% and 44% of companies, respectively, compared to 69% of companies in Asia. (This survey did not include Chinese readers, so the Asian results are dominated by India but include Australia, Indonesia and Japan as well.)
In North America, 41% of respondents say they are recovering slowly from the recession versus 31% in Asia. Fully 35% of Asian respondents, however, say they never suffered from the recession, compared to 19% of respondents in North America. Europe falls between North America and Asia on both counts.
Recessionary effects appear to be spread fairly uniformly across small, medium and large companies, but respondents from different industries reported somewhat different pictures. Not surprisingly, 40% of government respondents say their IT spending is headed down. Spending is headed up most in the high-tech industries (computer manufacturing, telecommunications and so forth) and financial services (57% and 54% respectively). The health care and pharmaceuticals industries also made a strong showing, with spending headed up at 48% of firms.
Technology a growth driver, IT forecast for 2012 shows
As economic uncertainty becomes the greatest certainty, aligning IT with business can become a challenge. Is the business growing, treading water or fighting for survival? Overall, many IT departments (37% globally, but 25% in North America) are still focused on expanding to drive business growth. But many are in more of a holding pattern, making selective investments (23%) or maintaining service levels with flat spending (15%).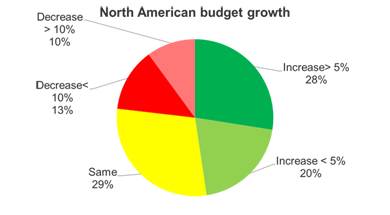 North American growth
The jobless recovery of the past two years has been the subject of a lot of discussion. In 2009 some IT managers reported they were being told to focus on streamlining and automating business processes so their companies could increase output without hiring back all the employees who had been laid off in the early part of the recession. Subsequent years also have showed some companies streamlining and automating, but only at modest levels. And this year, too, saw only 17% concentrating on helping the business automate more.
This recession has tested the patience and challenged the vision of IT managers just as much as it has any other part of society. It's probably fair to say that their overall sentiment is better expressed by the 40% who say they're recovering slowly, more so than it is by either the 18% who say they are mired in recession or the 20% who say they are back to normal.