AT&T builds an innovation ecosystem on four levels
AT&T CIO Thaddeus Arroyo has built an innovation ecosystem that operates on four levels and where managing innovation is about continuous improvement.
Don't talk to Thaddeus Arroyo about the next big thing. When it comes to managing innovation at AT&T, the telecommunications giant's CIO is all about putting one foot in front of the other.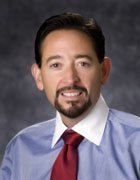 Thaddeus Arroyo
"The role I like to position IT in is the role of a progressive innovator, because in many cases it is not about going out there and finding the next great technology," Arroyo said. "It is about looking at how we can make simple modifications to the technology we use today to progressively have impactful innovation in our business."
To that end, Arroyo has built an ecosystem of innovation, as he calls it, which aims for continuous improvement and operates today on four levels:
Using big data and event correlation to improve network reliability and customer service continuously.
Collaborating with business experts to develop iteratively and rapidly prototype self-service and mobile technology to improve the customer experience in AT&T stores.
Crowdsourcing ideas from across the company to establish The Innovation Pipeline (TIP) idea management process.
Plugging into new AT&T Foundry innovation centers in Dallas, Silicon Valley and Israel to expose internal IT to outside developers' new ideas and to lend enterprise IT expertise to their projects.
This incremental approach to managing IT innovation might be deliberate, but it is anything but plodding. The overriding goal of technology at AT&T is business velocity, Arroyo said, and the IT department has earned its stripes on that score.
More than 90% of AT&T's IT innovation projects, from idea inception to production, get done in less than 12 months, and almost 60% of projects are completed in less than six months. Arroyo oversees 27,000 IT professionals from multiple businesses. AT&T's IT infrastructure includes data centers comprising 2 million square feet of raised floor space supporting the compute equivalent of 120,000 servers connected to 125 petabytes of data.
"Think about the size of a company like AT&T, with a very large global customer base, a large employee base and almost unparalleled scale in many areas," Arroyo said. "The real barriers you get into are how to scale these innovations as you identify the opportunities."
Breaking down these barriers began in the IT department. Since his appointment as CIO in 2007, following the merger of AT&T, SBC, BellSouth and Cingular, Arroyo has reduced the resulting company's 6,000 enterprise applications by 55% and moved to a shared services model for IT infrastructure.
Creating a single view of the customer
Probably the most IT-centric component of Arroyo's innovation ecosystem is his efforts to use big data to improve routine operations incrementally. One example is in the area of service assurance. There, the IT department is using AT&T's massive amounts of structured and unstructured data, as well as its extensive connectivity capabilities, to, Arroyo said, predict and prevent service failures before they occur.
"We have a lot of big data in terms of what is happening in the network, whether it is our access lines or core backbone. We also invest in systems that on a real-time basis correlate those events and take action based on signatures we have built," Arroyo said.
The technology used for real-time event correlation is proprietary, but the innovation is built on industry-standard software, such as enterprise data warehouse technology from Teradata Corp. and large implementations of Oracle for the data, Arroyo said.
Arroyo also is using big data to improve customer service and boost sales. After the merger that created it, AT&T's consumers were buying products and services from different systems. "We are taking and correlating data from multiple sources that we had across multiple products to create a structured view of the customer, or what we call our unified household view," he said.
Iterative development depends on collaboration
One of the most palpable examples of Arroyo's continuous improvement model of innovation is at the retail level. AT&T offers self-service kiosks for making payments, as well as interactive "selling stations" where consumers can learn about products. Salespeople use mobile devices to check out customers anywhere in the store.
More on building innovation ecosystems
AT&T builds an innovation ecosystem on four levels
CIO Innovators: Profiles in IT and business leadership
Large data sets pose huge challenges for CIOs, but boost careers too
How Chevron is building a pipeline of IT leaders focused on innovation
The improvements to the store experience didn't depend on proprietary technology, Arroyo said: "We didn't develop anything that wasn't already in the marketplace." What it did require, however, was close collaboration between IT industrial engineers and AT&T sales operations experts.
"IT shares a seat at the table with the business by driving this continuous innovation model, whereby we jointly observe customer behavior in our retail stores, in this particular example, and then target solutions to improve sales and service," Arroyo said.
An Agile, iterative development approach allows business and IT teams to prototype and test products rapidly for their potential value to the business. If the anticipated ROI proves out, investment follows to scale the product across the company, Arroyo said. These products enhance the customer experience, but they also improve the business process in a way that would not have happened if IT had followed a traditional waterfall development approach, where the business doles out requirements and IT retreats to make the business case, he said.
"In the traditional model, you are only going to get the orders that your business partner can envision -- and those are not going to have the benefit of the technology experience that you gain from working hand in hand with IT," Arroyo said.
Managing innovation in all the unexpected places
Because, as he puts it, "innovation can come from any direction, and not just from the people looking at a problem," Arroyo also is managing innovation outside of normal business processes. Rounding out his innovation ecosystem are TIP and the AT&T Foundry innovation centers. Anyone can submit an idea to TIP, he said. Ideas are voted on, and those that have the highest following and most relevance get, you guessed it, incremental attention and, potentially, funding.
The three innovation centers represent the outer bounds of Arroyo's innovation ecosystem. "The idea is to connect innovators who have great ideas but not necessarily the right resources or expertise to reach a broader market," he said. Even though the centers fall under the leadership of AT&T's chief technology officer, Arroyo has made sure that his team is plugged in and benefiting, both as part of the collaborative team that helps startups bring their ideas into the mainstream and as users. "I expose my team to new ideas, whether it is wireless application development or new technology like real-time video billing."

The SearchCIO.com CIO Innovators profile series highlights how CIOs use technology to meet both IT and business leadership objectives. To suggest a leader for a future CIO Innovator profile, email [email protected].
Let us know what you think about the story; email Linda Tucci, Senior News Writer.