 BACKGROUND IMAGE: iSTOCK/GETTY IMAGES
News
Stay informed about the latest enterprise technology news and product updates.
CIO drives new business model with mobile business intelligence
Mobile business intelligence has lagged the deployment of other business mobile apps; that's changing as more CIOs realize strategic gains from mobile BI.
The adoption of mobile business intelligence (BI) applications has lagged behind that of other mobile apps. The reasons range from the technical difficulties of delivering interactive reports to small screens and fears about security to showing a return on investment.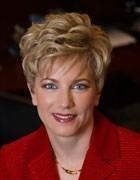 Chris Brady
As the more format-friendly tablets gain ground, the appetite for mobile BI is expected to rise sharply -- and not just among the iPad-armed executive class. About 70% of 200 IT leaders recently surveyed about mobile BI by independent advisory Dresner Advisory Services LLC expect a quarter of their user base to utilize BI exclusively through mobile devices in two years; 25% expect half of their users to do so. Mobile devices will eclipse the use of laptops for mobile BI applications within the next three to five years, Forrester Research Inc. predicts. Enterprises that do not act now to make BI part of their anytime, anywhere computing strategy "risk falling behind," warned Forrester analyst Boris Evelson.
Chris Brady, CIO at Dealer Services Corp., needs no convincing that the proliferation of mobile devices in the workplace requires a mobile business intelligence strategy. Reached at her desk, Brady was within arm's reach of her computing armory: a BlackBerry, an iPhone, a Windows Mobile phone, a Dell Streak tablet and her iPad. "No, I probably don't need all of them, but I like them," she said.
Field force intelligence
Having a CIO who can appreciate the allure and capability of a mobile device was strategically important for Dealer Services, a used car dealership auto loan provider. The company recently decided to close its 80-plus offices across the country and bring the support staff to its Indianapolis corporate headquarters, leaving its sales people in the field close to their customer dealers.
"We came to the realization that our dealers don't have time to go to our physical location. We decided we would be better off making certain that we go to them," Brady said.
With its large field force, mobile connections have long played a critical role in the business, Brady said, and her small team of BI specialists works hard to provide targeted information so employees don't have to go digging. The company relies heavily on Information Builders Inc.'s WebFocus Active Technology reports and dashboards, which allows users to manipulate the data as they please -- without running the risk of messing up the data set. A laptop with an aircard and virtual private network connection -- the epitome of cool a couple of years ago -- no longer cuts it for people "going entirely mobile," said Brady.
"They have to keep that battery charged up. It takes a while to boot up if you do not have the machine running all the time," Brady said. "They want -- with the touch of a finger -- to have all the information they need on their customer right before they walk into that dealership. Mobile is ideal for that."
The rise of 'bring your own device'
Brady's field warriors now have a "heck of a lot of data through a fair amount of drill-down capabilities," she said, after she implemented a new mobile solution from Information Builders. The tool dynamically adapts the Active Technology apps to work across all smartphones and tablets. Most of the time, she added, these employees are accessing the bigger sets of data on their laptops at home when they have more time to analyze trends and make charts. Out in the field, they tend to need operational information -- a piece of critical data to solve the problem at hand. "When you're standing in a parking lot and you've got 45 seconds, that data better be very, very clear," she said.
Some work styles are changing along the way. The company is moving to a bring-your-own-device (BYOD) strategy, for starters, now that the team has a technology that can effectively deliver the BI applications to many. Providing the right information to employees at the right time has reduced the number of IT requests, as well as the amount of time workers spend at home preparing for their jobs. Most significantly, perhaps, a growing number of employees are doing their jobs using only mobile technology.
"You have to change your way of thinking, but it is doable. It is a huge shift in how people think now," she said.
Brady's fellow CIOs often cite a fear of data loss preventing them from adopting a similar solution, but she points out that the data isn't residing on the devices in this case. "The biggest security threat is still your users' actions. People can do more damage by forwarding their emails," she said. "The thought that you are somehow going to prevent all of this cripples the adoption of mobile BI. To me, the benefits completely outweigh what could happen."
Let us know what you think about the story; email Linda Tucci, Senior News Writer.
Dig Deeper on Small-business infrastructure and operations