News
Stay informed about the latest enterprise technology news and product updates.
IT salary survey: More money, but opportunities for growth a challenge
The 2010 IT salary survey shows compensation up compared with last year, but some IT professionals will find challenges moving up or out of their current jobs.
According to SearchCIO.com's IT salary survey, 2010 was a better year than 2009 for IT professionals. Compensation and job satisfaction were up, as IT budgets were buoyed by the recovering economy. This year promises to be even better, but factors other than salary -- such as technology trends and the role of the CIO -- could have bigger effects on IT careers in the coming years.
More IT salaries and careers resources
The 2010 CIO Salary and Careers Survey of 920 IT executives revealed incremental gains for IT executives of various ranks in salary and satisfaction across multiple industries. Some results, however, were surprising.
High-ranking IT executives (vice president, executive vice president, senior vice president, CIO, chief technology officer, chief information security officer) in the financial services industry saw a big (15%) jump in their average salary, while their counterparts in health care saw their average salary drop 7%, reported SearchCIO.com Senior News Writer Linda Tucci. With the health care market in the midst of a major transition to electronic health records (EHR), that drop might raise some eyebrows. On the other hand, salaries for IT managers (those with at least one direct report) in the health care sector showed one of the largest increases -- 10% -- from 2009. So, this could be an indication that health care organizations are staffing up their midlevel management to meet the demands of the Health Information Technology for Economic and Clinical Health, or HITECH, Act's rules for deploying EHR systems.
Upward mobility and hiring, advancement a challenge
Overall, however, there are no indications of a pending boom in IT personnel hiring. According to the senior IT executives answering the survey, only 31% of firms are actively hiring, while 27% have a hiring freeze and 14% are shrinking by attrition (see graphic). Among industries that are hiring, health care, financial services and the government lead the way, according to the survey.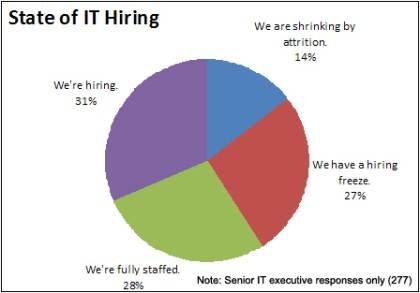 The challenges facing IT professionals can be put in terms of upward mobility. The survey reveals that 39% of senior IT executives are interested in moving higher up in their overall corporate organization, while just 7% are looking to move up in their IT organization. Thirty-five percent are looking to move to a larger company.
CIOs are more involved than ever in aligning technology with the business, and many are advancing into business roles -- but only if they are prepared.
"At this stage, I do believe that salaries are fair." said Linda Gonzalez, a CIO in the entertainment industry. "I'm not sure if there are solid career paths when looking at the higher levels, including the senior IT executives."
As CIOs prepare for new jobs or promotions, technology skills are not necessarily the most important ones for IT executives on the way up.
Advancement "is less about cost-cutting nowadays and more about 'How did the business change or gain a material advantage, as a direct result of your tenure?'" said Bruce Barnes, president of Bold Vision LLC, a consulting firm based in Dublin, Ohio. "The underlying themes for the budding CIO are now innovation and creativity. Cost-effectiveness and assuring high reliability in a 'no more added budget' environment are simply table stakes: that is, not brag-able. You need a bigger story."
Let us know what you think about the story; email Scot Petersen, Editorial Director, SearchCIO.com.