News
Stay informed about the latest enterprise technology news and product updates.
IT salary survey reveals mixed levels of satisfaction
Our annual IT salary survey reveals that skilled midlevel managers make almost as much as CIOs, and salary satisfaction suffers with additional responsibilities.
At first glance, the most notable fact about our 2010 IT salary survey -- the November CIO and Salary and Careers Survey -- is the somewhat narrow gap between the average pay of senior executives and that of midlevel managers and even IT staff. As in, there isn't much of one.
Though some CIOs and other senior IT managers broke the $150,000 barrier -- and even then, only in the financial services industry -- midlevel IT directors enjoyed salaries just $20,000 less. And the IT managers below them made just over $95,000, on average: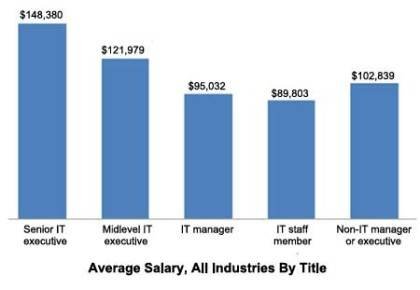 Overall, midlevel IT executives saw the largest increase in their 2010 pay compared with 2009, although the average raise was still less than 5%. Nonetheless, the uptick put the average salary for midlevel IT executives at $121,979, while senior IT executives, with an average 1.7% raise, inched upward to $148,380. IT managers saw the smallest salary increase in 2010 -- .3% -- for an average pay of $95,000.
Average Salary 2009-2010
| | | | |
| --- | --- | --- | --- |
| | 2010 | 2009 | Change |
| Senior IT | $148,380 | $145,899 | 1.7% |
| Midlevel IT | $121,979 | $116,976 | 4.3% |
| IT manager | $95,032 | $94,744 | .3% |
There are some inequities in the pay scale, said the chief technology officer of a financial services firm, who asked to remain anonymous. "I have guys on my team that make [$25,000] less than I do, but I'm responsible for so much more," he said.
"What's driving that is demand for skill sets: people doing the heavy lifting in technologies -- network, database, IT support administration; skill sets for Java and C++," the CTO said. Businesses need to pay skilled IT managers a market rate, or they risk having to search for a replacement. "Even with a down economy, I've lost three or four people to what they viewed as better benefits or salaries."
In the IT salary survey we asked nearly 1,000 enterprise- and midmarket-company senior IT managers, midlevel IT directors, and IT managers with at least one direct report how their salary changed in 2010, what they expect it to be in 2011 and how satisfied they are with it. (See what the respondents expect in terms of pay increases in the Expected Increases: All Industries by Title chart below.)
Senior IT executives (30% of respondents) included vice presidents, executive vice presidents, senior vice presidents, CIOs, CTOs and chief information security officers; 26% of respondents were midlevel IT executives at the director level; and 30% of respondents were IT managers with at least one direct report. The remaining 14% of respondents were IT staff (11%) and non-IT managers or executives (3%).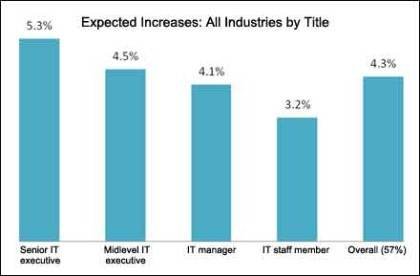 Remarkably, all the IT salary survey respondents were 46 to 49 years old, and had been in their current roles between six and 7.5 years. A quarter worked at enterprises employing more than 10,000 workers, while another 22% worked at midmarket firms with 100 to 500 employees.
In 2011, the percentage increases will be closer. Senior IT executives expect to see an average increase of 5.3%, while midlevel executives and IT managers are looking at salary increases of 4.5% and 4.1%, respectively, according to the IT salary survey results.
Is IT compensation enough?
The question remains: How satisfied are senior IT executives, midlevel IT directors and IT managers with their compensation? Midlevel directors, flush with the biggest increases of 2010, are slightly more satisfied than senior executives or managers, but the numbers on the whole round out to 60% and 40%, in the right direction.
Among senior IT executives, 59% said they were somewhat satisfied (16%), satisfied (30%), or extremely satisfied (13%). But 32% said they are somewhat unsatisfied, and 9% said they are not at all satisfied.
Midlevel IT directors are more satisfied than those in the top tier: Only 10% claimed to be extremely satisfied, but 35% said they were satisfied and 18% said they were somewhat so. Again, 9% said they are not at all satisfied, leaving 28% who said they are somewhat dissatisfied.
The numbers for IT managers are similar to those for senior IT executives, with 59% saying they are somewhat satisfied (19%), satisfied (30%) or extremely satisfied (10%).
"Given the local government salary level, I feel adequately compensated," said John Spencer, IT manager for the Canton Township in southeast Michigan. That's a good thing, because he's at the 10th and highest pay level, having been with Canton for 25 years, mainly in finance and accounting. He has worked with computers throughout his career, but says that being an IT manager is equally as much about customer service and communicating with staff and others in the organization -- to "make sure that we're all going in the same direction," he said.
Spencer reports to the township's director of finance and budget, who sits on a management team of about 12 people. Six IT employees in "specialized IT" areas, such as the Web, network, helpdesk and database, report to him.
As an IT manager, Spencer isn't burning down the bank with his deposits, but says part of his satisfaction comes from job security, a feeling of belonging to an organization, and providing computer services to the township organization and Web access for local government.
"I'm glad I have a job," said Peter Toth, manager of IT operations at GFK Custom Research North America in Princeton, N.J., a division of the German research and development company GFK Group. GFK has been in acquisition mode, which has led to multiple IT organizations.
"Our project is to come together and become one IT organization," Toth said. "It's going well overall," considering that the challenging consolidation -- from at least 15 data centers worldwide to one for the Americas, one for Asia/Pacific and one for Europe -- involves an Active Directory migration, mail migration and virtualization.
Toth is "the operations guy on the network team," he says, managing day-to-day network operations including phones and Voice over Internet Protocol at the Princeton facility, where he also manages one direct report on-site. His boss is an IT director who's ultimately responsible for U.S. networks.
Those IT salary survey respondents who were not satisfied with their pay pointed to the amount of work they're being expected to do. "Given the responsibility, it doesn't seem like it matches," said an IT manager at an enterprise that employs more than 10,000 people and is worth more than $5 billion.
It used to be that if IT managers had 10 or 12 direct reports, they were overtaxed. Now senior IT executives have 20 or more reports, with all the associated demands -- and less pay, especially in financial services, where bonuses that once provided 40% of a compensation package evaporated after the meltdown. "I love to do what I do, just don't feel like I'm compensated for it," said the CTO at the financial services firm.
Let us know what you think about the story; email editor@searchcio.com.
Dig Deeper on CIO and IT salaries