News
Stay informed about the latest enterprise technology news and product updates.
Cloud computing basics: Planning and understanding a cloud strategy
Cloud computing has generated a lot of buzz (and noise) over the years -- but what is it, really? Learn some of the basics and how to plan a cloud strategy for midmarket IT.
Cloud computing will have a huge impact on your company in the next few years, so if you don't have it in your IT strategy? It's time for a new strategy.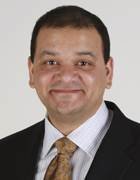 John Weathington
As a midmarket company, it's in your best interest to full understand and leverage the agility and cost-effectiveness cloud-based services can provide. As the IT manager, your company will be looking to you for guidance -- a tough position to be in, when there's so much cloud computing noise to sort through.
While cloud computing is still in its nascent phases, we have had at least a few years to sift through the vast and largely superfluous information that's out there, and I have some solid advice. Let's start with understanding what cloud computing really is, and how you can get some tangible benefits with a cloud strategy.
Cloud computing 101
There's still a lot of confusion around what the cloud is -- and there shouldn't be. For a midmarket company, cloud services are simply a way to outsource headaches to a third party on a pay-as-you-use engagement model. Years ago, everyone was responsible for generating their own power (which, ironically, is back in style), until we started building out an energy grid. Now we don't need a huge investment in power-generating equipment -- we simply pay a few hundred dollars a month for the energy we need and let the big power companies deal with the headache.
Cloud computing is your energy grid, and more. Big companies like Amazon.com Inc., Microsoft, Google Inc. and many others have made annoying services like email management, database management and office productivity simple to deploy within your organization, with the added benefit of a utility- or subscription-based procurement model. This turns huge up-front capital expenses to low operating expenses, which is a very positive move for any midsized company, under most circumstances.
There are several deployment models (e.g., public, private), depending on how much of the infrastructure you want to own and manage, and how much you want to push out externally. For a midmarket company, I would focus mainly on public clouds, where everything is handled by a third-party vendor outside your organizational walls. The minute you start bringing cloud infrastructure in-house, both headaches and costs start going up, totally defeating the purpose.
Setting a cloud computing strategy
The overriding questions to ask when setting a cloud strategy are what core strengths do you want to focus on, and what headaches do you want to abandon? Remember, strategy is a projection into the future, so think about what technologies you want your organization to have a strong competence in, and what technologies are better suited for somebody else to deal with. Those functions that aren't core to your operation are good candidates for the cloud.
For instance, I personally believe that business intelligence and data warehousing should be kept in-house -- this data supports strategic functions and can be quite sensitive. Communication and collaboration, on the other hand, would be something I would leave to the cloud.
To engage your cloud partners, you must know exactly what you want and be able to define it in objective terms. Include specific requirements from all affected parties (including security) to create a more results-based organization.
It's also important to consider the necessary in-house skill sets you will need to support your new cloud-based infrastructure. For instance, if you're going to cloudsource your corporate email, you probably won't need as many Microsoft Exchange experts on hand.
As a result, your organization should consist of experts with technical competencies that match your target core competencies and nontechnically focused resources that represent and maintain strategic intellectual capital that you shouldn't be outsourcing, such as business analysts, project managers and functional managers.
Cloud security concerns
Everybody's paranoid about cloud security, and for good reason. Anytime you trust a third party, you run risks. And there will be some cases, like when data privacy is a concern, where the risks may outweigh potential benefits.
Compliance concerns will always be tricky, and you should always check with your internal compliance watchdogs before deciding to leverage the cloud. Don't arbitrarily assume, however, that your capacity for compliance is better than that of a third party. Just because you cook your food at home doesn't mean it's safer to eat -- restaurants are under much more stringent controls.
That being said, regulatory compliance shouldn't be your only concern. Sensitive and confidential information should be taken very seriously and kept in-house. With all the security promises in place, I still wouldn't trust third parties with my strategic data -- if that data ends up in the wrong hands, it could mean the end for a company.
The best advice I can give to reduce the risk of exposure for the rest of your data is to stick with the big companies. In the next few years, there will be a lot of small players trying to capitalize on cloudmania, but even if the service model and costs look better it's not worth compromising your data. While there are no guarantees (I'm sure we'll see some high-profile data breaches from some of the big players in the future), sticking with the big guys can help reduce some risks and potential liability issues.
When everything's said and done, the cloud is here to stay, and midmarket companies shouldn't avoid jumping in. Be smart, but definitely act. Sitting on the sidelines in indecision and fear is the wrong play; your competition will definitely outflank you. Start by looking at some low-risk/high-value cloud plays like collaboration, and build from there. Once you understand how to make your cloud strategy work for you, you might actually find yourself getting hooked on cloud computing.
John Weathington is president and CEO of Excellent Management Systems Inc., a San Francisco-based management consultancy. Write to him at editor@searchcio-midmarket.com.