News
Stay informed about the latest enterprise technology news and product updates.
Tips on how to dodge the scariest of IT worst-case scenarios
This Halloween, scare yourself silly with these IT horror stories, and learn how enterprise CIOs can exorcise past mistakes.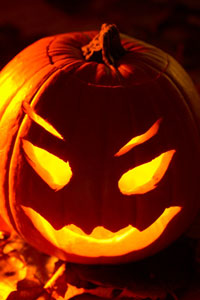 Feeling scared yet?

Halloween only comes once a year, but this past year has already been a chilling one for CIOs: Data leakage where companies least anticipated it. The long road to recovery after a hurricane took out a data center. E-waste, and the specter of a trash-laden world right out of Wall-E. A massive data breach leading to lawsuits galore. And while CIO jobs and salaries appear to be holding fairly steady, hardly anybody can honestly claim that the current economic situation isn't giving them the creeps.

The following five stories might scare you silly, but look beneath the tales of terror and learn how enterprise CIOs can turn a horror-movie situation into a happy ending.

IT risk moves higher on security radar, report finds
[Linda Tucci, Senior News Writer]
A Symantec report addresses IT security myths and realities, as well as data leakage dangers.

Disaster planning: Bank builds data center for the long haul
[Linda Tucci, Senior News Writer]
After Hurricane Katrina another whirlwind began. A Mississippi bank, with expertise from SunGard, built a $16 million data center for the long haul.

PCI compliance a good start, but not enough
[Linda Tucci, Senior News Writer]
More than 4 million credit and debit card numbers were pilfered over three months from Hannaford Bros. Co. supermarket chain. The lesson for CIOs? A PCI checklist is not enough.

E-waste: A blight on the environment and a company's good name
[Linda Tucci, Senior News Writer]
The e-trash keeps piling up. Need a visual? Think Wall-E. What isn't stockpiled is being dumped into landfills and the toxic parts shipped off to countries where laws are lax. CIOs are taking steps to keep their companies' hands clean.

In a tough economy, CIOs have few job-security concerns
[Linda Tucci, Senior News Writer]
Despite a weak economy, IT is seen as an asset in operational efficiency, not a money pit. SearchCIO.com's recent survey indicates that many CIOs feel secure in their jobs.
Let us know what you think about the story; email: Rachel Lebeaux, Associate Editor
Dig Deeper on Risk and compliance strategies and best practices