News
Stay informed about the latest enterprise technology news and product updates.
Salary Report: In a tough economy, CIOs have few job-security concerns
Despite a weak economy, IT is seen as an asset in operational efficiency, not a money pit. SearchCIO.com's recent survey indicates that many CIOs feel secure in their jobs.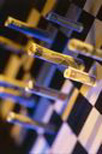 SearchCIO.com Salary Report
Even in this weakened economy, enterprise CIOs seem only slightly concerned about job security and believe their career prospects are good, according to a recent SearchCIO.com survey of 150 enterprise CIOs and IT managers. Asked how confident they feel about job security in a slowing economy, 67% responded they are either mostly confident (43.88%) or very confident (23.21%).
In addition, 43% of the respondents say they are more likely to leave their jobs for a higher-paying job this year than last year. In a recessionary climate, why do enterprise CIOs not only believe that they can keep their jobs but also see the possibility of a higher-paying one around the corner?
In interviews with CIOs, headhunters and industry watchers, the consensus was that CIOs -- if not lower-level IT workers -- are relatively immune from the current economic turbulence. Unlike the last economic downturn in 2000-2001, when CIOs were at the epicenter of the technology-driven bust and often censured (and sometimes fired) for wasting corporate dollars, these days the good IT executive is more often viewed as an architect of cost savings and improved processes than as the prodigal geek.
In troubled times, companies focus on minimizing risk and maximizing operational efficiency, those interviewed said. One of the reasons banking institutions are in this mess, said Shawn Banerji, a member of the technology practice at executive search firm Russell Reynolds Associates Inc. in New York, is a lack of transparency in the home mortgage business and financial services -- an ugly case of the proverbial right hand not knowing what the left was lending. Information and business processes must be fixed in order to get this industry back on track. CIOs, as well as their business information counterparts, are being tapped to lead or be part of that effort. But the focus on corporate governance and business process optimization is not confined to the financial services industry.
"The emphasis now on process re-engineering is making the role of the CIO much more critical," Banerji said.
Indeed, the headhunter is not surprised by the survey's findings on CIO job security. "That is consistent with what we are seeing and hearing both from CIOs and from non-IT senior business leaders."
Shared services ushers CIOs into the business's business
With each passing day, the mantra of aligning IT with the business sounds less like an empty slogan, Banerji and others said. Now a significant trend in business is the move to a shared-services operating model.
"The CIO in many cases has become the designate within these enterprises to drive these business changes outside of IT," he said. That makes sense. Many business functions and processes are technically enabled. The CIO responsible for implementing PeopleSoft human resources (HR) or Oracle financials is not the head of HR or the CFO, but nonetheless "quite comfortable managing the workflow and underlying business processes," Banerji said. CIOs who have this kind of responsibility are justified in feeling they are part of the solution, not the problem -- which for many execs is a welcome change.
"If you dial this back to the last economic crunch, the CIO was a huge target, because we were coming off of Y2K as well as the dot-com boom. Many people looked at the CIO and said, 'Man, you were just the biggest cost center that has done nothing for ROI. You took all this money, and what did you deliver? Nothing. You're history,'" Banerji said. "Dial ahead to 2008, and there is greater appreciation of what IT can do."
Veteran IT executive June Drewry has no quarrel with that. Until March, Drewry was global CIO at Chubb & Son, the organization that oversees the management of the $44 billion Chubb Group of Insurance Cos. When her handpicked successor took over this spring, Drewry, who retires at the end of the year to consult, was persuaded by the business to lead an end-to-end process redesign project for Chubb.
"It goes across every business process we have, and it's deep. We also take this on from a customer perspective, so it won't end up being, 'OK, you're as efficient as heck, but you're hard to do business with,'" Drewry said. "It's also very, very fact-based, probably the most fact-based effort Chubb has had in the business process area,"
The total immersion in business has been great fun, she said. "I've never learned the business deeper than this. Our CEO made the comment 'You should have done this first and then gone in[to] IT,'" she said, adding that her immersion in the business side at the end of her career at Chubb signals the future for CIOs. She offers up her extensive network of fellow CIOs as evidence.
"You're seeing so many of the top guys moving into new roles, and they are much more innovation- or integration business-oriented roles. Companies are reaching for their CIO performers who are so deep into every bit of what is going on in the company in terms of process and work," Drewry said.
Flexibility key to survival
Jerry Luftman, vice president of academic community affairs at the Society for Information Management (SIM), an association for senior IT executives, said that what he hears from CIOs doesn't always reflect what he reads in the financial press.
"We don't hear the sky is falling by any means," said Luftman, who was busy culling initial results from SIM's annual survey of IT executives. As was true last year, hiring people with the right skills remains a challenge for CIOs, and budget increases still outpace the number of budgets that have been cut. Like other interviewees, he noted that many CIOs have been through previous downturns in their careers. "So, I think they're better prepared. I don't hear any sense of panic."
As for CIO job security in a faltering economy, Luftman said, "It's a great question, but I don't know if history shows the tenure of CIOs goes down in a down economy. My sense is, it does not."
Martha Heller, managing director at Z Resource Group Inc. (ZRG), agreed. "In any economy, every company needs a CIO," she said. Heller leads the IT Leadership Practice at ZRG, an executive search firm based in Westborough, Mass.
I don't hear any sense of panic.

Jerry Luftman, vice president, academic community affairs, Society for Information Management
In her experience, unless they are really pushed, companies don't rock the C suite during the rough times. Plus, unlike the tech bust, this downturn is not an equal-opportunity disaster for CIOs.
"The CIOs that are dialing me because they have lost their jobs tend to be in the mortgage-related business and in divisions or companies that have been shut down. Either the company itself has gone out of business or been bought by a private equity firm [that] wants to put in their own management," Heller said. "In the last month, 90% of the conversations I have had with CIOs who are out of a job were in jobs that no longer exist."
The buoyancy of the CIOs at stable businesses, however, doesn't mean the position is recession-proof, Heller said. Some of her CIO clients hired to innovate or help globalize operations are now being asked to spend more time on finding operational efficiencies and ways to cut costs. CIOs who can adapt and be flexible will fare best.
Heller has also seen a change in IT hiring by CIOs, reflected by the decline of postings on online job sites and other reports. A year ago, if an enterprise CIO lost his vice president of applications, for example, the vacancy was viewed as an opportunity to get "the best of the best," and the company would frequently launch a national or even international search to make it happen.
"Now I am finding these same CIOs are slower to do that," Heller said. It's not that they're "not hiring for the position, but they are being pressured to look internally."
Buy low; sell high
In this shaky economic climate, the relatively high percentage of survey respondents indicating a greater willingness to move on to another job for more pay this year seemed counterintuitive, especially given that the average salary increase indicated by these same respondents is a modest 4%. But even this finding can be related to the economy at large and a lackluster stock market, said Russell Reynolds' Banerji.
"The good people are saying, 'My capital is pretty high, because I have been working behind the scenes to improve these processes. Perhaps somebody is getting more credit for it, but I am capable of doing this. If I am going to make a move, it is in this market that I am going to be able to make the biggest impact,'" Banerji said,
Joining the team in hard times has its rewards, Banerji said, citing the buy-low, sell-high principle of investing. For CIOs who feel they can make a difference at a company -- who want to be part of the fix -- signing on when the stock is depressed makes sense. "Those are the optimum times to join. You want to ride it back up and get the corresponding recognition and reward."
ZRG's Heller agreed. "IT executives have very little patience with the status quo. What often attracts these folks to technology is a belief in change as the steady state," she said.
When these change agents feel they have lost an opportunity to move up or do something exciting, they will want to move on, Heller said. "You have to love the confidence of the IT executive."
Let us know what you think about the story; email Linda Tucci, Senior News Writer.
Dig Deeper on CIO career development and career paths