News
Stay informed about the latest enterprise technology news and product updates.
Better hardware prices bright side to economic recession
The possibility of recession means a tighter budget, but it also leaves manufacturers ready to cut costs.
IT spending will slow this year, as the U.S. economy edges toward a recession, analysts say. But for those with wiggle room in their budgets, 2008 may be the year to garner big savings on hardware.

Spending on hardware in the U.S. has gone up each of the past five years, including a 10% bump in 2005. But Andrew Bartels, a vice president and principal analyst at Forrester Research Inc. in Cambridge, Mass., is predicting a 1% drop in hardware spending this year.

It's a byproduct of the pained U.S. economy, but there are silver linings. Bartels has one to suggest.

"If you're a CIO and you're trying to negotiate with Dell and HP and Cisco, they're going to be hungry for business," Bartels said. "You're going to want to be aggressive about pushing for competitive bids."

Midmarket CIOs planning hardware purchases in the coming months should take time to shop around and solicit bids from competing manufacturers, Bartels said. Play the bids off each other and also pay attention to when you are buying.

"The classic situation is for CIOs to realize that a vendor at the end of the quarter is more willing to make deals because they're trying to book business for the end of the quarter. That's classic," Bartels said. "Well, it's going to be greater this quarter."

Overall spending on IT products -- including software and services -- in the U.S. should increase about 2.8% this year, down from an estimated 6.2% increase last year, according to a report by Bartels and other Forrester analysts. Released Feb. 11, it revises downward a previous prediction of 4.6% growth in the market.

To make their predictions, analysts at Forrester considered data on IT investment and economic growth and also considered the financial reports of 46 major IT vendors.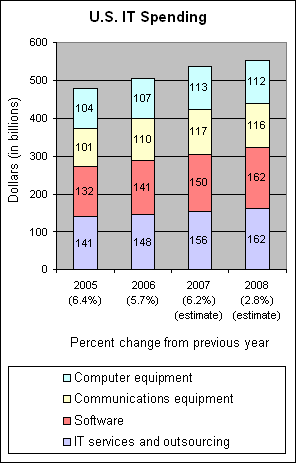 Source: Forrester Research Inc.


Gordon Haff, principal IT advisor at Illuminata Inc. in Nashua, N.H., said market slowdowns are generally known to increase pricing pressure. That's especially true if manufacturer inventory goes up, "although, in general, vendors have a tighter rein on their supply chain and manufacturing than they did during the last cycle," he said.

There is a competing theory that says the economic downturn will leave cash-strapped CIOs looking for products that provide increased efficiency. That, in turn, leaves IT departments buying those products. Thus, more spending.

"This feels like mostly wishful thinking, though," Haff said. "Spending downturns are spending downturns."

The other good news buried in the economy talk is that an IT downturn should be mild -- at least compared with the woes of the national economy as a whole.

The U.S.gross domestic product grew at an annual rate of only 0.6% in the fourth quarter of last year, down from a 4.9% annual rate in the third quarter.

But a survey of 1,500 CIOs conducted late last year by Gartner Inc. in Stamford, Conn., projected a 3.3% increase in U.S. IT budgets in 2008. The Forrester report predicts a similar increase. Analysts at Gartner plan to "double check" by conducting the survey again in light of recession fears.

But a Gartner report claims IT spending won't drop so far as to actually send the industry into recession. It's consumer spending that will spiral, the report argues -- the result of the nation's recent home foreclosure crisis.

"While a recession may still hit the U.S., we as yet see no evidence that IT spending -- especially new IT capital spending -- will experience negative growth in 2008," Gartner fellow and vice president Ken McGee wrote in the Feb. 1 report.
You're going to want to be aggressive about pushing for competitive bids.
Andrew Bartels
principal analystForrester Research Inc.
Adding a caveat that the short analysis is not Gartner's "final projection" for 2008 IT spending, McGee still suggests that CIOs create a team responsible for cutting an IT department's 2008 budget and have that team ready to work on the day executives call for cuts.

U.S. IT spending on software should grow slightly, Bartels predicted, increasing 8% this year, compared with 7% in 2007. Though he still believes the overall slowdown should allow CIOs to cut deals on those products, as well.

Bartels also said he believes the IT economy will pick up heading into 2009, led by spending on service-oriented architecture and growing interest in server virtualization.

Globally, IT spending is expected to increase at a slower rate than it did last year. IT spending should still increase in double digits across Eastern Europe, the Middle East, Africa and Asia, Bartels predicts. But the U.S. still accounts for about one-third of IT purchases worldwide and its slowed economy has a significant effect on the world IT market.

Let us know what you think about the story; email: Zach Church, News Writer
Dig Deeper on Small-business IT strategy