News
Stay informed about the latest enterprise technology news and product updates.
Salary Report: Senior IT execs leverage skills, earn big bonuses
Senior IT execs are seeing the largest pay increases since 2001. Upshot: It's time to ask for a raise.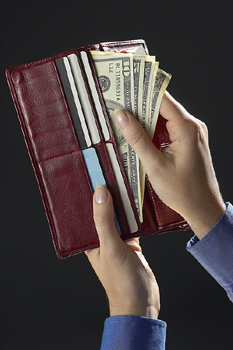 SearchCIO.com Salary Report

It's a clear-cut case of supply and demand.

Salaries of IT professionals at large firms were up 6% and bonuses were up 22%, topping the national average, according to a new survey by SearchCIO.com.

The survey, which polled nearly 1,000 IT professionals, found the average salary of senior-level IT executives at companies with more than $1 billion in revenue was $144,440 in 2007, up from $135,863 in 2006. The average salary increase was 8%. Bonuses were significantly higher for that group than reported last year: The average bonus in 2007 was $58,898, compared with $46,130.

By comparison, a report out last month from Robert Half International cites the average salary increase in 2007 across all IT positions at companies of all sizes will reach 3.8% (the highest point since 2001). It will still lag behind the 4.2% average U.S. wage increase for all professions, as reported by the U.S. Bureau of Labor Statistics in 2006.

According to Computer Economics Inc.'s "2007 IT Salary Report," the average IT salary increase for all positions in 2005 was approximately 2.5%. This upward trend continued in 2006, when the overall average exceeded 3% for the first time since 2001. The 2007 survey data indicates that the average IT salary increase is now 3.8%, with several job positions exceeding a 4% annual increase.

CIOs at Fortune 500 companies have long enjoyed very large salaries with equally impressive bonuses. But for large companies not in that realm, an appreciation of technology has been slow to happen. Now, with technology rapidly becoming the catalyst to business growth, even the smaller of the large companies are experiencing a sea change in compensation.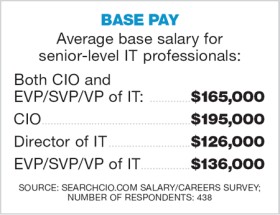 It has finally dawned on CEOs, or so it seems, that without IT their companies would be kaput, and the head honchos are willing to pay for past transgressions, said Lily Mok, an analyst at Stamford, Conn.-based Gartner Inc. Couple that with a shortage of skilled IT professionals, especially those at senior levels with business backgrounds, and one thing rings true: It's good to be in IT.
But what's really knocking some CIOs up a tax bracket are their bonuses, which experts say is where they're seeing the most dramatic change. While 22% is on the high side in the opinion of some analysts, many recruiters are not surprised by the double-digit increase. Although bonus amounts vary greatly among companies, it isn't unheard of for a CIO making a $250,000 base salary to get a bonus of $3 million.
Mike Jones, vice president and CIO at Children's Hospital and Health System Inc., could be looking at a bonus of about 25%, he said. That's the going rate for eligible CIOs at the Milwaukee-based hospital. A lucrative incentive, given the average salary increase for senior IT management there is 4.5 %.
Bonuses are being giving in "lieu of perks" and gargantuan salaries, said Judy B. Homer, president of J.B. Homer Associates Inc., a New York-based recruitment firm. "Stock options are off the table," she added. Many companies are looking for ways to leverage variable pay -- and one way is by tying it to performance. Instead of tying money up in salaries, companies are holding the preverbal carrot in front of CIOs as a way to attract the good ones. It works well for both parties, she said. "When your company does well, you tend to reap the benefits of that."
Andrew Bartels, an analyst at Forrester Research Inc. in Cambridge, Mass., agreed that bonuses have become the make-it-or-break-it factor in recruitment of IT executives. "Rather than give a CIO a 10% increase, they're giving more in bonus. It's a way to tie compensation for their senior people to how the company is doing."
A big caveat: If the company hits a "bad patch" the CIO shares the pain. "A recession will hurt the actual payout," he said.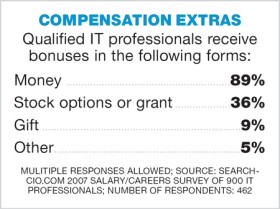 Anna Frazzetto, vice president, technology solutions at Harvey Nash USA, the Wayne, N.J.-based division of the London-based international recruitment agency, said she sees incentive base pay rising "astronomically" and adds it's not unusual for a CIO to get 50% of their base salary as a bonus.
But while most companies tie variable pay to company performance, the trend is to give bonuses for individual performance.
"We've seen this happening really in only the past 18 months," Frazzetto said. "IT is so tightly integrated with achieving goals with the business objectives. That's part of the whole alignment with the business movement."
When companies "dangle money in front of them, CIOs are likely to work harder to reach those goals," Frazetto said. Not getting a bonus could seriously affect their standard of living. Upshot: A bonus is no longer considered icing on the cake; it is the cake.
Robert Keefe, senior vice president and CIO at Atlanta-based Mueller Water Products Inc., said he also sees an increased "emphasis and commensurate compensation" based on individual performance.
"I look at this performance-based emphasis as a solid indicator that IT, at least at the senior level, is well integrated into the mainstream of businesses shares equally in the rewards and risks," he said. "In my mind this is a good place for IT leaders to be."
Homer agreed, saying the technology sector, at least people who are in leadership positions within technology, is "doing very well." She said she anticipates that this uptick will remain the same well into next year.
Ask and ye shall receive
The bottom line of all this, of course, is that senior-level IT executives have increased leverage when it comes to negotiating compensation packages this year. This could also result in more IT executives changing jobs in 2007 as they look to maximize their earnings.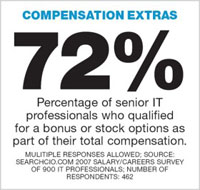 Fifty-eight percent of workers polled recently by Robert Half International and CareerBuilder.com said they're more likely to negotiate a better compensation package today than 12 months ago -- double the number from last year's poll. The report, which polled more than 1,000 hiring managers and 900 workers, also found that roughly one in five employers attributed their difficulty in recruiting qualified staff to their inability to offer competitive salaries. Still, 37% plan to increase compensation for new hires, which is consistent with last year.
In addition, workers appear more confident during job negotiations. Fifty-five percent of employees surveyed reported their compensation has increased during the past 12 months, compared with 45 percent last year. Moreover, 58 percent said they would likely negotiate higher compensation if accepting a new job offer, compared with 29 percent in 2006.
The bar has been set, Frazzetto said. She compares it with relatively static increases for C-level executives in other departments, such as finance.
"Compare it to other key titles. They don't have the same pull. CFOs are not getting these big increases. IT was always perceived as a cost center. Now it's a tool to get your business to the next level. But the CFO? He's still a CFO."
Let us know what you think about the story; email: Kate Evans-Correia, News Director
Dig Deeper on CIO career development and career paths