News
Stay informed about the latest enterprise technology news and product updates.
Salary Report: Rise in IT value drives boost in pay, bonuses
IT managers at midsized organizations are getting big bonuses as well as better-than-average increases in salary. Finally, it's good to be in IT.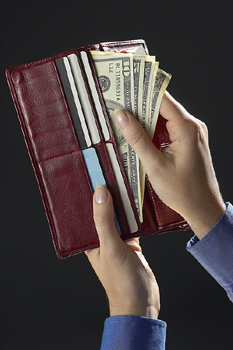 SearchSMB.com Salary Report

Two years ago, the First National Bank of Olathe in Kansas faced a seismic business shift with online banking that forced the midmarket company to become technically savvy and strategic. So First National hired Tony Vargas as its first vice president of technology, making him the highest-paid vice president in the bank's history.

Then Vargas scored a perfect 1.0 on his annual performance review and received "a great bump" in both salary and bonuses, he says. First Bank also plans to give him the lofty title of CIO. "Technology is taking on an important role here," he said. "The business purpose it serves has created an environment where ... technologists who have an understanding of both worlds are in high demand. I believe this has driven salaries upward."

As midmarket companies undergo a sea change with technology, many IT leaders like Vargas bear witness to a rising tide in prestige and compensation. SearchSMB.com recently surveyed nearly 2,000 IT leaders and found that the average salary for 2007 was $89,326, up from $84,731 in 2006, an increase of 7%. More impressively, some 500 respondents received an average of $18,585 in bonuses for 2007, up from $14,138 in 2006 -- a 26% spike.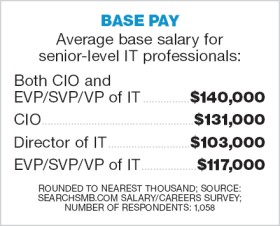 In comparison, U.S. Bureau of Labor Statistics (BLS) reported that computer and information systems managers received an average salary of $107,250 in 2006. Forrester Research Inc. in Cambridge, Mass., predicts a conservative rise in the BLS average: 3.8% in 2007 and 4% in 2008. Some 1,500 IT professionals responded to a poll by The Computing Technology Industry Association Inc. this summer: 58% indicated an increase in salary in the past year, with 195 respondents reporting an increase of 20% or more.
Staffing firm Robert Half Technology interviewed 1,400 CIOs and found that salaries ranged from $120,250 to $200,000 in 2007, and should increase to $126,750 to $210,000 next year. "The rise is around the average for the past few years," said John Estes, vice president of Robert Half Technology. "But we're really seeing bonuses increase."
Use of technology drives increases
CIO compensation goes hand-in-hand with technology's emergence in the midmarket. A midmarket company's financials that had been running on Excel spreadsheets and paper-based general ledgers are now handled by midmarket editions of powerful enterprise resource planning software. Human resources has expanded from simple Word documents to resource-management suites. Business executives who came from large enterprises now expect to use the same collaboration and mobile applications at their midmarket companies.
"The midmarket has become more sophisticated and is starting to buy the kind of ERP or CRM applications that historically its larger brethren have been buying," said Andrew Bartels, a Forrester analyst. "SAP, Oracle and Microsoft now have offerings that are priced and structured for adoption by the midmarket."
Rising salaries spring from this change of mind-set, agreed Julio Velasquez, IT director for the Somerset Area School District in Pennsylvania. "Finally, companies are starting to realize the value IT brings to the table," he said. "I believe this trend [in salaries] will continue, perhaps not at such a higher pace, for the next three years or so."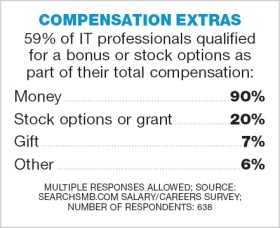 The problem, said First National's Vargas, is midmarket companies don't really have a firm grasp of technology's impact on the business yet. Simply put, how can a midmarket company gobbling up technology know how much its CIO should be paid? "A CIO's duties expand at a more rapid pace than salary does, especially within smaller enterprises," Vargas said. "I'm an anomaly here. There are no benchmarks for what I do."
Midmarket companies are increasingly using bonuses tied to performance to keep CIOs happy and compensation variable. "CIOs at large companies have been bonus-eligible for a long time, but it's trickling down," Bartels said. "As more of the operating budget goes to IT at a midmarket company, it's appropriate to have compensation become more variable, more subject to the overall performance."
Chuck Jackson, CIO at Pinole, Calif.-based RheoMed, an application service provider in the health care industry, said: "At the CIO level, you know what the cash burn is at the midmarket company. There's not much play in huge salary increases. The negotiations I'm in right now all center around bonuses."
Keith Bearden, president of Virtual Information Executives LLC, a Portland, Ore.-based provider of CIO-level consultants to midmarket companies, said he's seeing bonuses kick up across the executive board. Instead of increasing salaries by 10% or 12%, companies increase it by only 5% and then throw in 25% bonuses. "The reason you put CIOs in a bonus pool is because, when the economy turns down, that bonus goes away," Bearden says. The 26% leap in bonuses reported in the SearchSMB.com survey probably points more to a healthy economy this past year than anything else.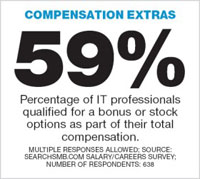 Bonuses though, can be a bit deceiving. Vargas said he came across an interesting statistic during his research on compensation: A 10% bonus per year is less than a 3% salary raise per annum. The thinking goes that a 3% pay raise, compounded annually, gets bigger and bigger. Meanwhile, the 10% bonus gets heavily taxed.
CIO bonuses fall into two camps: corporate performance and departmental performance. Of course, many CIOs receive a mixture of the two. Jackson's bonus, for instance, is based largely on corporate performance such as customer satisfaction surveys. If the company does well, he'll receive a higher bonus. A departmental performance bonus rests on whether or not the CIO and IT department achieve certain goals, such as how well the help desk rated in internal customer service surveys or network uptime.
"But bonuses can't ride on how well AT&T keeps up their T1," Jackson countered.
Technology seeps into every nook and cranny of a company, making it difficult to gauge its impact, which is why bonuses should be based on overall corporate performance, agreed Forrester's Bartels. "Some CIOs' bonuses are tied to how well they roll out a new ERP package," he added. "It's really difficult to nail down ROI on some of these technology initiatives. Intrinsically, you know that your company is better off with this new BI application -- but how do you tie a number to it?"
Funny Bartels should ask. CIO Bert Hucks at For Eyes Optical Co., an optical retailer with more than 130 stores across the country, receives a bonus. A portion is tied to corporate performance, while a larger portion is tied to his IT department's performance. The latter rests on help desk surveys and his department's ability to meet certain goals on major projects, such as rolling out a new system or upgrading an existing one.
Next year, Hucks' bonus will ride on his ability to meet certain timetables and success metrics on a new BI implementation. Hucks can evaluate the success (or failure) of the BI project by choosing to conduct an intensive ROI study. He usually saves these studies for really large projects, since "a really deep ROI project itself burns up part of the ROI," he says.
And then there's First National's Vargas. The bank gives him a bonus based on his personal performance. Given that Vargas came on board only two years ago as the bank's first vice president of technology and is poised to be the first CIO, chances are First National's executives don't really have an understanding of the CIO's role yet. "It's anything but scientific," Vargas says about his bonus. "It's really hard to measure what I do."
Let us know what you think about the story; email: editor@searchcio-midmarket.com.