News
Stay informed about the latest enterprise technology news and product updates.
Salary Report: MBA no silver bullet for SMBs yet
A CIO at a midmarket company may not have to be packing an MBA to move up the ranks but the consensus is: It sure can't hurt.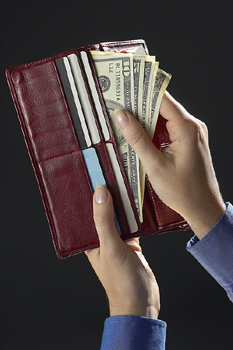 SearchSMB.com Salary Report

Call it the great CIO paper chase. Many midmarket CIOs are eyeing technical certifications and business degrees -- particularly the MBA -- to advance their careers. Some want the training to help make better decisions at their small to midsized firms. Or they want to improve interactions with business peers. Others hope the degrees will help them move up to bigger companies and higher pay.

SearchSMB.com recently surveyed more than 1,000 IT leaders at small to midsized companies and found that 65% of respondents have technical certifications and advanced degrees or are currently enrolled in programs to earn them. Nearly 45% want to move up in their organization, in IT or overall. And 18% aspire to move up to a larger company altogether. Advanced degrees can help you get there.

CIOs interviewed for this story agree that the MBA is the topic du jour when it comes to certifications and advanced degrees. That's because many struggle with the business side of their jobs, not so much technology. But just how valuable is the MBA in the midmarket?

An MBA can help a CIO by giving him a solid understanding of business requirements and profit and loss statements; variables that drive business success and business speak. The prestigious degree also provides instant credibility among business peers.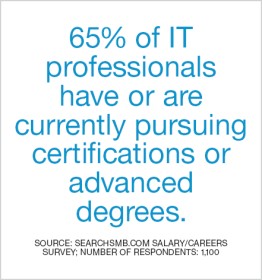 "A higher degree in a specialized field or business demonstrates the level of knowledge an employee may possess and the greater contributing factor this employee may be to a company or business," said Julio Velasquez, IT director for the Somerset Area School District in Pennsylvania.
Of course, a CIO can learn these things from a business mentor without going through the time and expense of an MBA program. Many midmarket CIOs take this path because it often proves more relevant to their companies -- that is, real-world business knowledge over business theory. But finding a mentor is also laden with risk. "You don't want to show your ignorance by asking peers," said Andrew Bartels, an analyst at Forrester Research Inc. in Cambridge, Mass. "An MBA can be a way to look authoritative until you catch up … a way to cover your vulnerabilities."
Virtual Information Executives LLC, a Portland, Oregon-based provider of consultants to midmarket companies, has a cadre of former Fortune 500 CIOs at the ready. Many have MBAs and technical certifications in areas such as the IT Infrastructure Library, project management and the Health Insurance Portability and Accountability Act. Keith Bearden, president of Virtual Information Executives, is a certified information systems auditor because his former employer, The Dow Chemical Co., required it. "But the midmarket doesn't pay a lot of attention to [certifications]," he said. "No one has asked us to send someone with a certain certification."
Bert Hucks, CIO at For Eyes Optical Co., an optical retailer with more than 130 stores across the country, said he doesn't think an MBA is as valuable at a midmarket company as, say, a larger enterprise -- at least not yet. Big companies tend to view CIOs as strategic business partners, he said, yet many midmarket companies still see CIOs as glorified plumbers.
CIOs at these companies don't often get to play strategic roles. "An MBA is all about strategy," Hucks said. "How much strategy are you doing in the midmarket? Planning your storage might seem like strategy, but it isn't. I can see why there's a little less value associated with an MBA in the midmarket."
But midmarket companies are becoming more like their larger counterparts in their understanding of technology as a critical component to business success. Midmarket CIOs' rising salaries and bonuses support this shift in mind-set. Even Hucks occasionally gets asked high-level business questions outside of his technology purview during executive meetings.
And this has the 33-year-old thinking about the future. "Advanced degrees are definitely helpful," Hucks said. "I'm interested in an MBA and am looking to start one in the near future."
MBAs and technical certifications are a crapshoot in the midmarket. Chances are a CEO who has an MBA will likely look favorably at a CIO who has one, too. Yet many midmarket CEOs have grown their companies through sheer business aggression. "If the CEO is a grizzled veteran who built the company up, then he might think that people who go to business school are weenies," Bartels said.
Let us know what you think about the story; email: editor@searchcio-midmarket.com.