News
Stay informed about the latest enterprise technology news and product updates.
Salary Report: IT execs with business experience on the rise
How many years have the pundits harangued IT to get in touch with the business? Lesson learned, according to respondents in our 2007 salary survey.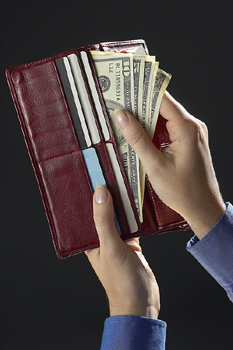 SearchCIO.com Salary Report

Is the divide between business and IT professionals starting to close? Anybody who lives or works in an Internet-enabled corner of the globe understands that IT isn't an island unto itself. IT hardware, software and networks permeate commerce. But the notion of an IT underclass of mechanics, good for keeping company systems tuned up but clueless about how to actually drive the business, persists.

Maybe not for long.

In our SearchCIO.com salary survey, nearly three-quarters of the 441 respondents -- 73% -- said they have experience in non-IT departments or functions; 30% have MBAs. The numbers reinforce mounting anecdotal evidence, as well as industry data, indicating that an increasing number of CIOs are gaining business experience, encouraging their employees to get business experience and training business employees in IT.

Survey respondent Morian Eberhard, who has a degree in computer information systems and an MBA, grasped the connection between IT and business in the early 1990s at California State Polytechnic University in Pomona, Calif.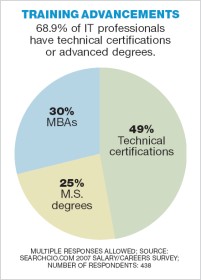 "Cal Poly was a pioneer in this degree. The thing they pounded into my head was, 'Look, IT is an instrument of business, and if you don't know how to talk to the business, if you don't know anything about what they do, you are an ineffective practitioner,'" recounted Eberhard , 39, vice president of enterprise security at Union Bank of California in Monterey Park. He and his team of 15 manage all the security for the bank, among the 25 largest in the U.S. with 323 branches, two international offices, facilities in six states and $53 billion in assets.

His undergraduate business training was put to the test on the job with a competitor bank in 1998, Eberhard said, when he persuaded a moribund IT department to make the banking systems available via the Internet. "I got a little pushback for my boss. The CIO didn't really understand what was I talking about, so I developed a proof of concept and as a result, they took my idea global and the CEO put me on the technology advisory committee."

Eberhard's MBA degree, earned in 2000, has an emphasis in entrepreneurship. That may seem like an odd choice for someone forging a career in the buttoned-down environs of big banking, but Eberhard explained, "Even though you may be working for a large organization, you can be innovative and not just another cog."

Eberhard said he likes the high-stakes work of overseeing security at a big bank, but given his interest in business he can see himself moving into operations or perhaps a CIO role in the future.

A powerful weapon

The blurring of IT and business roles in the executive suite is increasingly common.

In recent years, successful CIOs have found their roles expanding to other areas in the company -- to finance, human resources, property management and vendor management. Consultancy Gartner Inc. in Stamford, Conn., recently reported that 15% to 20% of CIOs are taking on non-IT responsibilities. Six percent of CIOs are also chief operating officers, and 22% told Gartner they are forging company-wide business strategy.

A survey of 172 CIOs by Harvey Nash USA puts the percentage even higher. The Wayne, N.J.-based division of the international recruitment agency found that 43% of CIOs reported they have responsibilities in departments other than IT.

The added responsibility seems to be paying off for CIOs and their companies. Gartner analyst Ellen Kitzis said she finds a correlation between a strong business and IT connection and company performance. Among companies where the CIO does not play a strategic role, 26% are less likely to achieve their financial objectives or open new markets, according to the Gartner research. "When IT gets involved, it is a powerful weapon," Kitzis told IT executives at a Gartner conference last spring.

CIOs are an "emerging presence" in the executive suite, agreed Chris Patrick, a consultant at Egon Zehnder International in Dallas. But he said IT executives who possess the capitalist's instinct for making money are still in short supply. "I don't talk to a single CIO who doesn't aspire to be there, but though many aspire, few are really qualified," he said. "Those that do understand business are in demand. They command high compensation."

Top CIOs hired by Fortune 50 companies can expect to receive pay packages that start at $400,000 and can increase to more than $1 million with bonuses and perks, Patrick said. The highest levels of CIO compensation tend to be found at companies where IT is the business, such as Amazon.com Inc. or one of the big tech companies.

Supply and demand

CIOs are also aggressively looking for people with business skills, particularly for disciplines like project management and business process engineering, and not necessarily from their IT ranks.

When CIO Kumud Kalia needed someone to lead his business process management team, for example, he ended up hiring a professional accountant with an undergraduate degree in business analysis and an MBA.

"He is an accomplished business person, in the sense that he is already a professional accountant and accustomed to auditing businesses. He's taken that to a different level by being academically trained as a professional process engineer," said Kalia, CIO and executive vice president of customer relations at Direct Energy in Toronto. "That's a hard combination to get."

People who can fix a process are a rare breed, Kalia added.

"It takes someone with a process mentality first and commercial mentality second. It also requires a deep understanding of the customer. IT people can do it, but they are not naturals for the job."

Let us know what you think about the story; email: Linda Tucci, Senior News Writer