News
Stay informed about the latest enterprise technology news and product updates.
A CIO Conversation: Virgin Entertainment's Robert Fort
Robert Fort, director of IT at Virgin Entertainment Group Inc., discusses his IT leadership philosophy, background and more.
Robert Fort was in kindergarten when his mother, an applications developer, started taking him to work to help sort punch cards. At 8, he dressed up as a computer for Halloween. After graduating high school a year early, he skipped college and took a job at Computer Sciences Corp.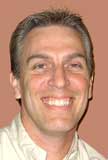 Robert Fort
Self-taught and self-assured, the 46-year-old Californian got his big break when he went to work at Metro-Goldwyn-Mayer Inc. Now, as director of IT at Los-Angeles based Virgin Entertainment Group Inc., the North American subsidiary for the U.K. conglomerate, Fort keeps IT rocking at the $200 million company, recently bringing the sales data for every store online to managers throughout the 17-store Megastore chain. We spoke by phone about his vocation and avocations.
You tried a little junior college before deciding to skip higher education and go to work. Do you have any formal training in computer science?
Fort: I did take a course in COBOL, which was extremely useful, mainly because I saw that not everybody could do something that came pretty naturally to me. I discovered that everybody is good at something. You just have to figure out what it is.
You started as a computer operator, at 18, at Computer Sciences Corp.
Fort: I got in trouble real bad. Because I could sit there and just operate the thing, I started logging on and trying to snoop around. But instead of being fired, I got promoted and I got a wonderful opportunity to work in another division, which was working on something they called DNS but was actually the very early stages of client server technology. I was developing database applications.
I was exposed to a variety of customers. Like who?
Fort: St. Jude's Children's Hospital came to us and said we'd like to use your computer and could you help us build an application that would help us keep track of all of our donors. I was behind the scenes developing this application according to spec. When it came time to turn it over, I was brought in and went to train people on it. Bless their hearts, there are these two little old ladies who were afraid of the computer.
I always hark back to that. Here I was behind the scenes having a blast designing this database, thinking about how to make it more efficient and all this other stuff, but I realized none of that made any sense to these ladies and they didn't care. In my career I have seen the habitual problem that IT has of not understanding the business value, and very early on in my career I had an opportunity to see that problem.
What was your worst job?
Fort: I was working at a major financial institution with a 700-person IT shop. You got lost. It was tough to accomplish anything. It was around that time I realized I really am a doer. I can get bored. I remember the day when I came in and cracked open a newspaper like everybody else did and ended up reading it cover to cover I said, 'I can't do this. This isn't me.'
How did you get into the entertainment business?
Fort: I had left CSC and was working at the financial institution and various other things and came back to Computer Sciences. Then one day I got approached by a headhunter about a job at MGM United Artists. I started off as a manager over the financial systems and became a director of applications and development. When I took that, it rejuvenated me about what I was doing.
Is there any entertainment experience in your background?
Fort: In junior college, I worked in theater arts behind the scenes. I did publicity, lights, sound, stage managing. I am a musician. I have a studio in my own house. I have a Christian rock band. We play in boy's prisons. We even played a Christian biker festival.
Getting back to your career, what's the best career advice you've gotten?
Fort: Don't argue with a fool because somebody walking into the middle of the conversation won't be able to tell you apart. IT is a strange business. People, for example, don't call you up and thank you when however many thousands of users are on your network are able to log in today successfully. They only call you when they can't.
More on IT leadership
So the enabler rarely gets to bask in the success.
Fort: We become the go-to source, and that has a good and a bad side to it. They're always running to us and complaining, but I started to realize that they're running to us because we are the geeks, or whatever you want to call us, within the organization that people are looking to and trust will be able to solve their problems. Inherent in that is the thank you.
Tell me about a good CIO decision you've made recently.
Fort: When our data warehouse went live, the first people that were going to receive the reports were our store personnel, not the executives. The week that store system went live, our store managers ran with that ball. We have graphs that show all the key performance indicators in each store. And the store managers are excited. If that system has a minor hiccup we hear about it immediately. They're out there tracking the horse race [sales] every day.
Can one store see what the other stores do?
Fort: I've worked in other environments where they are so protective of data. But in our case, we let any store see what the other store's performance is, down to department, down to a SKU, down to a 15-minute increment.
How do you do data management?
Fort: We use the Microsoft SQL Server for our data warehouse. I brought together a user team to go out and evaluate business intelligence technologies and ultimately pick. We came down to a bake-off between Hyperion Essbase [TK] and Microsoft's SQL Server. Behind the scenes I had been doing my homework and realized the way SQL Server was priced and the tools that came with it blew others away. One day the team asked me what I was voting for and I refused to answer them. They laughed, and said, 'We knew you would do that.' They made the choice. So music is an avocation.
What's your favorite guilty pleasure?
Fort: Golf.
Your handicap?
Fort: My entire game. But I play anyway.
What technology do you wish you lived without?
Fort: I wish I did live without mobile email.
Are you worried about BlackBerry service being shut down?
Fort: I chose not to go with BlackBerry as a standard for our organization. We're using the various Windows Mobile-based or Palm devices. We ourselves at Virgin certainly have been approached about patent infringement, which we've tended to walk away from it pretty unscathed. But I understand the right of the guy who truly created the technology to come back and ask for his just due. It would seem foolish to me that would cause the service to come to a halt.