News
Stay informed about the latest enterprise technology news and product updates.
Vertical Views: Midsized manufacturers grow with globalization
Watts Water Technologies Inc. was a provincial company for nearly a century. But that changed when the North Andover, Mass.-based manufacturer launched an aggressive global push in the 1980s. Today, China has become an indispensable part of the $860 million company's supply chain for North American operations.
In the past six years, Watts has saved $20 million by reducing inventory, a feat made possible by the supply chain visibility its ERP system enables. "We needed to increase the frequency and velocity of our supply chain," says Anton ter Meulen, vice president of information and strategic planning. "We were able to learn this because we've essentially got all our [North American] data in one database, which gives us much better vendor and supply-chain information."
Globalization is not just for Fortune 100 manufacturers anymore. According to the National Association of Manufacturers, the number of small to midsized U.S. manufacturers that export more than 10% of their product has tripled in the last 10 years. Midsized manufacturers seeking to globalize must meet the same challenges that the enterprise titans do, yet their budgets and IT staffs are tiny by comparison. They also don't enjoy the benefit of decades of international experience.
Focus on: Manufacturing
Top business challenge: Responding to competitive pressures to globalize.

Solution: Finding efficient ways to synchronize supply, production and distribution around the world.

How technology can help: Deploying a single "backbone" software package reduces costs and supports business opportunities.
Defining moment for midmarket CIOs
Yet many of these manufacturers say smaller can be better when competing with the giants, pointing to speed, flexibility and customer focus as key advantages. The challenge is to bring these advantages into the era of global competition while remaining lean and efficient. That means reducing excess inventory, improving cycle times and synchronizing supply, production and distribution.
These are all areas in which manufacturers' CIOs can and should be leading their companies. Globalization is an opportunity for your business, of course, but it can also be a boon to your career. "Globalization may be the defining moment for CIOs" in midsized companies, says David Caruso, an analyst at Boston-based AMR Research Inc. "This is the chance to go from being a mechanic to truly making substantive changes to the business. It's an open question how many [CIOs] will step up and say, 'I can drive this process.' "
Flexing the data backbone
The key to exploiting global opportunities, experts say, is to ensure that the company's ERP software is a unified "system of record," as Caruso puts it. Ideally, that means a single data source serving all regions worldwide. "If you're reaching out to the global manufacturing world, you need one interaction point," Caruso says. "Otherwise, you risk losing the economies of scale that make globalization a goal in the first place."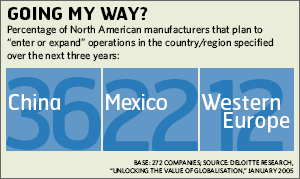 Mindful of this, Medex Inc. last year rolled out its ERP software -- from QAD Inc. in Carpinteria, Calif., a vendor specializing in the manufacturing market -- in 11 countries at once. Dublin, Ohio-based Medex sells critical care medical products to more than 5,000 health care organizations. The company has annual revenues of about $300 million, and had been looking to expand globally.
"We had three locations at the time [all in the U.S.] and knew we needed to grow the business," says Jerry Sommerville, manager of enterprise systems. Medex dipped its toes in the global waters in late 2003 by purchasing the catheter business of a Johnson & Johnson subsidiary that had offices in Italy; it has been expanding its international presence ever since. The company now does business in more than 75 countries.
Sommerville believed the company needed to run its global operations off a single data source. "When you do separate platforms on a regional basis, the data doesn't match [immediately], so you can't analyze it in real time," he explains. Thus, the Dublin IT team of only 11 faced the task of rolling out QAD in 11 nations simultaneously. The key, he says, was using a single code base. "We didn't have a copy for Italian, Japanese, etc.," Sommerville says, "and that saved us countless man-hours." Since that big-bang rollout, Medex (which was recently acquired by Smiths Medical) has added two more countries to its global footprint.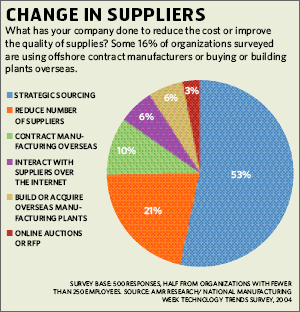 With eight of its 10 plants outside the U.S., Chicago-based CP Kelco finds that communication and coordination are major challenges, says Joyce Young, CIO of the food additives manufacturer. "If you want to talk with someone overseas, it might have to be at 6 a.m. your time."
Like other CIOs, Young has made her ERP system jump through hoops to meet endless business requirements, in one case for Brazil. "For any movement at all of commercial goods, you need an output document called a nota fisco," she says. "Then there are local regs, [national] legal regs, local taxes, other taxes. ... Your best bet is just to hire local people."
Analysts agree that localization is a critical, and often overlooked, factor in ERP packages. Your enterprise software must be able to handle a boggling array of local business processes, regulations and traditions. Manufacturers should expect to face Brazil-style issues in any market they enter, says analyst Joshua Greenbaum of Berkeley, Calif.-based Enterprise Applications Consulting. "Every new [to your business] country has different regs, paperwork, rules on business relationships and so on."
Those can be shocking to American manufacturers, which are used to an extremely free flow of goods. "There's a large set of problems around how to move goods across borders in a timely fashion," he adds.
There are cultural issues, too, such as vacation. "We're not planning anything for July in Europe," Young says.
Centralized information is key
At Watts Water Technologies, the global span of its water-processing equipment business has spawned 15 plants and six distribution centers in North America, as well as 13 plants in Europe. Watts' supply chain extends into Eastern Europe, South Africa and China.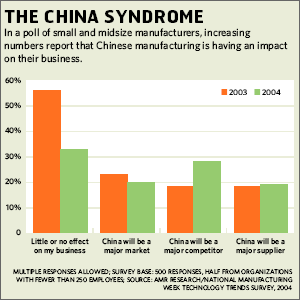 Watts uses a single database from Progress Software Corp. and a single ERP package for all North American operations -- which, for Watts, includes China because it's the site of origin for the manufactured goods. "That way we have better vendor and supply-chain information," ter Meulen says.
This single backbone has driven down inventory costs so dramatically ($20 million saved since 1998) that ter Meulen says he realized further cost reductions would follow if the company added procurement centers in China to aggregate parts from multiple Chinese vendors, optimize shipments and keep inventories even lower. "Having one data store has allowed us to keep inventory low through more accurate forecasts," ter Meulen says.
With pricing pressures pushing more manufacturers toward globalization, that's an important opportunity for CIOs. "Everybody knows where the low-cost production is," says AMR's Caruso, referring to China and the Pacific Rim. "And the difference is so dramatic that you've just got to be there. The globalization challenge is a chance for midsized companies to break out of their shackles."
Steve Ulfelder is a freelance writer in Southborough, Mass. This column originally appeared in the July 2005 issue of CIO Decisions magazine.