News
Stay informed about the latest enterprise technology news and product updates.
A CIO Conversation: Lands' End's Frank Giannantonio
Lands' End CIO Frank Giannantonio discusses how IT has helped lead change -- and improve -- the retailer.
Remember when catalog was king? The Web may have killed some catalog stars, but it marked a new beginning for Lands'...
Continue Reading This Article
Enjoy this article as well as all of our content, including E-Guides, news, tips and more.
End Inc. The Dodgeville, Wis.-based retailer found a way to complement its catalog business with an e-business that's dressed to kill. CIO Frank Giannantonio told SearchCIO.com how IT has helped change -- and improve -- his company.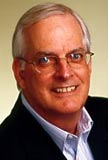 Frank
Giannantonio
Talk about the way Lands' End used IT to transform itself. It used to be the 'old school' catalog business, and now it's an exemplary Web business.
Giannantonio: First off, we're passionate about how we serve our customer. That passion spills over into everything we do, including the online experience we create for our customer. We are always looking over the horizon for technologies that will make shopping on landsend.com even easier. Some of those technologies -- and we were the first to implement them -- are My Virtual Model (1998), live chat (1999) and Lands' End Custom clothing (2001). It was fairly easy for us to incorporate the Web because, being a direct merchant, we already had the back-end [warehousing and shipping infrastructure] of the business built. One of the greatest challenges CIOs at our recent CIO Conference said they face today is delivering business value.
It seems like IT at Lands' End is a huge driver of business value -- is this really even a challenge for you?
Giannantonio: No. Before a project ever gets off the ground we make sure that it is going to deliver value to the company. Because we engage the entire enterprise regarding IT use, we aren't faced with the challenge of delivering business value.
What would you say your greatest challenges are?
Giannantonio: I think our biggest challenge is the same thing that is facing the entire IT industry, and that is migrating the department to using new technologies. It's kind of like remodeling your house while you're still living in it. We've built the architecture for the future, and now we're moving to fill it out through prioritizing business needs and resource allocation. We're moving at the pace that our business needs dictate.
Did your transformation to an e-business ultimately save/make the company money?
Giannantonio: It has made the company money. Landsend.com is consistently the fastest growing, most profitable part of our direct business.
It seems that IT has certainly helped improve the customer experience. What do you think the key to your success is with your internal and external customers?
Giannantonio: Externally, I think it is truly focusing on the customer and what is best for the customer. Internally, I think the key to our success is a collaborative environment. We are always working together to better understand our customer, and then we work to give that customer the best experience we can.
One of the first things a new hire does is spend time listening to calls taken by our service reps. After that, they have a clear understanding of what they are working toward -- the best shopping experience possible.
One of the keys to our external success is trust. Our customers trust that they will have a great shopping experience, that they will get a tremendous product at an honest value, and that Lands' End will stand behind that product 100% because it is guaranteed. Period.
Another key is making sure all aspects of shopping are easy and convenient. Not only can you buy things from us any time of day or night, we've recently made it even easier to return products. Returning products is as easy as taking your Lands' End order to your nearest Sears full-line store where you will receive full credit.
What kinds of challenges did Lands' End's expansion -- into the 'bricks and mortar' business at Sears -- have on the IT department? Did having these additional sales channels make everything more complex for you?
Giannantonio: I think the biggest challenge was what I call channel integration. We had to link together some pretty complex systems between Lands' End and Sears. Sears has systems that are store oriented, and ours are direct merchant oriented. So it took some time and work to integrate the two.
More on IT leadership
One of the things that made this process easier was bringing the Sears and Lands' End teams together here in Dodgeville. What I noticed most is how the two teams worked together. Because of the working environment between our two companies, the people on the teams seemed like they had been working together for years. Things just went smoothly. The CIO of Sears and I talk on a regular basis.
According to several recent studies, IT morale is ebbing. How do you keep your staff motivated?
Giannantonio: We're lucky because of where we work -- Lands' End is a special place to work. We've made the Fortune 100 Best Places to Work list a number of times, and most recently, ComputerWorld magazine included us on their 100 best IT places to work list.
We don't rest on our laurels, though. We're dedicated to providing a good work/life balance, flexible scheduling, making sure those deserving recognition receive it, as well as seasonal department outings.
Do you have a seat in the boardroom? What kind of relationships do you have with the CEO and CFO?
Giannantonio: Yes, I am a member of the executive committee. Being a member of that committee means that we all work together to form business strategies. That's another one of the special things about working at Lands' End; it is a very collaborative environment.
Dig Deeper on IT in vertical markets