News
Stay informed about the latest enterprise technology news and product updates.
A CIO Conversation: Owens & Minor's David Guzman
Owens & Minor CIO David Guzman discusses how his vendor management strategy turned IT into an indispensable business driver that operates with surgical precision and gives a lot more than it takes.
Four years ago, Owens & Minor Inc. was perfectly happy with its outsourcing agreements. The Glen Allen, Va.-based...
Continue Reading This Article
Enjoy this article as well as all of our content, including E-Guides, news, tips and more.
Fortune 500 company, which is the country's leading supplier of medical and surgical supplies, had great relationships with IBM and Perot Systems Corp. So why did Owens & Minor CIO David Guzman rip up the contracts and have the vendors bid for his business? Ultimately, his decision turned IT into an indispensable business driver that operates with surgical precision and gives a lot more than it takes.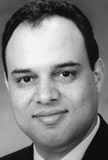 David Guzman
How did Owens & Minor start with outsourcing?
Guzman: Outsourcing with Owens & Minor began in 1994. IBM took over our mainframe and moved it to Boulder, Colo. They did a great job with it. In 1998, Owens & Minor brought in Perot to take over application development, network management and our extensive distributed computing environment (each of our 42 distribution centers is self-sufficient with a small data center). The senior management team had been dissatisfied with the way IT was being delivered in terms of quality, projects being turned in on time and the stability of the environment. Perot did fantastic job turning this around. When I entered the picture in 2000, we had a stable environment with IBM and Perot, and the senior management team was happy with that arrangement. IT was serving the business well -- both partners were doing a great job.
If things were going so well with IBM and Perot, why did you decide to let one of them go?
Guzman: There were two essential reasons: First, I saw that our business was going through an enormous amount of strategic change and that our information systems had to dramatically change to support it. Our relationship with customers was changing. Our business was going from a traditional 'we buy, we own, we sell' distribution model to a model where we were managing our customers' entire distribution, and we were responsible for inventory we didn't own. This was an alien concept to our systems. We had become outsourcers ourselves. Hospitals have outsourced their logistics to us. Outsourcing was becoming a big part of our business. Third-party logistics services were a strategic imperative. Our information systems had to change.
Our strategy was to modernize our systems to a Web services architecture while we built in the strategic business functionality we needed. Although both IBM and Perot did a great job, I figured consolidating would save Owens & Minor a lot of money. With two different sets of people, processes and tools, we weren't leveraging the environment as well as we would if we had a single partner.
The other element that influenced our decision was this: If you look at IT as a pie chart, there are three major elements of cost for any CIO. One is keeping the ship afloat -- maintenance, operations, data and voice networks, depreciation and so on. The second is strategic application development, and the third would be enhancements -- low-level change that has to occur in any organization over time. One has to balance those three pillars of cost in an IT budget. There's no choice in keeping the ship afloat -- daily operations, disaster recovery and security must be funded at a high level of excellence. What money is left over has to be split between the other two. I thought we were shortchanging strategic and spent too much time and money on enhancements and operations. About 97% of our IT spending was keeping the ship afloat plus enhancements.
All of these have value; none of them are frivolous, but the CIO could not play Solomon and 'chop up the baby.' I asked each one of my peers to meet every Friday morning and have a change management meeting. The process gave us more predictable IT spending on that part of the budget and allowed us to devote more resources to business strategy. So the combination of a more disciplined change management process and restructuring our outsourcing arrangements provided most of the funding necessary for systems modernization.
So how did you decide between Perot and IBM?
Guzman: In 2002, when IBM had two years left on their contract and Perot had six years, I asked them both to rip up their contracts and to compete for our business. We went through a disciplined year-long process and decided that Perot would be the 'winner.' Our goal was for the savings of the new deal to fund the modernization of our systems. Under the cost structure of the new deal, Perot documented $7 million per year in savings. The combination of restructuring and the institution of a change management process freed up enough capital for us to fund the strategic change of IT systems without changing IT spending as a percentage of revenue [IT spending is roughly 1.7% of the company's revenue]. Our portion hasn't changed, but our value has. We've been able to innovate enormously in IT without breaking the bank.
Our relationship is built on trust. At Perot, we found a compatible culture to our own in terms of delivery to our customers. We tried not to increase the overall cost of IT, but re-allocate our spending to focus on strategic business change. Our arrangement with Perot maintains a fixed, predictable price for excellent operations; and a variable arrangement for strategic sourcing is according to Owens & Minor's needs over time. The company has nearly doubled in size (revenue) since Perot took over the contract, and yet our IT spending as a percent of revenue has been fairly constant. A large increase in real dollars, given the growth in our business, but a constant rate of spending on IT. Our business growth, our outsourcing arrangement and our disciplined change management process fuel the modernization and innovation of our technology.
So what did that do to your IT department?
Guzman: We have 140 IT people, which our business valued and wanted to retain. Perot retained them and brought in some additional people with skills that we needed in Java, XML, SOA, data mining. It's a nice mix. Only 12 IT teammates are Owens & Minor employees today. But I retained control. We worked hard to have a contract that didn't take away our abilities. I have the right to hire a specific person for a specific purpose. We also have accountability. When projects are not done on time or to the level of quality you expect, how do you determine who is responsible? I've got one person who is accountable. The buck stops right here. Essentially, it is still my staff, and I do not treat an outsourcing arrangement any differently.
So it sounds like IT is a real business player at Owens & Minor.
Guzman: IT is not just a support function. We develop solutions that we sell to our customers. IT generates revenue for the company. Most of the work we do in IT has to do with customer-facing systems. We're a large part of what we deliver to customers. I and key members of my staff like the brilliant, young Paul Higday and Don Stoller, spend a lot of our time in sales presentations. There's no distinction between business and IT. At some point, I think we'll cease to talk about business and IT as separate entities.
What should CIOs consider before they undertake or overhaul an outsourcing strategy?
Guzman: I understand that giving up development is very painful for most people. For us, one of the biggest advantages is that we can bring additional resources to do work on the high end without hiring them. It's also scalable to our needs. If there's less activity, we can shrink our resource pool without hiring and firing because Perot can move people to their other accounts. The flexibility and quality make sense.
More on IT leadership
But, in my mind, it makes no sense for most companies to have their own ops and data center unless there's some unique strategic value they provide in your industry. The whole point of outsourcing is that there has to be a fulcrum of value that leverage provides. A shared operational environment just makes sense.
With Perot taking care of so much of your IT department, that must free you up to focus on other things.
Guzman: Yes. I spend 80% of my time with customers, peers -- with the business. That's as it should be. The operations side of it I can put out of my mind. We monitor metrics and reports, but for most part I can focus attention on what's strategic and not so much on keeping the ship afloat. It basically runs itself.
Owens & Minor was one of 12 organizations worldwide to win the Data Warehousing Institute's 2004 Best Practices in Data Warehousing Award. The company's partnership with Perot was named 2004's "Best Partnership" by Outsourcing Center. Owens & Minor has been No. 1 on the InformationWeek 500 for two of the last three years and is currently on the BusinessWeek Websmart 50.
Dig Deeper on Leadership and strategic planning