News
Stay informed about the latest enterprise technology news and product updates.
First glimpse at 2005 IT budgets: Only 15% of enterprises will spend less
IT executives at North American and European enterprises entered the 2005 budgeting season with pens at the ready and checkbooks poised.
Executive summary
Forrester recently surveyed IT executives at North American and European enterprises just as they entered budgeting season for 2005. Overall, 37% of them will spend more on IT during 2005 than during 2004 -- led by large North American businesses and financial services firms -- compared with only 15% expecting to decrease their spending.

How 2005 IT budgets will differ by sector
Forrester recently surveyed 1,377 IT and business decision-makers to learn about their approach to IT governance. Two-thirds of these respondents hold executive-level posts, so we asked them for a sneak peek at the directions of their IT budgets for next year.1 We found the most upside to IT budgets in the following sectors:
Very large North American enterprises. Forty-six percent of North American enterprises with at least 20,000 employees will spend more on IT next year, versus the 15% of them cutting spend. And North Americans in general lead in their IT optimism across the enterprise sector as a whole -- 40% will increase IT spending next year compared with 32% of European enterprises (see Figure 1-1). Within Europe, French and Southern European firms show the most budget downside, while Eastern European companies and those in Germanic-speaking countries have more positive outlooks.


Finance, media, and public sectors. Fifty-two percent of finance and insurance firms -- led by insurers -- will spend more on IT next year (see Figure 1-2). At the subvertical level, media firms and nongovernment public sector organizations also show above-average propensity to increase spend, while the electric and natural gas utilities and transportation firms will experience more budget cuts than increases.3


Firms with an autonomous CIO. Sixty-seven percent of enterprises have a cross-functional executive steering committee to oversee the IT portfolio. But those who don't, placing the IT budget solely in the hands of the CIO instead, show more budget growth potential. Forty-four percent of these soloists will increase spending next year compared with 35% of those with committees.
Figure 1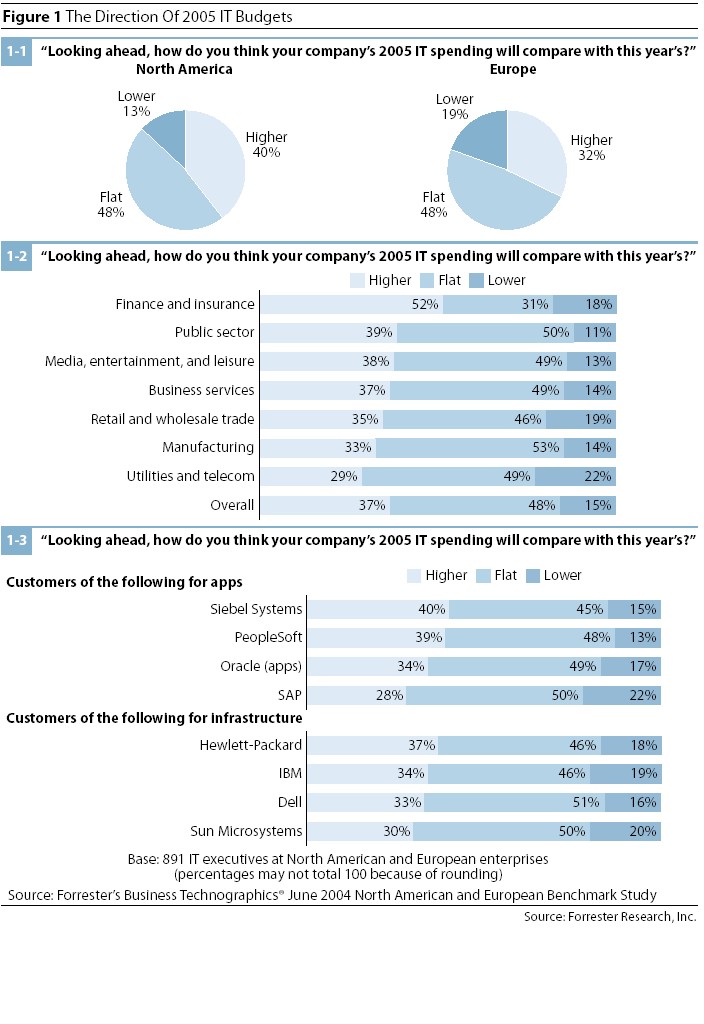 U.S. firms with offshore experience. Costs savings associated with offshore services won't lead to less spending on IT overall. Forty-eight percent of those North American firms that currently use offshore help will spend more on IT next year, compared with 38% of those who don't. In Europe, the trend is slightly reversed, where enterprises not using an offshore provider are the most likely to increase overall IT spend in 2005.


Siebel and PeopleSoft customers. Roughly, 40% of users who have PeopleSoft or Siebel as a core apps provider expect to spend more on IT next year. In fact, of the 115 companies in our sample that use both vendors, the percent of those increasing IT spend rises to 45%. This compares with a more flattish outlook for SAP users (see Figure 1-3).
Using the data
Business Technographics provides Forrester clients with a rich data asset to be tapped for action-oriented market intelligence. By looking under the hood of the data in this document, technology solution providers can receive answers to questions like:
What are the industry-by-industry purchase plans for my offerings?
Which segments have the highest propensity to buy from me rather than from my competitors?
How do firmographic variables, such as job role and company size, affect buying behavior?
All data is industry-coded and profiled by variables like company size and geography. To understand how your firm can access this data asset through our Technographics Data & Services offering, e-mail businesstechnographics@forrester.com.
Endnotes
1. Eight hundred sixty-seven of the respondents represent North American enterprises, while 510 work for European enterprises. We will write a more detailed Business Technographics Data Overview of 2005 IT budgets later in the year.
2. Forrester defines an enterprise as a company with at least 1,000 employees.
3. At the highest level of our industry taxonomy, we consolidate traditional power utilities with telecommunications firms to reflect the way many of our clients view their markets. But these subsectors show different 2005 outlooks. Only 19% of energy utilities will spend more in 2005 compared with 40% of telecom carriers.
Forrester is an independent technology research company that provides pragmatic and forward-thinking advice about technology's impact on business. Forrester offers products and services in four major areas: research, data, consulting and community. Established in 1983, Forrester is headquartered in Cambridge, Mass.
© 2004, Forrester Research Inc.
Dig Deeper on IT spending and budgeting