Manage
Learn to apply best practices and optimize your operations.
Your Executive Coaching Solution: Send in the Right Play
"Your Executive Coaching Solution" offers insights to help CIOs decide if an executive coach is the right option for them.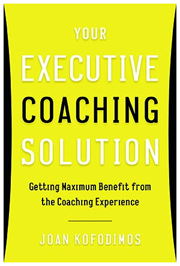 If you've ever wanted to hire an executive coach but were intimidated by the cost, there's an inexpensive way to investigate your options. For starters you can invest in Your Executive Coaching Solution by Joan Kofodimos, which may answer the question "Is executive coaching right for me?" before you pay for a high-priced consultant.
Kofodimos speaks a language that CIOs can appreciate. She articulates the value of coaching, indicates how to find the right coach for your setting, and outlines the various steps in the coaching process. The book even includes a sample contract that helps map out expectations, timelines and deliverables for the coach you retain.
The author also demonstrates how coaching can lead the way out of a professional impasse: when an obstinate higher-up can't take suggestions or an IT director can't tie data to the larger corporate picture, for example. Learn how to measure coaching progress and how to change behavior on your own. This how-to might save you time and money down the road. (168 pages, $22.95)
Lauren Horwitz, former managing editor, production, for CIO Decisions, is now managing editor for TechTarget's Data Center Media Group. Write to her at lhorwitz@techtarget.com.