Manage
Learn to apply best practices and optimize your operations.
Workplace Weaknesses Should Be Presented in the Right Light
Career advisors offer ways to tackle that timeless job interview question: "What's your biggest weakness?"
When I interview for a job and am asked to name my weaknesses, I usually say that I'm a workaholic. Does this answer make me appear amateurish or up front?"

Download this free guide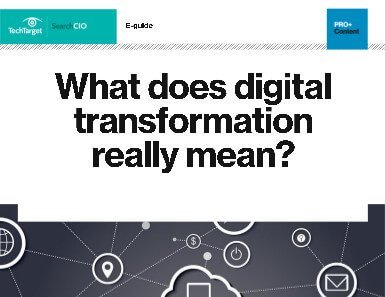 PDF: What does "digital transformation" really mean?
What exactly is digital transformation? You may hear the term often, but everyone seems to have a different definition. See how our experts define digitization, and how you can get started in this free guide.
Our expert panel weighs in:
Windy Warner, Pro Coach Inc., Dallas
The workaholic weakness is a bit overused. Identify a skill that is useful but not critical for this new position. Then explain how you plan to develop that skill. Another option is to articulate how you've successfully corrected a weakness, such as by saying, "No one would guess that assertiveness used to be a problem for me." Then offer an example of the results you've delivered because you've addressed this weakness.
Jean Fuller, Fuller Coaching, Woodside, Calif.
Forget about describing yourself as a workaholic; it sounds like a weakness you haven't gotten control of. Try casting the flaw this way: "I have a tendency to work long hours, which can set a difficult standard for others. But I also demonstrate to colleagues that I care about results, not how long anyone spends accomplishing them."
Kim Batson, Career Management Coaching.com, Sammamish, Wash.
Avoid the workaholic answer. Concentrate on a skill or strength you have rather than a personality trait or flaw. (From the employer perspective, a flaw is harder to fix.) You can phrase it this way, for example: "I have a tendency to do too much myself, but I've been working on improving my ability to delegate. In my most recent position, I have empowered my direct reports to take on X and Y tasks."
Renee Arrington, Pearson Partners International Inc., Dallas
Stay honest, name the weakness and then indicate your plan for addressing it. If you really are a workaholic, you also need to demonstrate that you're working on better work/life balance. And be aware that in the extreme any strength can be a weakness. Being detail oriented means you pay attention to the small things, but it's a liability if it leads to analysis paralysis and impairs decision making. Offering a believable answer is what's most important and will demonstrate that you're self-aware.
If you have a career question or a professional experience to share, write to us at editor@ciodecisions.com.
Dig Deeper on Small-business IT strategy