Manage
Learn to apply best practices and optimize your operations.
Why Marketing IT Matters
They've come a long way, but have midmarket CIOs figured out how to effectively market IT?
Marketing is a necessary and integral part of running a smart IT organization. Yet while most CIOs would heartily agree that it's important, far too few effectively market IT. Even in the midst of the ongoing image wars so many CIOs are fighting within their companies, the prospect of actually marketing IT remains surprisingly controversial.

For this month's CIO Habitat, we delved into the subject of IT marketing and began by asking respondents a basic question: "When you arrived at the company, did IT have an image problem?" As Figure 1 (below) shows, just about every CIO today has walked into a broken IT shop.

Download this free guide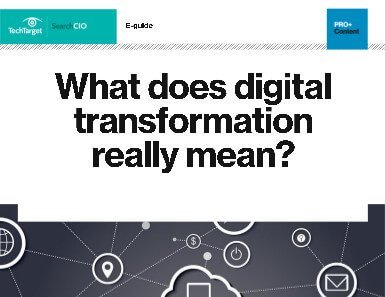 PDF: What does "digital transformation" really mean?
What exactly is digital transformation? You may hear the term often, but everyone seems to have a different definition. See how our experts define digitization, and how you can get started in this free guide.
By submitting your personal information, you agree that TechTarget and its partners may contact you regarding relevant content, products and special offers.
You also agree that your personal information may be transferred and processed in the United States, and that you have read and agree to the Terms of Use and the Privacy Policy.
Our research indicates that large-company CIOs are closer to winning the image wars than their midmarket brethren (see Figure 2, below). Our data suggests that the image problem plaguing 70% of midmarket CIOs could be reduced by IT marketing initiatives such as these:
When chronicling IT "victories," have the finance department audit, certify and deliver the results.
Include IT updates in the stream of news aimed at your corporate population.
Collect and act on data from employee surveys.
Have senior IT staff spend time with executive-team members who don't understand the value of IT.
Deliver value that customers talk about.
Refocusing the IT Image Problem
At some point in their careers, nearly all CIOs have confronted an IT department image problem. "When I joined the company," recalls a midmarket insurance company CIO, "the IT division was hated by all, including the board of directors, executive management, middle management and user communities."
"Many of my business colleagues perceived IT as being nonresponsive to their needs," adds the CIO of a federal government agency. "They felt that the IT agenda was not aligned with the one they had." That kind of disconnection surfaces frequently as the first problem new CIOs must solve, says an insurance industry IT executive. "We were seen as a utility [rather than] a dependent and strategic business partner."
New CIOs often confront these kinds of image problems:
A lack of confidence in IT's ability to deliver
The perception of IT as only a utility
A perceived failure to meet the needs of the business
A lack of transparency between business priorities and IT priorities
Poorly understood IT governance processes
Little credibility for IT-generated cost data
"The most memorable interactions between most managers and their IT departments occur when computers fail to operate," says Leslie M. Fine, academic director of the executive MBA program at the Ohio State University's Fisher College of Business. "Strategies flounder and plans languish because there's not enough information to decide how to move forward."
Outside IT, managers forget that the i in IT means information. Many IT departments become so focused on creating and maintaining a technology infrastructure that "they neglect to explain or demonstrate how that technology can collect, analyze, synthesize, package and deliver information," Fine notes. Delivering the right information in the right form at the right time and price is crucial. "Managers are desperate for that information bundle," she says. "The CIO can become an ally by promising it and will become a hero for delivering it."
One utility industry CIO, who has worked at the same company in roles outside of IT, sighs while observing, "Being CIO is the only role I have ever had where every day I had to be ready to explain what IT does and how IT contributes to the bottom line. Finance doesn't have to do this. HR doesn't have to do this."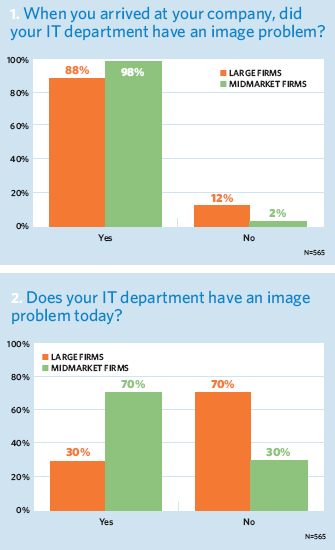 Good and Bad Marketing
Throughout our Habitat research, we have observed that many IT professionals don't understand what marketing really is. As the executive vice president at a global asset management firm observes, "Most people in technology mistake marketing for advertising." IT professionals need to understand that, like cholesterol, there are good and bad kinds of IT marketing.
The CIO at a global manufacturer has wrestled with this issue throughout her career. She has discovered that the traditional approaches to promotion -- newsletters and annual reports -- have mixed results. This CIO recognizes that while they were important mechanisms in the "perpetual drive to try to get people to pay attention" to the accomplishments of IT, they weren't enough.
"We are in competition for very limited attention span," says the CIO at a manufacturing company, who notes that classic marketing approaches (i.e., company newsletters) don't have much impact in large organizations. "I would rather put the bulk of my efforts on more direct strategies, things like face-to-face interactions."
The CIO of a midmarket services firm says that basic, in-your-face messaging is powerful. When IT has a successful project wrap-up, for example, an article about the project gets posted on the intranet. "This gets us out to the masses. We want everybody to see what we are doing," he says.
The CIO at a financial services firm sees the marketing challenge a bit differently. Marketing IT was an important part of staying visible with clients. "IT was valuable because it was perceived as being valuable by real, paying customers," this CIO notes. At this company, customers could see the importance of technology. "We had a subtle but well-defined program to make sure the industry saw our technology as leading edge. It really reinforces the brand."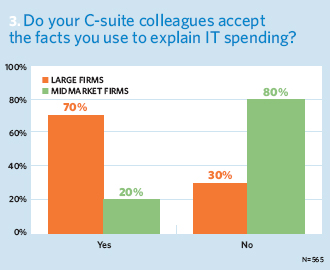 Educating Internal Customers
More than any other department in modern enterprises, IT is beset with existential angst about its role and function. At root is a problem of expectations: What is IT expected to deliver?
Part of knowing what to deliver is educating your audience. As the CIO at a midmarket manufacturer states emphatically, "To be successful in advancing the IT ball, you have to have an educated customer. This is the ongoing, constant challenge: helping them become a good customer."
Not all customers "evolve at the same speed," he adds, so "you have to know where they are. Your IT organization itself is at varying evolutionary levels and competencies. Trying to match those two up all the time is how I would describe the marketing IT challenge at this point."
The CIO at a global asset management firm concurs, "Marketing is really all about understanding the customer, educating the customer." This executive goes on to make a critically important point: "Part of marketing IT is creating the set of facts upon which executives make technology investment decisions."
This precipitated the question: "Do your C-suite colleagues accept the facts you use to explain IT spending?" (see Figure 3). Large companies are further along the curve in getting their business cohorts to trust the numbers behind IT decision making. Their numbers are more credible because they come from finance or the business. Larger enterprises are able to employ personnel and processes to prepare their financials.
Despite the natural advantages larger companies enjoy, our research reveals an insightful example of marketing and number validation happening in a midsized transportation company. During the governance process, IT collects project ideas from the business side and then vets them with finance. Once the finance department estimates the business value of each project, IT identifies the costs. "If they meet a collective ROI that is greater than 18%, then they progress in the governance process," the CIO says.
At this transportation provider, all executives and senior VPs attend governance meetings and vote to prioritize the projects. As projects are completed, the finance department computes the actual costs and compares them with the outcome. "In this way, we close the loop: 'Did IT do what they said they were going to do?' Ninety-nine percent of the time we do," the CIO says proudly. "This generates positive press. It demonstrates that IT is a useful function that contributes to the company. Delivering at least an 18% ROI is part of my budgeting campaign [and means that] the company returns about 10% to the shareholders. So money invested in IT is a better use of shareholder capital than money invested elsewhere."
This company's experience runs counter to the controversial argument made by Nicholas Carr in his Harvard Business Review article "IT Doesn't Matter," which questioned whether IT is merely a commodity. Since the article's publication in 2003, IT practitioners have gone out of their way to demonstrate that IT is anything but a commodity. But what is the opposite of a commodity? Something that's branded. And what makes a brand? Marketing, of course. If you want to be more than a commodity, you must be branded; and to be branded, you have to do some marketing. I would contend that the opposite of commoditized IT is branded IT (see "What's in a Brand Line?," below).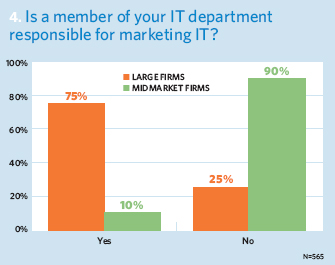 The Basics of Branding
We don't just drink coffee anymore, we make a Starbucks run. We FedEx packages, we TiVo programs on television, we Google people on the Web. Brand names become verbs -- and part of the fabric of life.
Organizations have multiple choices regarding how, by whom and under what circumstances IT work will be conducted. And IT has a role to play in the decision. Our research indicates that large-company CIOs are stepping up to manage the brand of IT, but most midmarket CIOs are not (see Figure 4).
While large-company CIOs are willing to allocate resources to managing the brand of IT, they haven't come out of the closet, so to speak. Not one technology executive has the word "marketing" in his title, unless he was assigned to the marketing division. Yet there is a growing understanding that marketing IT is something IT people do.
As the CIO at a global financial services firm explains, "We have a chief marketing officer who knows that the marketing of technology is part of her remit. I know that working with her to help her do that is part of our remit." This IT executive also employs a director of change management who plays a key role in developing a marketing strategy for IT.
Smart midmarket CIOs are beginning to see the light as well. The CIO at a rapidly growing transportation company explains how he markets IT with a stealth approach. When he was at a larger company, he had dedicated resources for IT communications. But with the smaller budget of a midsized company, that isn't practical. "One of my business analysts who has good communication skills runs this program," but it's neither a full-time job nor recognized officially within the company, he explains. "They are not going to want to fund me having a communications person."
So instead of fighting a battle that's sure to be lost, this CIO has given his business analyst tasks that include orchestrating corporate newsletter articles, following up on customer satisfaction surveys and other activities that constantly "remind the business that they are getting their money's worth," he says. But "I don't specifically call it out, because the structure and culture of this company would not perceive that as a good use of money."
There are essentially two tricks to marketing IT. The first is to make it look like anything but marketing. This kind of stealth marketing requires fully understanding the communication pathways and processes inside your organization and subtly inserting IT-friendly messages into them.
The second is making sure you have smart customers. As Carl Sagan once wrote, "We live in a society exquisitely dependent on science and technology, in which hardly anyone knows anything about science and technology." We can apply that observation to midmarket enterprises, which are grossly dependent on IT but have few executive team members who know enough about technology. This is what makes marketing IT such a slow, painful journey -- but one still worth the destination.
---
SURVEY METHODOLOGY: Researchers contacted 565 companies (460 large companies, 105 midmarket organizations) in 17 vertical markets, including banking, construction, consumer electronics, education, entertainment, fashion, food, government, insurance, manufacturing, pharmaceutical, philanthropy, publishing, retail, services, technology and telecom.

Thornton May is a respected futurist, adviser and educator whose insights on IT strategy have appeared in Harvard Business Review, The Wall Street Journal, BusinessWeek and numerous computer industry publications. To comment on this story, email editor@ciodecisions.com.
Dig Deeper on Small-business IT strategy