Manage
Learn to apply best practices and optimize your operations.
Who's Minding the Gender Gap in IT?
While companies no longer view gender bias as a problem they need to overcome in IT leadership, this month's data indicates otherwise.
Paul Rudnick, who wrote the screenplay for The Stepford Wives, noted that "men only evolve with a gun at their...
Continue Reading This Article
Enjoy this article as well as all of our content, including E-Guides, news, tips and more.
head." The implication is that men are more stubborn and less prone to evolutionary advances than women.
On the TV series NCIS, medical examiner Donald "Ducky" Mallard notes that poison has been the "weapon of choice of women for centuries." The implication is that women don't like to get their hands dirty when "disposing of a problem," so to speak.
Wherever we cast our attention, the assumptions surrounding gender are part of the data flow that runs perniciously under the radar screen of how we perceive the world. Like it or not, gender is an easily observable and frequently behavior-influencing phenomenon. On various levels in the contemporary IT shop, your sex does matter.
This month's CIO Habitat delves into the issue of gender and the role gender plays in the IT workplace, particularly the extent to which sex correlates with generating high-value IT outcomes for business. Through the eyes of practitioners, we examine the state of gender consciousness in the IT industry. We contacted 140 companies (65 large and 75 midsized firms) in 17 vertical markets. Among our large-company respondents, 57% are women; among midmarket respondents, 35% are women.
More than any other Habitat topic we've researched, gender issues in IT forced us to really look at the empirical data. All respondents expressed the sentiment that sex shouldn't matter, but the numbers reveal a different story. Indeed, we all wish we lived in a world no longer driven by biology and instead ruled by rationality and results. But the data indicates we don't -- at least not yet.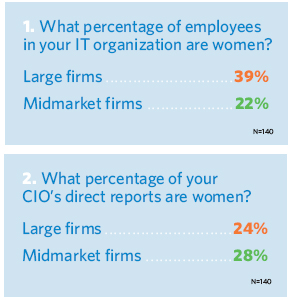 Beyond Critical Mass
As far as hiring women in IT, large companies have reached critical mass; nearly 40% of staff are female (see Figure 1). Midmarket enterprises are not quite as far along, with women making up 22% of IT employees; but midsized companies have also achieved critical mass in the hiring of women.
Critical mass is not just a turn of a phrase here. It refers to the idea -- first discovered in physics -- that environments become self-sustaining after they reach a certain threshold. Malcolm Gladwell popularized this concept in his book The Tipping Point. Social science data indicates that once 13% of a population accepts a new idea, it's only a matter of time before at least 84% accept the idea.
A subtle but important insight arose during our research. We may be looking at the wrong population in sampling critical mass. Most data looks at the total number of men and women who work in IT. It would be more revealing, however, to survey the women now working in IT and ask whether a critical mass believes that pursuing a career in IT has a promising or a limited future. Every female respondent spoke of how difficult her career path has been and the sacrifices it required. These respondents weren't complaining; they were just articulating the reality for women in the IT industry.
This leads us to a significant challenge that all large- and midmarket-company respondents cite: The number of female IT workers is low and apparently decreasing. The shallow labor pool of female IT workers is particularly troublesome in certain regions of the U.S., including the South, the non-coastal West and the Midwest.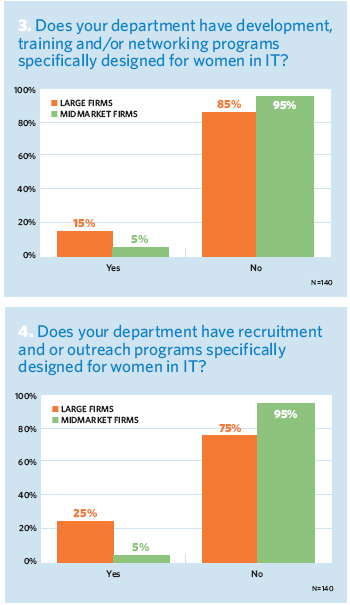 And consider this trend: While the percentage of women in the workforce remained largely unchanged between 1996 and 2004 (at 46%), the percentage of women in IT decreased during that period, from 41% to 32%, according to the Information Technology Association of America. The organization attributes this decline to the fact that one-third of women in the IT workforce occupy administrative jobs, a professional category that has been in free fall in recent years.
The CIO at a midmarket service company in the South says his greatest challenge is "having enough promotable women in the job pool to advance."
The CIO at a high-performance Midwestern transportation company was similarly frustrated with the diminishing pool of female candidates. "Out of more than 300 résumés, only five were [from] women," he says. "[My company's sector] seems to have fewer women in IT than other areas I have worked in, but there seem to be far fewer women that pursue IT as a career overall."
And as Figure 2 indicates, less than one-third of CIOs' direct reports are women. Midmarket respondents say that finding female IT workers requires more time and money than many midsized companies have available.
A female CIO at a retailer adds, "I have been tremendously successful in this discipline but cannot entice any of my nieces to pursue this field."
What's going on here? In a nation where more than half the population is female and in an economy where the proportion of women and men in the wage and salaried workforce is thought to be nearly equal (51% men and 49% women, according to the Families and Work Institute's 2002 data), why aren't more women working in IT? Why aren't we doing something to increase those numbers?
One possible explanation is that IT organizations have a long, sad history of not working well with HR departments (see "Can the Broken IT/HR Relationship Be Fixed?," May 2006 issue and "Delivering Value on the Human Side of Technology," June 2006 issue). While the non-IT part of the organization in both large and midmarket companies is mobilizing to recruit and assist women in networking activities, there are few programs specifically designed for women in IT (see Figures 3 and 4).
So despite the fact that our IT shops tend to think of themselves as "female friendly" (see Figure 5), there is a fundamental disconnect between that view and companies' efforts to groom women to enter the IT ranks.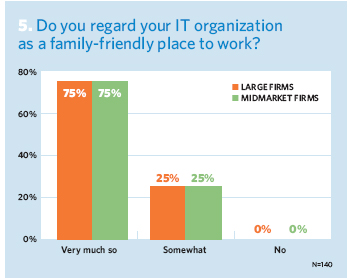 Contention and Calculation
The subject of women's representation and achievement in disciplines historically dominated by men -- particularly science, math, technology, business, law and medicine -- perpetually raises controversial issues. It's been two years since Lawrence Summers, former president of Harvard University, raised a firestorm of protest when he speculated that "innate differences" between the sexes contribute to the small numbers of women in science and engineering. Despite his subsequent apology, his remarks still spark angry debate in the media and among academics.
At the base of the not-enough-women-in-IT problem is a similar and widely held misconception of what women can and should do. Some among you may remember John Fitzgerald Kennedy's farewell address to the French following a state visit in 1961. "I am the man who accompanied Jacqueline Kennedy to Paris, and I have enjoyed it," he said.
JFK called to mind the egocentric and androcentic world we once lived in. His statement highlighted the roles men and women were expected to play. What made this particular sound bite pop was its reversal of the status quo: Men didn't accompany women; women accompanied men.
Extensive research indicates that gender differences in mathematical test performance are small and decreasing. Clearly there is no biological reason for women to lag behind men in IT leadership. Yet perceived differences do persist.
The enduring nature of gender stereotypes is exacerbated by the relative innumeracy of the general population; most people don't bring an understanding of statistics to their observations and thus don't necessarily know when a statistical difference is really a difference -- or whether, even if a difference is statistically significant, that difference really matters.
As the sidebar "He Said, She Said" shows, gender stereotypes are prevalent in IT. But when we look at views that are potentially influenced by gender, we must resist jumping to conclusions and focus on specifics. When stereotypes emerge (i.e., "Men have stronger math and science skills"), we should examine them by asking, "Under what circumstances?" and "In which situations?"
Social science data generally shows much more variation among men as a cohort and among women as a cohort than between men and women.
Networking: What's the Difference?
Still, it's impossible to ignore the fact that many Habitat respondents say men and women relate and express intimacy differently and that they also network differently. When it comes to playing well with others, does one gender have it over the other?
Gender scholars tell us that men conduct their friendships by doing something -- say, playing a game of golf. When talking to one another, men tend to prefer "male" topics like cars or sports rather than themselves. Men will spend hours together without once mentioning their personal lives, careers, health or state of mind. Sociologist Scott Swain calls this "closeness in the doing."
Women, on the other hand, network by sharing information about themselves, their emotions and their relationships. Women are said to relate face to face, while men relate side to side.
The female CIO at a global conglomerate says her own networking experience reflects such differences. "I think women network among themselves differently. In the women's networking group I actively participate in, when the women get together, we talk about things of a more personal nature, [such as], 'How do you balance work and family?' I have never heard of a men's networking group that deals with those types of issues."
The CIO at an oil company points to pretty entrenched differences between male and female networking styles. "Men and women are very different in how they network," he notes. "Guys fish, play golf, go to games and grunt. Women attend corporate events, lunch meetings and network."
Some respondents, however, are more divided on whether men or women make better networkers -- and whether the question is even relevant.
The male CIO at a midmarket division of a large private equity firm observes, "Some women are very good, and others need work. I think this is related to the individual personality and management style more than it is to gender." The male CIO at an educational institution concurs, saying, "I see networking as less a gender thing and more of an individual behavior. Generalizations do not seem to fit well."
One midmarket CIO expresses a real-men-don't-network state of mind, saying, "As a male, I see my own networking efforts to be a chore rather than a natural act."
The female CIO at a prestigious university says that, to some extent, women benefit from a difference in networking styles. "Women do not have the advantage or disadvantage of the old-boy network. Most women have to create their own girls network," she observes.
"These networks tend to start as smaller groups of women sharing social time and yet being able to discuss careers and other business topics as well. The groups result in many of the women forming long-lasting friendships that outlast their current jobs."
Women tend to share more of their lives than just their current jobs, she adds, as they strive for an integrated whole more so than their male counterparts, "who are often promotion or compensation focused."
The chief IT architect at a process manufacturer says that women "attempt to network within a company at a broader level than men. There are women's groups that meet to encourage and provide support across all disciplines," he says. "For men the networking tends to be direct contact; there are no cross-functional meetings or conferences that occur."
The female CIO at a fashion house wonders whether the shallow labor pool itself influences the differences in male and female networking styles. "It's just that there are so few of us in true executive roles that we all seem to know each other and send around the headhunter calls and keep in touch and ask each other questions," she explains. "It's easier to be closer to your network when there are a dozen or so in it, as opposed to what must be hundreds for most men."
Institutionalizing True Parity
In the journey to encourage IT leadership among women, we may be past the point of critical mass, but we're by no means far enough along to make that leadership self-sustaining. While three-quarters of large and midmarket firms say their IT organizations are family-friendly, in truth there is still much to be done to shatter entrenched gender stereotypes.
If companies are serious about achieving parity between men and women in this discipline, they must find ways to leverage those perceived or real differences between genders while increasing the number of women who occupy the top IT jobs. That means making a concerted effort to recruit and groom women for IT leadership roles. And that means institutionalizing outreach, training and networking programs for women.
Since only 25% of large companies and 5% of midmarket companies currently have such programs in place, companies are going to have to do a lot more than merely accept women in the IT workplace. They're going to have to actively open the door and invite women in.
For more on women in IT, see "Women in IT and in Charge"
SURVEY METHODOLOGY: Researchers contacted 140 companies (65 large companies; 75 midmarket organizations) in 17 vertical markets: banking, construction, consumer electronics, education, entertainment, fashion, food, government, insurance, manufacturing, pharmaceuticals, philanthropic, publishing, retail, services, technology and telecom.
Dig Deeper on Small-business IT strategy