Manage
Learn to apply best practices and optimize your operations.
Where's the Beef? Health Clubs Fight Member Churn
Health club CIOs determined to keep their businesses in shape use CRM and Web-based technology to bulk up membership.
Focus On: Health Clubs
Top business challenge: Attracting and retaining members
---
Solution: Making customer interactions easier and offering value-added, personalized services
---
How IT can help: By implementing CRM software and Web-based services

The gym called 24 Hour Fitness Lakeshore Towers in Irvine, Calif., looks more like a resort than the dank, dark facilities of yesteryear. Stretching across 100,000 square feet, the complex features valet parking, dry cleaning, babysitting facilities, retail outlets and, of course, tons of weights.
Along with the amenities, the business model for the $15.9-billion health club industry has evolved accordingly. Over the past decade, the number of health clubs has more than doubled to some 29,000, while the number of members has trailed more slowly, growing only 60% during the same period to 41.3 million this year, according to the International Health, Racquet & Sportsclub Association (IHRSA). About half of health club members sweat at commercial venues, a segment dominated by a handful of midmarket companies such as 24 Hour Fitness and Bally Total Fitness, each of which claims more than 3 million members. The remaining club goers are served by nonprofit fitness promoters, such as the YMCA, college-run facilities, or corporate and hotel gyms.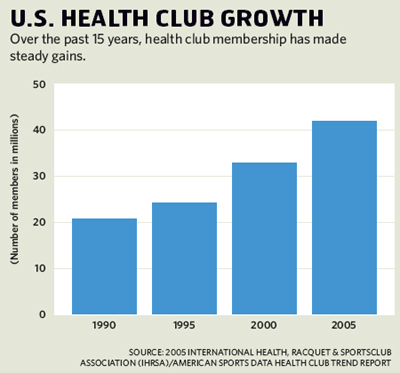 Getting members isn't the biggest challenge; it's keeping them. "We've had a fairly good track record of attracting members, but not retaining them," says Michael Scott Scudder, owner of MSS FitBiz Connection, a health club consulting service. For the past 15 years, membership churn has been consistently high, with around 40% of joining club members lapsing within a year. "We've done nothing as an industry to use technology to reduce attrition," Scudder says.
With the industry dominated by small chains and independents, there's not a lot of health club-specific technology. "The challenge for us in the larger companies is to find the best of breed and leverage and borrow from related industries," says Bally CIO Gail Holmberg. And there are several from which to borrow. "We're a blend of a lot of different types of industries," says 24 Hour Fitness Worldwide Inc. CIO Bill Donohue. "We're retail, but we're not. We're a subscription-based membership organization, but we're not. It's a hard fit if you're looking to buy a system."
Maybe that's why IT investments lag. "As an industry, we don't spend enough money on IT," says Ian Silverberg, a former club owner and consultant. "Our industry probably puts less than half a percent into IT." According to IHRSA, the average club planned to spend only $26,000 last year on computers and office equipment.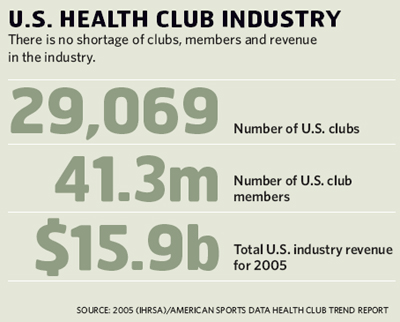 Bulking Up IT
But at the same time, customers expect personalized services. "Our biggest challenge is to relate to the member in the means that they prefer," says Holmberg. "Some want to interact via the Internet. Others like phone. Some want to come in in person. We have to keep all of these points of contact up to date and consumer-friendly."
For Bally, business has been anything but healthy lately. Since 1983 the Chicago-based company has opened some 400 clubs, and last year it hit $1.1 billion in revenue. But Bally is also heavily leveraged, and membership and revenue have slipped recently. The CEO was ousted, several CFOs have come and gone in the past few years, and some analysts predict that a cash crunch could soon send the company into bankruptcy.
So attracting and retaining members and controlling costs are vital to getting the company back into shape. Coming from Sears Roebuck and Co. as senior director of administrative systems, Holmberg stepped into her CIO job three years ago. "My biggest surprise was that there was so little off-the-shelf software for large chains," she says. Bally, which spent about 2% of revenue on IT last year, built its own customer relationship management (CRM) system to develop sales leads. "It's very useful to get insights and leverage our leads from the Internet site," says Holmberg.
The company has also tried to stem attrition with its new Web-based Build Your Own Membership program, which offers an à la carte menu of membership packages and prices instead of the previous one-size-fits-all, multiyear agreements. "There are still a lot of opportunities for using technology, especially for customer-facing applications," says Holmberg.
Tom Durkin, the director of IT at IHRSA, agrees that CRM systems are important for retention. "Tracking people's use of the clubs goes a long way to ensure they stay on as members," he says. "Find out who's working out and who's not." At Town Sports International (TSI), CIO Jennifer Prue says that rolling out a Cognos Inc. business intelligence system and building a data warehouse helped the $388-million company trim its attrition rate to around 36% a year. "Now we run about as low an attrition rate as we think possible," she says.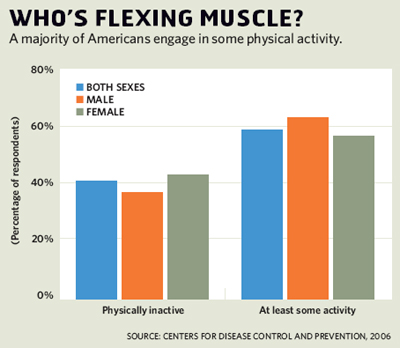 The Personal Touch
TSI is currently deploying Oracle for its financial system and is looking at CRM vendors. "CRM is a definite must," Prue says. "A CRM system will help us stay in touch and follow up."
The Tennis Corporation of America (TCA) recently rolled out a CRM system to help its salesforce track down prospective members. Now the privately held, Chicago-based company is considering changing to a new CRM package geared more toward member retention. TCA runs more than 20 facilities and also manages corporate health centers.
The company recently launched a new Web site, offering members an array of self-service options, such as the ability to make court reservations or book a personal trainer.
"The cost of a new member is very high, the marketing and recruiting," says IT Director Howard Polay. "By using CRM and having a personal touch from day one, you can get them involved right away. You just don't take their dues and find out a month later they've only been to the club once and are ready to quit."
Other companies are also trying to make the customer experience more friendly. Getting into a 24 Hour Fitness gym, for example, is not as easy as it could be. You have to hand your membership card to a clerk who swipes it to verify your status.
Donohue wants to change that. For the past year, his IT shop has been working on a biometrics project to replace the swipe process with a simple thumbprint scan. A pilot deployment at a single club has been expanded to 20 locations in Southern California.
The privately held company, which is based in San Ramon, Calif., runs more than 360 clubs across the U.S. and in other countries as well. Revenue is more than $1 billion. This fall the company deployed a new proprietary member contract management system and launched a new Web site that provides members greater self-service options and the flexibility to design workout programs online.
The company is also exploring using its biometrics system to let people make purchases in its retail stores and link these transactions directly to their checking accounts. "There are a lot of value-added opportunities for members," Donohue says. "It really is a fun business. It changes all the time, and it's exciting."
Michael Ybarra is a contributing writer for SearchCIO-Midmarket.com. Write to him at [email protected].
Dig Deeper on Small-business infrastructure and operations