Manage
Learn to apply best practices and optimize your operations.
What You Don't Know About SaaS
SaaS offers a cost-effective alternative to packaged software. So why are CIOs still skeptical about it?
Will software delivered via the Net integrate with your systems? Is the new breed of SaaS providers reliable? Does hosted software truly save you money? The answers might surprise you.

Download this free guide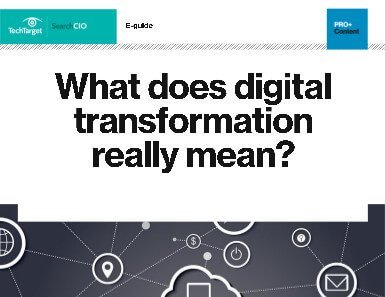 PDF: What does "digital transformation" really mean?
What exactly is digital transformation? You may hear the term often, but everyone seems to have a different definition. See how our experts define digitization, and how you can get started in this free guide.
When Salesforce.com experienced a systemwide outage in December 2005, Phoenix Technologies Ltd. and thousands of other companies lost their CRM applications for the better part of a day. Then Salesforce.com had more outages as a swath of new customers signed up to access its software over the Internet -- a delivery model known as Software as a Service, or SaaS -- and overtaxed the system.
The outages rankled several salespeople at Phoenix Technologies, a $100-million core system software provider based in Milpitas, Calif. But CIO Cliff Bell remains enthusiastic about SaaS in general and Salesforce.com in particular. "For the past six months, Salesforce.com has been relatively stable," Bell says. "I wish we could say the same about our Oracle financials."
Yet talk to Steve Canter, CIO at $300-million Berlin Packaging in Chicago, and he'll debunk two of the promises SaaS providers make: better overall user experience and huge savings. After evaluating SaaS vendors over the past three years, Canter found they met neither criterion. This CIO believes his levels of service would actually decrease if he were to use a SaaS vendor rather than his in-house technology.
During his evaluation, for example, Canter asked various providers to explain how they would handle real-world scenarios. "An error that we would immediately recognize and could rectify in about 10 minutes took the best provider an hour to spot and a day to fix," he says. And the lowest-cost provider he could find -- one offering the fewest services as well -- would save Berlin Packaging only the equivalent of one full-time employee.
Therein lies the controversy swirling around SaaS. The Internet delivery model -- in which companies rent rather than own their software -- has many guns leveled at it; they're loaded with reliability issues, customization barriers, management headaches and security quandaries. Yet the concerns seem unlikely to derail the gathering momentum of SaaS vendors as they compete with and win against traditional software vendors.
Saddled with budget and resource constraints, many midmarket companies are turning to SaaS for critical business applications. Unlike packaged or premise-based software that comes with hefty up-front licensing fees, ongoing maintenance costs, and outlays for hardware and internal staff, the subscription-based pricing of SaaS applications offers a compelling alternative for price-conscious CIOs.
Even after its well-publicized growing pains, Salesforce.com continues to attract plenty of customers. During the first quarter of 2006, the company added 2,200 customer accounts and 44,000 subscribers for year-over-year gains of 46% and 66%, respectively. In August the company reported record quarterly revenues of $118 million, a year-over-year gain of 64%. Based on its second-quarter results, Salesforce.com increased its revenue projections for 2007, estimating the tally to come in at about $490 million, up from the nearly $310 million in revenue for 2006.
And this growth comes even as rival Netsuite Inc., whose largest shareholder (at 60%) happens to be Oracle CEO Larry Ellison, boasts thousands of Salesforce.com defectors among its customers. Meanwhile, major traditional software licensing vendors, most notably Microsoft, have a SaaS strategy in the works.
As the flag bearer of SaaS vendors, Salesforce.com's growth spells good news for the space overall. Since Salesforce.com launched in 1999, hundreds of vendors have jumped into the market. IT research firm AMI Partners forecasts total SaaS spending among small and medium-sized businesses at more than $1 billion in 2006. By 2010, New York-based AMI predicts sales topping $1.9 billion. There are already some 500 vendors -- both SaaS-only and traditional providers -- that offer on-demand business applications, according to AMI.
Custom Jobs Need Not Apply
SaaS wasn't always a heavy favorite. In fact, the first wave of SaaS vendors, known as application service providers (ASPs), hit the beach with a roar in the late 1990s and crashed just as hard. Like SaaS vendors, ASPs promised lower deployment costs, ease of implementation, and ready access to applications and data. Vendors boasted a less costly per-seat price given the economies of scale they could achieve by running a single instance of the software at their data centers.
But ASPs fell flat; performance was pitiful, with ASPs sending clunky client-server applications over the Internet during the days of dial-up bandwidth. Today, Internet-ready software development platforms such as J2EE and .NET -- coupled with the proliferation of lower-cost, high-bandwidth capabilities -- have solved many of these problems for next-generation SaaS vendors.
Still, SaaS shares some legacy constraints that plagued its ASP forerunners. The one-to-many nature of SaaS applications, for instance, means that heavy-duty customization isn't practical. For organizations that rely on niche applications or that require regular, quick changes to their software, SaaS is inherently too limited.
So says James Woolwine, CIO at $50-million Majestic Insurance Co. in San Francisco. Generally speaking, Woolwine believes in the benefits of SaaS, but his company is still firmly wedded to the premise-based model. Why? Blame it on minutia. Majestic, a workers' compensation insurance firm, is bound by legally mandated rate and policy changes. Such changes require a degree of flexibility that Woolwine says he can't get from a SaaS provider serving up vanilla-flavored software.
To be fair, SaaS applications are configurable. For instance, customers can amend workflow and business processes by changing fields. Many analysts and CIOs contend that this kind of configuration is good enough for most SaaS applications. But if you need to do extensive customization, "that won't be possible with SaaS," says Laurie McCabe, vice president of SMB Insights & Solutions at AMI Partners.
In order for SaaS applications to be highly customizable, vendors would have to hand over their source code for modification. And while some providers may opt for this route, most are unlikely to relinquish code since it wipes out economy-of-scale benefits.
To resolve the customization conundrum, SaaS vendors are selling business process expertise along with their software: best practices that reduce the need for customization. While some vendors offer templates for specific business practices, many others can configure workflows and business processes during implementation because they sell their software directly to customers rather than through a reseller. For example, an expense account management application may require three approvals, whereas your existing process needs six. "Having more than three [approvals] may not be effective," McCabe says. "You may not want software to conform to your wacky business process in the first place. You should really ask yourself how much customization you really need."
The Trouble With Integration
Integrating SaaS applications with existing ones is another mind-twisting challenge.
Phil Newby, CIO at Barge Waggoner Summer & Cannon Inc., a $50-million architectural and engineering firm in Nashville, signed on for a computer-aided design (CAD) system from vendor Bentley Systems Inc. in 2002. By going with a subscription-based model, Newby avoided paying an up-front fee for a package without knowing the scope of usage. Since signing on with 140 end users, Newby has ramped up easily to 180. Yet he says the appeal of SaaS would be compromised if BWSC used a lot of third-party software that requires integration with its CAD system.
"If we had to do a lot of integration with a SaaS system, there would be upgrade issues," he says. "And every time you fix one problem, you create two more."
Integration and upgrades can be problematic, analysts say, primarily when traditional software vendors hang out a SaaS shingle without rebuilding their products with a SaaS-friendly architecture. "The first thing CIOs have to look at is how any SaaS system is truly architected," says Jeff Kaplan, a senior consultant at Cutter Consortium in Arlington, Mass. "Some vendors are still selling legacy apps but simply hosting them and offering them at a different pricing model." Such applications, says Kaplan, are not architected with the SaaS model in mind and therefore will fall short in terms of configurability and integration.
AMI's McCabe says most SaaS vendors have built-in turnkey integration capabilities. CIOs can quickly check the integration pedigree by asking vendors whether the applications are built with open application programming interfaces (APIs) such as J2EE. That's not to say that integration with SaaS applications is easy, but experts say integrating SaaS is less complex than integrating legacy applications, as long as the SaaS applications are built with open standards.
"If you have a legacy app built with closed APIs, that's always going to be harder to integrate with anything," McCabe notes.
Nevertheless, introducing SaaS into your software mix can bring integration issues to the fore regardless of whether the problem's root cause is the SaaS application itself. That's because vendors often talk up their open APIs but gloss over the fact that many of the APIs connecting with legacy systems weren't built with integration in mind. Some vendors are aware of this perception and are making a concerted effort to offer additional applications and functionality that are essentially pre-integrated and tested with their software. For instance, Salesforce.com recently launched AppExchange, an online marketplace where customers can find more than 300 applications, such as compensation management, expense tracking and payroll, which integrate with Salesforce.com's customer relationship management (CRM) products.
Another SaaS sticking point for Newby's firm is data access and security. "We have been approached by vendors offering to host our data on their systems, but we have always decided against this method," Newby says of the hosting model offered by many SaaS vendors. For the CAD application, Barge Waggoner hosts its own data, and the company is "very particular about who can access our network from outside."
For Newby, the SaaS multi-tenancy concept -- with everyone's data residing on a single server -- is just too nerve-wracking. Even though the data is partitioned -- and thereby theoretically inaccessible to others using the same server -- Newby and others say that having a dedicated server is the best way to ensure the highest levels of data security.
Many vendors are addressing this concern by offering a single-tenancy option, which requires additional hardware and database licenses that they offer at a premium price. Indeed, Neil Robertson, the CTO at Colorado-based Newmerix Corp., a provider of automated testing software, predicts that vendors will turn this concern into a critical selling point. "Do you want your data stuck in a data warehouse with everyone else?" Robertson asks. "Inherently it feels more secure if your data is in a single server that's dedicated to you. ... [But] that means there will be two tiers of pricing, and some of the costs you thought you were saving will go away."
Hunting for Bargains
SaaS vendors position themselves strongly as a cheaper alternative to traditionally licensed, on-premise software. But is this portrayal really accurate?
Experienced CIOs warn against focusing too keenly on the low basic per-user fees that a SaaS provider throws out. That's just the starting point, says Peter Ross, CIO at Vedior North America, a $1-billion staffing and recruiting company based in Wakefield, Mass. He notes that extra services such as a dedicated support team, speedy problem resolution or local copies of the software all send the basic fees climbing upward.
"For me, the big selling point is not worrying about our applications," he explains. Vedior uses on-demand staffing and recruiting software from Bullhorn Inc. "We could have gotten Bullhorn in a box, but then I'd be spending my time making sure the technology is up and running and not focusing on revenue-generating activities."
Even SaaS that's loaded with several add-ons may end up being cheaper than premise-based software. Ross says that initially he may have been able to build a workable system internally for less money because he currently uses only a percentage of the Bullhorn application. But in the long run, if Ross opts to add more functionality, the overall cost of doing it in-house would be more expensive.
With SaaS, Ross says, Vedior's 40 U.S. offices share the same data through centralized databases hosted by their SaaS vendor, allowing the company to go after new, low-margin business. Recently, one of Vedior's customers had a staffing request spanning 13 states. Vedior customized the orders for each office, matching candidates to requirements and passing on the information quickly to recruiters who then jumped in to make "money calls" rather than wasting time hunting for information. Before moving to Bullhorn, Vedior had maintained several databases on separate servers around the country, each running a different software application.
At Bandwidth.com, CTO Scott Barstow has been using Salesforce.com for three years. The telecommunications company is now a believer in the cost-saving aspects of SaaS. Even though Barstow characterized Salesforce.com's outages last year as "high impact," he plans to continue his subscription, and he isn't soured on the concept of Software as a Service. When all is said and done, Barstow says, "getting CRM as a service is the most cost-effective way for us to get that application." Building a CRM application with comparable capabilities "would take a team of developers full time" and "be a waste of valuable resources," he adds.
Comparing the cost of SaaS options with premise-based software is a tricky proposition. No two businesses have the same needs, so there's no universal formula for comparing costs across the board. Rob Bois, research director of AMR Research in Boston, says CIOs should be skeptical of blanket cost-savings estimates. "Much of the cost savings in the SaaS model may not be realized for organizations that already have investments in database licenses, middleware, hardware and personnel," he notes. In such cases, premise-based software can be more cost-effective.
If additional equipment and staffing are required, analysts say that SaaS is almost always less expensive in the long term. Yet AMI's McCabe cautions that the prevailing criterion should be whether the application meets the critical needs of the business. CIOs must look at what's rolled into the subscription price of a SaaS application and compare that with the layered costs of premise-based software. "When people think of total cost of ownership, they may not think of everything," she says. "There's the cost of the software, the middleware, the hardware, the dedicated IT personnel, or the need to recruit and hire new IT personnel."
A Sketchy Track Record
SaaS vendors claim it's easy to install and deploy their offerings because customers aren't required to invest in infrastructure or fork over a large licensing fee. But that can be a double-edged sword when deployments circumvent IT entirely. After all, what's stopping the vice president of human resources from signing on with an HR application from the likes of Authoria Inc. or Taleo Corp. without telling anyone in IT?
Both CIOs and vendors caution against leaving IT out of the picture, however. "For midsized organizations, SaaS won't be successful if the lines of business look at it as a way to go around IT," says Colleen Smith, director of Software as a Service at Progress Software in Bedford, Mass. "There can be some downsides of SaaS from an IT perspective -- service-level agreements, access controls related to security, backup availability, integration. If IT is standing back and not a part of making a SaaS decision, then the company is going to lose."
Both Newby and Woolwine say SaaS decisions should always be vetted by IT no matter how easy they are to deploy and fund. "SaaS applications have to pass the IT rigors of decision making," Woolwine says, particularly in the security and integration areas.
Other issues likely to crop up include support and problem resolution. Even if IT doesn't procure and pay for a SaaS application, chances are the department will be called in when trouble arises. And IT shouldn't first learn about a SaaS application running loose in the company only when the software fails.
Like traditional software vendors, SaaS vendors fail, too.
Both Bell of Phoenix Technologies and Barstow of Bandwidth.com say the worst thing about losing Salesforce.com was the sense of helplessness. "Every application has outage time," Barstow says. "What makes it more painful is that you have no control when it comes back."
Even worse, Salesforce.com is a granddaddy in the SaaS market. So what does this say about the reliability of new vendors, asks Majestic's Woolwine. "My problem with SaaS is that there are a lot of new vendors that don't have a track record, particularly in this industry," he adds. "I still wonder whether SaaS is just ASP with one more letter."
To mitigate risk, Phoenix Technologies regularly grabs snapshots of its customer data. When the company initially lost Salesforce.com last December, Bell says static versions of data were available. Likewise, Barstow says Bandwidth.com downloads all its support tickets at least twice a day. Even though it's read-only, the data is better than nothing.
While outages do happen, it's a vendor's response that makes the difference. As SaaS vendors scrap for new customers -- mostly among midsized companies -- CIOs stand to gain better service and support from the fierce competition. Most traditional software giants, on the other hand, are wooing the midmarket but still wedded to the larger enterprise.
Case in point: When Salesforce.com's service temporarily came to a halt, Bell e-mailed the company's CEO, Marc Benioff, and received a return call from him. Benioff explained why the system crashed. "I've had many outages with Oracle and Microsoft," Bell quips, "and I've never gotten a call from Larry Ellison or Bill Gates."
Megan Santosus, a former senior editor at CIO Decisions, is now a features editor for SearchDataCenter.com. Write to her at msantosus@techtarget.com.
Dig Deeper on Small-business infrastructure and operations