Manage
Learn to apply best practices and optimize your operations.
Weighing in With Thin Clients
Why midmarket companies are turning to server-based computing in record numbers.
Legend has it that Butch Cassidy and the Sundance Kid once hid out in a cabin on Highway 789 in Baggs, Wyoming, a claim to fame that one of the town's 349 residents has proudly noted on the town's Web site. With the state capital of Cheyenne located "152 miles as the crow flies," this distant outpost was no doubt an ideal place for the famous bandits to hunker down and avoid trouble.

Download this free guide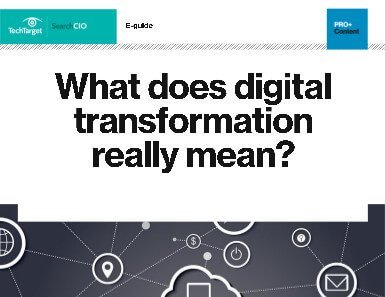 PDF: What does "digital transformation" really mean?
What exactly is digital transformation? You may hear the term often, but everyone seems to have a different definition. See how our experts define digitization, and how you can get started in this free guide.
But the very thing that attracted Cassidy and the Kid has Michael Pate throwing up his hands. The IT director of Houston-based Complete Energy Services has to support a two-person office in Baggs. "It's a minimum two-hour drive from anywhere," he says. "If a PC breaks out there, we're in trouble."
Providing field support for some 20 different locations around the country is Pate's single most compelling reason for corralling thin clients into the IT architecture of this $290 million firm, which provides a range of oil well site services. The ratio of fully-loaded "fat" desktop PCs to thin-client Windows terminals is about 90/10 at Complete Energy Services now, but that's about to change. Pate plans to expand that skinny piece from 10% to at least 60% of his network of 250-300 PC users later this year.
That kind of robust growth in thin-client computing -- also called server-based or network-centric computing because the bulk of the data and application logic resides on the server -- is surging across the midmarket today.
"All of our new applications are being built on a server-based architecture," says Michael Sylvester, IT chief for the $600 million Department of Public Social Services in Riverside County, Calif. "I think the pendulum is swinging back from distributed to centralized computing."
Gartner Inc. estimates that 70% of today's business desktops are the so-called thick client PCs, while the remaining 30% fall into either the thin-client or "hybrid" category. There are as many ways to count the thin-client market as there are analyst firms doing the counting, but they all agree on this: It's growing faster now than ever before.
Licensing woes: customer patience wears thin
The contracts are confusing, the requirements complicated, and the choices a bit overwhelming. Then the additional fees start climbing, right along with customer frustration.

Software licensing in the thin-client realm -- where Microsoft and Citrix Systems dominate the landscape -- is a many splendored nightmare of small print and unhappy surprises. "There's a lot of sticker shock. Many of the customers we speak to don't understand there's additional licensing to be paid for," says Gartner analyst Mark Margevicius.

"You do need a lot of little software licenses," says Bob Wittig, corporate IT manager for Independent Electric Supply Co., which has 60 thin clients at a dozen sites. "You need terminal licenses and shared licenses and add-on pieces. It's $30 for this and $70 for that."

The one hitch Wittig ran into in his largely trouble-free thin-client project involved a shared license issue with Microsoft. "When you buy a server version of a piece of software and multiple people access it, that is a shared license -- meaning that after a certain number of users are connected to the server, you can't add any more," he explains. "After we started using the thin clients and getting a number of people hooked up to the server, we were getting a message that said 'Cannot connect, shared license issue.' It was something that we thought our vendor would have told us about because we rely on them for their expertise."

For Michael Pate, figuring out his Microsoft thin-client licensing needs was a maddening, time-consuming effort.

"It was one of the most frustrating and painful processes I've ever been through. I spent an entire week trying to figure out how to license the Microsoft component [for a Citrix and Microsoft Terminal Server rollout]," says the IT director for Complete Energy Services in Houston, which is expanding its 250-300 PC client network to 400 machines later this year.

"I spoke to five Microsoft partners and employees and couldn't get two people to agree on what I needed to buy to get licensed correctly," Pate says. "It confirmed the total lack of understanding on Microsoft's part about how to make it clear to the customer how to best stay licensed."

Both Citrix and Microsoft acknowledge that customer confusion is a significant issue, and both have plans to address it in the coming months.

This summer, Citrix plans to announce a specifically targeted midmarket package of its Presentation Server software with all the appropriate licensing bundled in as a "solution in a box," says Traver Gruen-Kennedy, vice president and chief evangelist at Citrix. "We've heard the feedback, and we've been concerned for some time," he says. About half of Citrix's 60 million software licenses are held by midmarket customers today.

"It is a huge priority of ours to try to make licensing easier," says Cori Hartje, director of marketing for Microsoft's Worldwide Licensing and Pricing Group. Microsoft's volume licensing program generates $16 billion in revenue annually, a figure that includes the bulk of its midsized to large customers. "Customers ask Microsoft to be flexible in our programs, so we add more options to be more flexible. Then there are a lot of decision points," she acknowledges. "Licensing is an art -- it's designing an architectural solution."

By next fall, Hartje says, there will be "shorter, easier-to-understand" contracts, as well as additional tools to help customers track and inventory their software assets. She also points to the presence of Microsoft's product licensing Web site and other online resources for customers trying to decipher the language of licensing.

--MFJ
By 2008, thin clients will represent 10% of all new PCs sold to midsized and large companies -- up from 5.4% today, predicts researcher IDC in Framingham, Mass. In 2004, there were 1.63 million units sold worldwide, an 11% growth rate over 2003. "We're more bullish for 2005 [at] 1.96 million -- a 20% increase," says IDC analyst Bob O'Donnell.
CIOs and IT executives at midsized companies must respond to a competitive, increasingly regulated business environment without adding staff. At the same time, they must make computing resources more widely accessible to more people. "My sense is that the midmarket needs this even more" than larger corporate environments, says IDC analyst Dan Kusnetzky.
While Microsoft and Citrix Systems Inc. dominate this realm with a 95% market share, vendors such as Sun Microsystems, Wyse Technology, Hewlett-Packard Co., Neoware Systems and others are reporting sales spikes of 20% to 30% annually in their thin-client business. Unlike a decade ago when Oracle CEO Larry Ellison was hawking thin clients or "NCs" (network computers) as PC replacements, some 85% of today's thin clients are actually repurposed PCs, not specialty devices, Gartner reports.
Today's market awakening springs from a new set of business drivers that extend beyond cost savings on hardware -- once the main reason to even consider thin clients. The decision now is more likely to pivot around security concerns, remote administration needs and an escalating desire to cut complexity from the IT infrastructure wherever possible.
"Complexity is death in my business," says IT director Pate. "If I had to prioritize my reasons for going to thin clients, they would be remote support, security and then cost savings, as the icing on the cake."
Dealing With the Downsides
Still, the downsides of moving to thin clients can prove quite daunting for midmarket companies.
The biggest mistake Gartner analysts see regularly among their clients is a decision to go with thin clients based mainly on hardware savings. Independent of the client device (which may cost as little as $200), there are substantial server and networking costs to factor in. "A thin client model deployed across an entire enterprise means an entire re-architecture -- if you do it in the fullest extent," IDC's O'Donnell points out.
But the most unpleasant surprise of all shows up in the tally of software licensing costs.
At a recent Gartner Midsize Enterprise Summit, several IT executives aired their confusion (and irritation) over Microsoft's complex, costly software licensing requirements (see "Licensing Woes: Customer Patience Wears Thin"). One of the best-attended sessions was a presentation called "Best Practices for Negotiating with Microsoft," during which analyst Alvin Park noted that midsized business have multiple -- sometimes conflicting -- choices to evaluate when buying licenses. Many customers give up trying to figure it out and end up overpaying, he said. "The software guys understand this game really well, and they've figured out ways not only to maintain but grow the revenue," adds Mark Margevicius, an analyst and research director at Gartner. He noted how customers have to license components from both Microsoft and Citrix. "For every dollar of revenue Citrix generates, they indirectly generate another 75 cents for Microsoft. Last year alone, Citrix contributed $300 million-plus to Microsoft's bottom-line revenue without Microsoft lifting a finger. Talk about a great business model."
Another potential downside is culture shock. Users generally do not take well to the loss of control over their desktops, and if IT handles the transition poorly or fails to communicate the strategy, things can get unpleasant. Moreover, moving applications from desktops back to servers can turn the data center into a single point of failure. So the network and server side of the equation needs to be rock-solid reliable.
Rocking the Status Quo
We're testing [thin clients] now within my IT department. I have a big concern with server uptime, and whether we have enough fail-safe [measures] in place," says Paul Spencer, vice president of IT for Ameco, a $320 million Greenville, S.C.-based division of engineering giant Fluor Corp. He says his warehouse management system runs very successfully on thin clients now, but he's wary of moving office workers away from their desktop productivity tools.
"That's the one that scares me: the social change this involves," he says. "It's bad enough when somebody's PC crashes and they can't work. My concern is having [a server crash, putting] 50 users on our doorstep without their Word, Excel, PowerPoint, etc."
Spencer remembers the mid-'90s flurry of attention around thin clients, which were "easy to ignore" back then. "We looked at thin clients, and they weren't worth the money. PCs are cheap enough," he says. "But it's down to the support argument and control of your environment now."
And control means better security. "When we speak to customers about server-based computing, their No. 1 [reason for looking into it] is security," says Gartner's Margevicius. "As much as customers appreciate or use Windows desktops, they leak like a sieve on security, and that's very problematic. Customers can no longer afford the risk. With server-based computing, you put in thin clients and do away with that problem."
Robust and increasingly cost-effective networking also encourages companies to think about slimming down their desktops. One Gartner client with a central office of about 1,000 workers talked to Margevicius recently about moving everyone to home offices, using DSL or cable modems and shuttering the corporate facilities. "That's a huge cost savings in real estate," the analyst says, "but this client is fretful about everyone running PCs. So he wants to put thin-client devices inside their homes."
Eliminating the IT headaches -- and operational costs -- of dealing with a balky network of PCs behaving badly is indeed a big factor for customers at midsized companies.
"Deployment [of thin clients] is so easy," says Timothy Schaal, IT development manager for The Salvation Army's western territory, which uses thin-client software to serve up an accounting package accessed by 200 users a day. "When I install the new versions, I touch one server, and it's there -- instead of touching 300 desktops. We can respond to updates much quicker in the thin-client environment than if we had things residing on the desktop.
"Security is definitely less of a concern with all the data centralized," he adds, but that also raises access concerns. "If the T3 line goes down, I have 300 locations that can't get to the applications."
Thinking thin? Be mindful of company culture
We Americans like a lot of fat in our diets -- and on our desktops.

Even the most dedicated thin-client believers don't cling to delusions about the future of the chubby, full-figured PC, which still sits on upwards of 70% of corporate desktops today. And woe is the CIO who snatches away the desktop porker and rolls in thin-client terminals without enough politicking and persuasion up front.

"Some senior IT managers have lost their jobs in moving to these new architectures without getting user buy-in," warns Gartner analyst Mark Margevicius. "Most of the benefits [of server-based computing] are related to IT, not necessarily to the workers. There's real political danger here."

Paul Spencer can believe that. The vice president of IT at Ameco, a construction equipment company in Greenville, S.C., is quietly investigating thin-client computing for a possible roll-out to 50-60 Microsoft Office users.

"We haven't even brought it up internally yet," says Spencer, who has a pilot running in the IT department now. "First, I want to make sure from a technology standpoint that we feel comfortable we can maintain the environment, get through any server crashes and have enough redundancy so it doesn't impact users."

IDC analyst Dan Kusnetzky says CIO "street smarts" in dealing with reluctant users also helps. In one case, a CIO met separately with each business unit, laid out the alternatives and the detailed support costs, and let them choose for themselves.

At Independent Electric Supply Co. in San Carlos, Calif., IT manager Bob Wittig used the company newsletter to feature a "Thinking Thin" article early this year as he was preparing a thin-client rollout of 60 terminals at 12 sites.

"Everyone is on a fad diet at the beginning of the year, so we combined those ideas," he says. "I'm not sure if it alleviated anyone's pain, but I think it helped."

After the initial shock of the change, Wittig's users saw that not only were their machines speedier than the 5-year-old PCs he replaced, but that the IT department was now taking care of everyone's backup.

"If you do your work and you have the benchmarks, the facts, the data, the information about total cost of ownership between thin clients and PCs, it boils down to change management and helping everyone through that," says CIO Jesus Arriaga of Keystone Automotive. "I'm the CIO. I'm the one setting up the infrastructure and articulating the vision. That's my job."

--MFJ
Although the organization hasn't run an official ROI analysis, Schaal estimates savings of about $250,000 in administration and software application costs per year. "Probably half of our users don't realize they are running on a thin client," he says. "They click on an icon that says 'Great Plains Accounting' and they get in."
At Independent Electric Supply Co. in San Carlos, Calif., the thin-client experience started small. Clerks used Winterm thin clients from Wyse Technology at sales counters where contractors picked up their materials. Today there are 60 thin clients at 12 sites, and that number will double by year's end, says Bob Wittig, corporate IT manager for the $300 million supplier of electrical construction materials. "They take 10 minutes to set up and are easy to use, and nothing has gone wrong," he says. "We've put the monitor on a plastic stand at eye level and the thin client slides under so no one can spill his coffee on it."
The thin-client approach came under consideration when problems with backup and security risks were rising in Independent Electric's environment, which had 200 PCs connected to a Sun Unix server. "Our original motive was to eliminate the support calls with the older PCs, because with some of the problems it was starting to overwhelm us," he says. His department has only five IT people to support 450 employees.
Attractive pricing for both hardware and software licensing made the decision relatively easy. "We had a bunch of old Windows PCs. We were faced with replacing 150 devices at $1,500 apiece vs. spending on a number of servers," Wittig says. "Now we can do a thin client for under $1,000, and that includes the server license. That's not even calculating the lower administration costs."
Running the Numbers
For $500 million Keystone Automotive Industries, thin clients delivered significant cost savings right from the start of an ERP system rollout three years ago at the Pomona, Calif.-based auto parts distributor.
When CIO Jesus Arriaga first ran the numbers on buying 900 PCs, 120 servers and new network cabling for 150 locations, the total came to $3.2 million. Replacing that original plan with Neoware clients, Citrix servers and PCI wireless networking cards from Cisco dropped the overall rollout cost to $850,000 -- and saved the company about $2.3 million.
The warehouse environment turns out to be something of a natural spot for thin clients.
"In our warehouse environment, PCs have short lives because these places are dirty and dusty, and the thing just burns out," says Arriaga, who estimates he'll get three times the two-year PC life expectancy from his Neoware boxes. "At the time we were doing this, Neoware came out with a box surrounded by a steel case. We literally tested it by standing on top of it, and we couldn't break it."
Although the decision looks like a no-brainer in hindsight, Arriaga was careful to do his homework on the alternative approach.
He spent six months benchmarking performance, collecting statistics and comparing the PC proposal to the thin-client one. Then he moved into "marketing mode," as he puts it, acting as a technology evangelist to convert the doubters.
"I think many organizations will move away from PCs -- the value proposition is tremendous," Arriaga says. One of his biggest challenges came from a general manager who -- after reading a magazine article while on an airplane -- thought the move would be disastrous for the company.
"I showed him all my stats about the cost of PCs over time and how those costs would impact his P&L," the CIO says, "and I told him 'Hey, we can deploy PCs, but your costs will double.' He decided it was going to work after all."
Going Back to the Future (Yet Again)
Midmarket organizations looking at limited resources and lean budgets -- in the face of expanding requirements for computing services -- simply have to find ways to minimize support and operational costs, IDC's Kusnetzky points out.
"Thin client comes back to something fundamental," he says. "People remember, somewhat fondly, mainframe computing and the way it kept everything in one place, with access from anywhere remotely."
Then again, no one is predicting "a total move back to server-based computing," notes Ameco's Spencer. "The PC is here to stay. For most of us, [thin-client computing] will be another option to potentially deliver applications."
Editor-at-large Stefanie McCann contributed to this article.
Dig Deeper on Small-business infrastructure and operations