Manage
Learn to apply best practices and optimize your operations.
Utah's Centralizer: How a State CIO Merged 24 IT Departments
Disorder and decentralization defined Utah's IT department. Then a new CIO, bolstered by a legislative mandate to make order from chaos, arrived on the scene.
A state CIO charges in to remake the state's IT department, and he's got the governor's seal of approval.
J. Stephen Fletcher's office window offers a perfect view of the Utah State Capitol: a Palladian dome trussed up with scaffolding for an extensive renovation. It's also a perfect metaphor for Fletcher's own task of reinventing the state's Department of Technology Services (DTS).
In April 2005, Fletcher became the state's fourth CIO -- the third in four years -- charged with turning 24 separate IT departments into a single organization. Utah had almost 1,000 IT workers, yet only four actually reported to the CIO. "Utah's CIO office was essentially a CIO and a few staff members with absolutely zero influence over any IT activities in the state," says Fletcher. "Everything was stovepiped. Nothing was focused or aligned. It was total chaos."
There was no coordination, no sharing of data, no use of standards. But there was waste: 24 agencies with 35 data centers, 22 different versions of word processing software and 369 desktop configurations. "That didn't make sense," Fletcher says. "We don't need 23 LAN administrators all doing the same thing."
Instability also engulfed the state CIO office. One of Fletcher's predecessors had tried to shake up the department, but then found himself at the center of controversy and resigned. Then, in 2005, a new governor rode into office with the intention of making the state more efficient. The Legislature passed a bill that centralized IT and finally gave the CIO real power. The new CIO's office suddenly found itself responsible for the IT backbone of the entire state government that includes two dozen agencies as different as the Department of Corrections and the State Tax Commission.
Utah isn't alone in its goal to drive efficiencies through better organizational structure, namely moving from a decentralized model to a centralized one with a single CIO calling the shots. "Historically in most state governments, IT has not been centralized, and that's been expensive and frustrating for both the customers and the managers," says John Kost, managing vice president for government research at Gartner Inc. and former CIO of Michigan. "The trend has been toward centralization. You're seeing the emergence of stronger CIOs."
Not that state CIOs who work in a centralized model answer to no one. They still have to deal with a dizzying array of bosses and clients, such as governors, legislatures, civil service employees and citizens. In fact, the centralized CIO has much more accountability. "The biggest challenge is trying to communicate our message to all our different stakeholders and to try to address all their different needs," Fletcher says. "Their objectives are not all the same: The Legislature wants us to move this along, [but] the agencies are saying you're going to break stuff and that you have to go slower. Balancing those is sometimes difficult."
But Fletcher holds a couple of aces in his hand: a mandate from the governor and sweeping new powers given to him by the state Legislature (along with a three-year timeline to effect the transition to the new model). Now Fletcher has set about reinventing how Utah does IT. "This is a CIO's dream," he says. "You've been given the opportunity to build an organization from scratch and do it the right way. That's just an exciting opportunity."
@pb
The Rise and Fall of a CIO
Until recently the job of Utah's CIO sounded more like a nightmare. Ask Phil Windley, a professor of computer science at Brigham Young University and former executive at Excite@Home, who served as the state's CIO from 2001 to 2002.
"One of the great wonders of democracy," recalls Windley in an entry on his blog at www.windley.com, "is that every year we turn the budgeting and operation of a $7 billion organization over to a large, unwieldy group of poorly compensated small businesspeople, ranchers, teachers and housewives. Then we tell them they better look like heroes if they want to win the respect of their friends and neighbors so they can come back and do it again. The first time I sat through a legislative subcommittee meeting, I was physically ill."
Windley came into office in 2001 with lofty goals to run the office like a business. He suggested trimming 200 jobs from the state's IT payroll of 900. This proved to be the beginning of the end. Before long, Windley was the subject of controversy. Anonymous letter writers criticized his hiring practices. Accusations of cronyism swirled in local papers. A legislative audit faulted the CIO for not following the rules, but subsequent investigations cleared him of any wrongdoing. Faced with the chaos of a decentralized model, Windley also proposed a different organizational structure. "That didn't get much traction," he says. "I didn't manage my relationship with the Legislature very well. I probably was politically naive."
All took its toll, and Windley resigned.
The former CIO admits that bringing a private-enterprise approach to government without understanding the constraints of the public sector was a mistake. "When I became CIO, the governor asked me to really ramp up e-government," Windley says. "To do things we thought really important, such as integrated business processes, was really difficult to do with so many different IT goals and priorities that were not being coordinated."
Utah, too, was still learning about the role a CIO should play in IT governance. Indeed, state CIOs are a relatively recent phenomenon. In 1992, Gartner's Kost became the first person to get a state CIO title, and the job didn't come with any real authority. "When I was CIO of Michigan in the 1990s, the CIO didn't have an operational responsibility," he recalls. "There are very few states now where the policy and operation functions are separate."
In 2003, W. Val Oveson, a former lieutenant governor and state data center manager, replaced Windley as CIO. Oveson continued building the state's e-government projects, such as a one-stop Web site for getting a business license, but the office itself remained hobbled without any real power.
@pb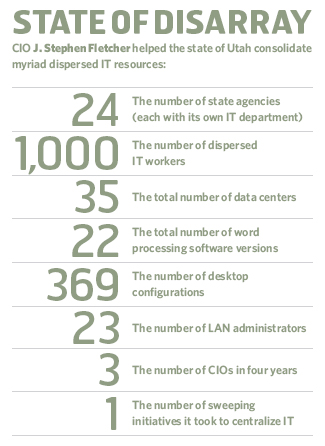 A New Era for IT
Two years later, diplomat and businessman Jon M. Huntsman Jr. became governor. Huntsman created the Utah Policy Partnership, an advisory committee tasked with helping the state run itself more efficiently, and IT was an obvious target. "The most pressing issue from a management situation was IT," says Managing Director Steve Starks. "We were looking for someone with the IT credibility to earn the respect of the Legislature and the state employees, and strategic and diplomatic enough to make the changes happen and communicate the benefits. It was a tough assignment."
Enter Stephen Fletcher, the CIO at the U.S. Department of Education, who found himself visiting the governor's mansion in Salt Lake City one day early in 2005. Fletcher knew Huntsman from Washington. They shared strong ties to Utah. Both had family there. Fletcher had gone to college in Utah, and the governor was a native son.
Fletcher complimented the governor on signing the Legislature's Information Technology Governance Act, which created a centralized IT agency for the state. The agency would have a year to take control of technology from 24 different state agencies that were operating as independent fiefdoms.
"The bill essentially said, 'Build a new organization, bring everything inside,'" Fletcher explains. "They gave a lot of power and responsibility to the CIO to make that happen. They also made him accountable for all the activities."
The governor told Fletcher that he was having a hard time finding a CIO with both government and corporate experience. Would Fletcher be interested?
There was no question Fletcher had the requisite skills. He had founded an IT consulting firm that provided e-government solutions to federal, state and local authorities. Later, he joined the Department of Education, first as deputy assistant secretary for management, and then as CIO. Some of his biggest accomplishments include re-engineering the office, introducing performance-based services, reducing default rates on student loans by establishing incentives that pay third parties more for good loans than bad ones, creating a loan database to better analyze risk, automating the application process and consolidating its lifecycles.
Fletcher took the job; and in April 2005, Huntsman named Fletcher the state's CIO and executive director of the newly formed Department of Technology Services. "I probably wouldn't have been interested with the old model," Fletcher says. "But this was exciting; it's the opportunity to build a government IT department the proper way." Fletcher began his tenure with visits to all the agencies. His objective was to find opportunities for efficiency. "Consolidation isn't necessarily the best way to go," he says. "Sometimes it's better to optimize."
Other states haven't successfully driven efficiencies, says Fletcher, because they don't have the flexibility to let the business drive the model. His office, however, has more freedom. "That's how business approaches this," Fletcher says. "We don't have to say it's all got to be centralized or decentralized. We don't have to make that determination until we understand what the requirements are."
The low-hanging fruit was obvious. DTS centralized purchasing, buying everything from hardware to bandwidth in bulk, which drove down costs. This helped save $2.5 million in the first six months.
But the next step was harder: how to restructure the organization without disrupting the business. "It's not just organizational structure," says Fletcher. "It's accountability, operational control, service-level management. If we tried to put it all in place now, we'd create havoc and chaos for our agencies. It needs to be a phased-in approach. You'll break stuff if you try to go too fast."
@pb
Controlling Chaos
When Brigham Young and his 147 Mormon pioneers (including only three women) founded Salt Lake City in 1847, they laid out the town on a neat, 10-block grid centered on Temple Square. Since then, the state, though still one of the least populated in the union, has grown dramatically, attaining more than 2 million residents. Today the state government is the second largest employer in Utah, giving jobs to about 20,000 people, including 1,000 IT workers.
When Fletcher became Utah's CIO, he found himself nominally in charge of a large department -- although he had no authority to fire civil service workers. The new legislation gave the CIO the ability to fire new hires, but most of the department was grandfathered in under the old rules.
Finding a way to change that was crucial. What if an IT employee resisted change or lacked certain skills for his new role? Perhaps he would fit in another part of the department. "The civil service system restrained you from a lot of flexibility," Fletcher says. And so he dangled bonuses in front of his staff as an incentive for them to give up their civil service status. Nine out of 10 took the offer.
At the same time, Fletcher had to tear down departmental walls, redrawing the organizational chart so that IT employees no longer reported to departmental bosses but to the CIO's office. "The agencies are giving up their IT employees," Fletcher says. "You can see where there would be some resistance. They said, 'If I'm responsible, I want those guys reporting to me.' I said, 'I understand that. I'm here to do those same types of things, take that headache [of managing IT staff] away so you can focus on your business.'" Fletcher also took away the flexibility and budgetary autonomy that departmental IT directors were used to, instead offering them expanded roles as business partners with agency heads who determine priorities.
Many embraced the changes. Consider Phil Bates, the IT director at the Department of Public Safety, which includes the state highway patrol, issues driver's licenses and runs crime labs. Bates went from reporting to the commissioner of public safety to the CIO, with whom he meets for 20 minutes every week, while all the departmental IT directors get together every other week. "It's been a real positive experience," Bates says. "In an agency, you're confined in a box. Now we have access to utilize a lot of resources throughout the state. For the employees at the agency, not a lot has changed. Now we answer directly to the CIO's office. Instead of me creating rules for my agency, we get a broader view and better standards."
The Department of Public Safety, for example, moved its legacy systems from its own data center to the state's main facility, greatly increasing disaster recovery capability. "That's a huge step," Bates says. "We're the front-line agency for homeland security. Those systems are critical to first responders. If we had an earthquake that took down the old facility, we could have been down for a long time. Now we can switch traffic in 30 seconds."
Restructuring the department was one thing; getting employees to do things differently was another. Fletcher wanted to install performance metrics, for instance, but he discovered that few staffers had experience with performance-based management. "I didn't have a pool of management familiar with those tools," he says. And so Fletcher hired Kenneth G. Petersen out of retirement to fill the void. Petersen had spent 31 years with J.C. Penney Co. Inc., most recently as the CIO of the company's drugstore division Eckerd Corp. (which was later sold). At Eckerd, Petersen took back IT operations in-house from IBM, building a tech organization from scratch and cutting expenses 50% in one year.
@pb
Fletcher lured Petersen to Utah as the department's COO, hoping to tap his change management expertise (and in this case, the COO actually reports to the CIO). "Here we're doing the same things as we did at Eckerd," Petersen says. "We're changing culture and methods, introducing metrics and governance."
The department, which runs under a chargeback model serving the agencies, began calculating its own overhead for the first time and managing with revenue projections and expenses -- all new ideas. Internal billing rates dropped by $2.5 million a year and billing costs fell by half. "We define the services, the needs of the business units, then an acceptable rate," Petersen says. "It's all based on cost recovery. Then we negotiate with the units on service-levels based on cost. We're defining the product catalog and the cost for service. We're working with the agency to define the SLA [service-level agreement]."
Also, Fletcher is bringing in contractors to tutor his staff on governance and methodology, as well as introducing concepts that are standard in the private sector, such as metrics and service-level agreements. "We can train these guys," Fletcher says. "We're going to shape our workforce. That's exciting. It doesn't make any sense to put good technology on a bad business process. I can hit a ball 200 yards out of bounds with new golf clubs, but it's still out of bounds."
A Work in Progress
In his office, Fletcher gazes out his window at the construction rigging hiding the State Capitol, then turns around to assess his own progress halfway into his three-year time table. "I'm trying to put in the framework so we have the structure to optimize as we need to," Fletcher says. "We may not get to our end game in the first year and a half, but we'll get there."
Already, Fletcher says, Utah is seeing the fruits of the new model. In 2006, DTS launched a new Utah.gov Web site, which was soon ranked as the third best government site in the country by the Center for Digital Government, a national research and advisory institute. And DTS also recently began to roll out a five-year, $70-million project to overhaul the way various agencies share information for federal and state aid programs. Called eREP (or the Electronic Resource and Eligibility Product), the new solution replaces the state's cumbersome Public Assistance Case Management Information System. Fletcher inherited the project but re-engineered the deployment to save money by having the state take over the integration process from outside consultants.
Continual improvement, Fletcher says, is the target.
"The goal I hope to accomplish is that we have an organization with defined processes and methodology and output no matter who the governor or CIO is," Fletcher says, "so you don't have to turn everything upside, inside out every time someone new comes in."
Michael Ybarra is a contributing writer for SearchCIO-Midmarket.com. Write to him at editor@ciodecisions.com.