Manage
Learn to apply best practices and optimize your operations.
Up to Code
Software asset management tools keep you in sync with your license agreements. They also give you a window into user behavior -- for better or, sometimes, for worse.
Failing to keep track of your software licenses is no excuse for violating them. Before you get caught, consider software asset management tools. You might find some surprising results.
It's the kind of scene that sends midmarket CIOs ducking for cover: Jenny Blank, flanked by U.S. marshals, marches toward the reception desk demanding to see the CIO. Blank, director of enforcement at the Business Software Alliance (BSA), is about to levy a huge fine on the company for software licensing violations. Moments before enduring an embarrassing public episode akin to getting a traffic ticket on a busy highway -- not to mention an imminent flogging by the CEO and CFO -- the hapless CIO often wonders why he didn't invest in software asset management earlier.

Download this free guide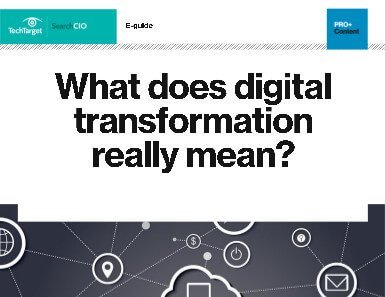 PDF: What does "digital transformation" really mean?
What exactly is digital transformation? You may hear the term often, but everyone seems to have a different definition. See how our experts define digitization, and how you can get started in this free guide.
Though the BSA catches more and more companies in violation of their software licensing agreements, many CIOs are taken by surprise. Regulatory compliance and an explosion of software within midmarket companies have made managing software so complex that keeping track of all these licenses' finer points can fall through the cracks.
Last year, companies in the U.S. and Canada paid more than $14 million in fines -- $1 million more than in 2003 -- after BSA audits at hundreds of businesses found that unlicensed software was being used by employees galore. For the overworked CIO charged with managing this morass, some midmarket companies have found success with software asset management (SAM) tools -- basically, software that watches software.
At the low end, SAM products start with freebies available for download from the BSA Web site; they allow a CIO to conduct a self-audit of software licenses. High-end applications track software usage, down to which application functions are being used more frequently than others. With this information, IT departments can zero in on modifications they need to make to better reflect business needs.
New York-based architectural firm Perkins Eastman, for instance, uses a SAM product from Seattle, Wash.-based Express Metrix LLC to keep track of software used by the firm's 600 architects in offices nationwide. The SAM software not only tracks licenses but also enforces them. "If you only have 10 licenses and 11 people wanted to run the program, that 11th person is blocked," says Emily Baker, a desktop and software support specialist at Perkins Eastman.
Vendors Court the Midmarket
For midmarket companies like Perkins Eastman, there is no shortage of vendors like Express Metrix offering SAM options. All tallied, there are at least three dozen companies competing in the software asset management space. The total market for IT asset management is approaching $1 billion, according to the Framingham, Mass.-based research firm IDC, and growing at roughly 9% a year.
Other SAM Resources
A cottage industry has developed to train IT staff in software asset management. At the forefront is the International Association of Information Technology Asset Managers (IAITAM). In its three years of existence, the organization has recruited 1,100 members in 18 countries who undergo training to receive asset management certification.

Other smaller organizations include the Business Technology Consumer Network (formerly Software Asset Management Services) and Technology Asset Management Inc. Introducing members to vendors is a key element. "A lot of businesses really don't know what is available in this space. We bring them together," says IAITAM founder Barbara Rembiesa. "We remain product-neutral, but we have provider members, which enable businesses to know what is available out there."

There are other resources for those looking for asset management software, such as organizations helping government entities. Michelle Gitmed, IT director for the city of Alameda, Calif., was in the market for an asset management product to track the status of the city's 591 desktops and laptops. She received a recommendation to use ASAP Software's eSMART from the Municipal Information Systems Association of California (MISAC), an IT information-sharing organization and support group with chapters across the state.

That sharing of information on what works and what doesn't is a great time saver, says Gitmed, whose team of six IT staff is hard-pressed to keep up with what's going on in the city's 17 facilities. "If somebody has found something that works for them, it is really valuable to share that," she says. An eSMART survey of the city's machines revealed some long-in-the-tooth versions of Windows, but thankfully application licenses were all up to date.

--J.S.
Needless to say, software vendors have a vested interest in growing the market. Microsoft has taken a role in trying to convince smaller companies of SAM's benefits and is working with a number of partners, such as Lindon, Utah-based Altiris and Buffalo Grove, Ill.-based ASAP Software. Another vendor targeting medium to large companies is Fremont, Calif.-based Everdream Corp.
The SAM vendor landscape is also undergoing consolidation. In the past 18 months, for instance, boutique vendors Isogon Corp. and Cyanea Systems Corp. have been snapped up by IBM; and in September, Hewlett-Packard Co. bought Peregrine Systems Inc. Fred Broussard, an analyst at IDC, warns that vendor consolidation will continue because midmarket customers want their asset management software to be part of a suite, along with software distribution, remote control and, in some cases, problem management.
Corralling the Software Stampede
While the prospect of a Blank stare may be enough to drive many CIOs to adopt SAM, there are other reasons. Chief among them are cost reduction and regulatory and license compliance, according to a survey of 70 companies, most of which are midmarket IT users with fewer than 5,000 seats. The survey was conducted by high-tech media company ECPweb.com, based in Ann Arbor, Mich. Specifically, 83% of respondents say that cost reduction and regulatory and software license compliance are "important" or "very important" factors. Other significant factors include alignment with business strategy (69%), control of IT portfolio and investments (74%), and the need for a standardized, up-to-date IT portfolio (72%).
Barbara Rembiesa, founder of the International Association of Information Technology Asset Managers (IAITAM), a SAM certification organization, says that most companies that have gone through IAITAM's program have reaped immediate savings. VeriSign Inc. claims $3 million in savings; Computer Associates, $300,000. The call for greater security measures is another driver of SAM adoption, Rembiesa says. "If you don't know what you have, you can't secure it."
For one Boston-based midmarket investment firm, an ASAP Software eSMART user, it was the arrival of Sarbanes-Oxley (SOX) that drew attention to asset management, with an eye toward ethical license management. After installing eSMART, the company discovered some disappointing internal software practices. "One of the first things we found was that people were going out and buying their own software that we weren't aware of," says the vice president of desktop architecture at the firm, which requested anonymity out of fear of publicity about its SOX corrective measures. "The IT department stepped in and organized standard products and placed controls on employees on what software they could and could not buy. We now have a standard list of software, and the purchasing department won't purchase anything not on that list."
Many other companies make similarly surprising discoveries with SAM. In early 2003, the Atlanta-based, $402 million law firm of Alston & Bird LLP bought asset management software from Houston-based Scalable Software Inc. to get a handle on software costs. Executives were getting ready to dump software, such as Avantstar's Quick View Plus, from the firm's stable of recommended software, and they believed that Scalable Software would help justify the decision.
But SAM analyzed software usage and produced an audit that showed the exact opposite. That is, 75% to 85% of employees were using Quick View Plus, which facilitates file opening, on a regular basis. Neal Murphy, Alston & Bird's network services manager, estimates that the company saved in the region of $100,000 by not canceling and then being forced to re-install Quick View, as employees would no doubt have demanded.
Other findings resulted in concrete savings as well. Alston & Bird saved roughly $30,000 by terminating its licenses for client software from LexisNexis, the legal research provider, when SAM reported that the program was not being used. Yet as Alston & Bird basked in cost savings, SAM suddenly showed its dark side by revealing that hundreds of the firm's employees were using unlicensed versions of Adobe Acrobat. "We were shocked at having to buy 500 to 600 licenses at $400 apiece," says Murphy. "It was a good chunk of change and not something we expected."
At Perkins Eastman, an audit by Express Metrix revealed that the company was fairly accurate in its assessment of how many licenses were needed from Autodesk Inc. Though the firm has 600 architects, a peak-usage report indicated that no more than 300 were using the product concurrently.
Consequently, Perkins Eastman was able to show it needed to buy only 300 concurrent licenses and thus resist entreaties to buy more.
Aside from clearing up licensing issues, Express helped the firm to enforce its policy that staff must install only approved programs on their machines. Many architects had loaded their favorite games on the company's PCs, and the software fingered the offenders. "Having this software helped enforce our policies," says Baker.
Is Software a Silo?
The biggest critique of SAM is that it manages only software. Wyly Wade, director of technology at General Land Corp., a San Diego-based real estate development company with $2 billion in current projects, says SAM has improved his ability to negotiate with software vendors, but he believes an enterprise-wide strategy to manage assets of all kinds is more useful. "Don't go at it alone," he advises. "Use your COO and your CFO to build a plan that is going to manage assets. Don't just manage software; manage all your assets across the board, so that way you can have one single point of asset management." Wade adds that asset management should include managing workflow as well.
On the other hand, Alston & Bird wanted to audit both hardware and software but found the latter more compelling. "Once we got the product in here, I soon discovered it was the software side that was the more powerful piece," says Murphy. "It's harder information to gather. With the hardware, you can count a bunch of machines and you are good to go. But to know what is installed and specifically how and when people use [an application] is pretty valuable information that is not easy to get otherwise."
For instance, Alston & Bird's 700 attorneys, paralegals and administrative personnel each have a laptop computer. While managing the hardware is daunting, the task pales in comparison to managing a massive software "refresh" to give everyone critical software tools, a project Alston & Bird embarked on a few years ago. This meant re-imaging every PC from scratch.
To this end, SAM proved its worth. "The [re-imaging] would have been a big headache if we had to do that manually or had to rely on users to tell us what they had and what they did not have," says Robert Marburger, CIO at Alston & Bird. Aided by the information SAM provided, he was able to organize the refresh -- effectively rolling out the same toolkit to the entire firm -- 18 months after arriving at the company two and a half years ago.
Alston & Bird is still accruing benefits from the software. SAM-usage reports often influence software training decisions, and the training then focuses on the aspects of a software program in greatest use. The master plan is to refresh all the technology at the firm every three years so that everyone has access to the latest software tools.
Obviously, everything starts with knowing what you've already got and how it's being used. That baseline can guide purchasing decisions and help determine how to wring more value out of the software you already own. And if that carrot doesn't make the business case for SAM, consider the stick. Most companies using unlicensed software are reported to BSA by a disgruntled employee; and as Blank says, the watchdog organization's phone "rings all day."
John Sterlicchi is a freelance writer in Clearwater, Fla. To comment on this story, email editor@ciodecisions.com.
Dig Deeper on Small-business IT strategy