Manage
Learn to apply best practices and optimize your operations.
Turning Telecom From an IT Blind Spot Into a Business Innovator
Worrying about telecom used to be someone else's problem. Now it's yours.
For far too long, telecommunications has been regarded as something for someone else to worry about. It's been the province of tool-belt-wearing everymen or white-smocked eggheads in corporate research parks. The rest of us have taken it for granted.

Rising Static With Telecoms

Survey respondents express confusion about industry direction, and follow-up interviews indicate that alignment with partners receives only a mediocre rating.

N= 207 respondents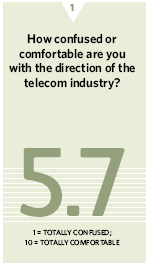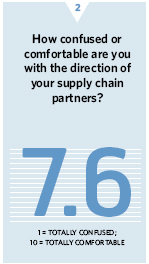 But the end to widespread telco ignorance is fast approaching. Steve Russell, the former CIO at Christie's auction house in New York City, believes that telecom is "the first place to look for cost reductions" as well as an area overdue for greater IT attention. To paraphrase Russell, telecom competence is the most important area for CIO decisions regarding cost, innovation and risk management.
In a world where bandwidth is abundant and device choice near infinite, standards are in a state of flux, and consumer behavior shows little consensus. Confusion about the industry is rampant, especially in the short term.
In this month's CIO Habitat survey, we asked respondents to rank levels of confusion about the direction of the telecom field (Figure 1). A score of 1 represented "totally confused," and a 10 represented "totally comfortable." Interestingly, on average, respondents see their supply chain partners on the more comfortable (7.6) end of the scale (Figure 2), while they consider their primary telecom vendors to be more confused (4.3).
Where are these vendors going, and what are they doing on the way there? "I may not fully understand their business plans, especially when it involves acquisitions," admits a CIO at a state agency. A CIO from an oil company was less forgiving. "I wish to God the vendors would talk to me before they spend billions on research that does absolutely nothing for me. They show up after the money has been spent and ask, 'Can you use one of these?'"
The Ambiguous Short Term
In 55 follow-up interviews, we discovered that practitioners and vendors aren't confused about where telecom is going over the long term. Respondents agree that we are heading into a totally interconnected existence where information in any format can be sent at low cost to anyone, anywhere, anytime.
The problem is the short-term future. The present is knowable; the distant future fairly certain. What concerns us is the unspecified in-between period of the next six to 36 months. How can we move from today's known capabilities to the promised land of future total connectivity?
CIO Joe Puglisi of EMCOR Group in Norwalk, Conn., has an answer. "Whatever you do, make sure that what you are doing currently is as cost-effective as possible," he says. EMCOR partnered with Destin, Fla.-based Telwares, a telecommunications industry specialist, and renegotiated its voice, data and wireless network costs. The result: "millions of dollars of annual savings," he says.
Puglisi notes that his IT staff also scouts for new technologies that will deliver more services at equal or lower cost. "We recently identified opportunities to further enhance the performance, security and value of our Internet links through special devices," he says. "We are conducting trials to determine the true characteristics of these devices and to demonstrate their full potential."
You don't have to be at the IT helm of a Fortune 500 enterprise like EMCOR to drive results through telecom innovation. The CIO of one Midwestern state seeks to deliver "more ubiquitous connectivity to extend channels and control" by providing multiprotocol label switching (MPLS) over a private network that offers VPN capability. Translation: More business can be done over the same fiber as the demand rises for services combining voice, video and data on a single network. This CIO is also investigating Wi-Fi and WiMax but has concerns about security. "We have insourced much of our trunking and utilize providers mainly for last-mile connectivity," he says.
A New World Requires New Ways
Everything about the telecom world is changing, from the players and devices to the geography, behavior and rules of the game. If you want to survive in the new world, you have to get smart fast about what's happening in the changing landscape of telecommunications.
Rising Static With Telecoms (cont.)
Survey respondents express confusion about industry direction, and follow-up interviews indicate that alignment with partners receives only a mediocre rating.

N= 207 respondents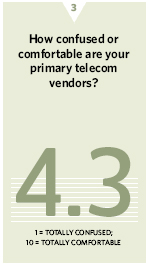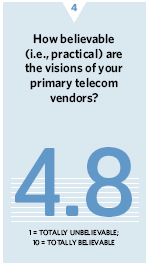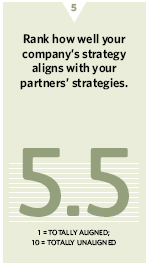 Social scientists use the concept of agency: the capacity of humans to make and impose choices. IT leaders need to develop agency regarding telecommunications. In the new world of telecom, CIOs need to have the following core survival skills:
Understanding the art of the possible. What can and should we be doing with all this connectivity?
Analyzing the true economics. How much do telecom alternatives cost? Is there a way to maximize functionality and minimize cost?
Learning the "psychographics" of deployment. How does connectivity change the way people relate and do business?
The CIO at one cost-competitive retailer believes that the best way to get smart about mobility is to start "mobilizing employee-facing applications." In a manner similar to Webifying the enterprise, midmarket CIOs are going to be asked to mobilize 75% of the application base of the enterprise. The consensus is that when contemplating strategic options, CIOs must consider mobility.
One CIO at an industrial design services company considers the current confusion a natural part of the industry's evolution. "This area is still evolving; innovation is still happening at a rapid pace," he says. An outsourcing expert adds that an important differentiator will be whether "they fully appreciate what can be cost-effectively delivered on the now-emerging connectivity platforms."
"For business colleagues, the key benefit of informed telecom management is delivery of content through multiple media and devices," says the IT vice president at one Midwestern insurer. "For the IT staff, it's security, ownership, storage and accessibility of the content." When asked what this means, she adds: "Higher speeds at lower costs, allowing easier communication of more rich content and mixed media."
Vince Milito, former chief architect and IT director at Danbury, Conn.-based manufacturer Praxair, Inc., believes that caller ID and the ability to integrate an incoming number into business systems have been two of the most effective telecom innovations. "This has reduced the time for our people as well as customers," he says. "The increase in wireless reliability allowed us to cost-effectively monitor inventory at customer locations, which helped us do better production and delivery scheduling."
Improved Telecom Service
Sometimes the frustration is not about confusion but about just plain old poor service. As the director of infrastructure at a hedge fund company shares, "Carriers increasingly rank poorly in customer service in my eyes. We spend more time nagging our carriers than any other single endeavor." This director also sees a certain amount of ambiguity surrounding the near-term future.
"Ten years ago, Ethernet won the battle for the corporate data center despite being the technologically 'worst' option, when compared with ... other emerging technologies. Telecom, mobility, wireless, etc. [are at] that crossroads right now but seem to be taking an inordinately long time to emerge from it."
Social scientists call this midterm dilemma "technological presbyopia": the tendency toward enthusiastic portrayal of a bright, distant future while overlooking the likely obstacles that lie immediately ahead.
So suppliers in this space had better get busy. In addition to doing little to reduce the ambiguity of the next six to 36 months, they offer a status quo that is far from perfect. The executive vice president in charge of shared services at a regional bank explains: "My carriers haven't made any improvements in their service to help me better service my customer. Most of the improvements have been on our end from an infrastructure standpoint."
While conducting CIO Habitat research in Stockholm, Sweden, with 35 CIOs and several service providers in the Nordic and Baltic regions, I discovered that the general sentiment among these savvy executives was skepticism. "Yeah, yeah, yeah," they remarked. "We've heard enough of that 'information at your fingertips anytime and anywhere' stuff. Now give us something we can work with." The dream application that this group seeks would enable better linking and synchronizing of corporate telecom infrastructures with personal telecom infrastructures.
Ironically, the suppliers of connectivity are having difficulty connecting with their customers. Respondents give these vendors a relatively low score for believable, practical plans (Figure 4). As one midmarket insurance executive explains, "The visions being painted by the vendors in this space are middle-of-the-road believable." The CIO at a global pharmaceutical company is concerned by what he considers the self-centered product visions of telecom suppliers. "They are still selling products. They need to make my success their success." Figure 5 shows how well user-company strategies line up with those of their telecom suppliers, with a mediocre alignment score of 5.5.
On the Security Frontier
Everyone agrees that the world's increasing complexity makes network security a top priority. For telecom and security, what is clearly taking hold in the midmarket is the managed-services model (Figure 6). The score of 7.4 signifies that people are shifting more of the basic blocking and tackling of telecommunications and security to outside providers. [For another perspective on outsourcing security, see "Loaning Out the Keys to the Kingdom."]
Rising Static With Telecoms (cont.)
Survey respondents express confusion about industry direction, and follow-up interviews indicate that alignment with partners receives only a mediocre rating.

N= 207 respondents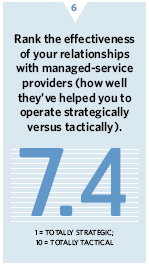 The chief security officer at a midmarket manufacturer uses managed services "to take some of the burden off my staff so that we can focus on bigger-picture risk management issues." Outsourcing tactical duties such as maintaining firewalls and intrusion prevention eliminates the need for an additional three or four staffers allocated to work on those tasks alone.
The big news for midmarket players and global jumbos alike is convergence. Not the much-ballyhooed convergence of voice and data, but that of corporate technology infrastructure with personal ones. Increasingly, we must all learn to think in terms of three screens for information delivery: a TV, a PC and a mobile device, such as a cell phone.
Old-school CIOs believe their roles begin and end with that second screen, the corporate-supplied PC. Only executives heading for extinction should cling to the belief that a TV is solely for entertainment, the PC solely for work and a cell phone merely for phone calls. The CTO at a regulatory agency (who readily admits that regulators are behind the times) believes that mobility is the future killer app. "Clearly mobile, nomadic computing is critical." IT leaders periodically find themselves at a crossroads where the number of paths down which subsequent events can lead multiplies. We are at such a moment right now regarding telecommunications.
So you have to decide whether you are going to exert agency in the telecom space or not. Will you proactively sculpt telecom to become part of your personal brand equity and a competitive differentiator for your enterprise, or will you quietly consume someone else's creative vision? If you choose to lead, you'll have to learn. Look at your supply chain and vendor partners. Whom should you learn from? Make them part of your network. Next, draw a picture of what you want your telecom world to look like 36 months out and get feedback on it. When a consensus of sorts has formed, take your picture to three competing telecom carriers and ask what they think. Recalibrate based on their input, then pull your strategic advisers into your evolving vision.
But whatever you do, stop taking your telecom future for granted. Start building it instead.
---
SURVEY METHODOLOGY: In a series of open-ended questions, 207 CIO Habitat e-mail survey participants were asked their opinions about the direction of the telecommunications industry. Respondents are IT leaders from various industries, including aerospace, financial services, government agencies, media and entertainment, and retail. The CIO Habitat Report research team then conducted follow-up interviews with 55 respondents.

Thornton May is a respected futurist, adviser and educator whose insights on IT strategy have appeared in Harvard Business Review, The Wall Street Journal, BusinessWeek and numerous computer industry publications. To comment on this story, email editor@ciodecisions.com.
Dig Deeper on Small-business IT strategy