Manage
Learn to apply best practices and optimize your operations.
Tight Budgets and Core Mission Set the IT Agenda
Nonprofits are finding new ways to fundraise, connect with donors and fulfill organizational mission.
Jim Thie, vice president and CIO at Habitat for Humanity International, has a list of challenges unique to nonprofits, whether they're trade associations or charities: managing volunteers around the world, supporting new ways of raising money, expanding capabilities without increasing overhead and, of course, meeting organizational mission.

Focus On: Nonprofits

Top business challenge: To target and communicate with constituents through a variety of channels, such as direct mail, Web sites and phone calls
---
Solution: To provide a holistic view of donors and membership through integrated CRM systems
---
How IT can help: By providing data mining and analytical tools and by managing fundraising campaigns

And like many nonprofit CIOs, Thie has to carry out his IT agenda with an eye on the bottom line; budgets at nonprofits tend to be tighter than they are in the private sector.

Download this free guide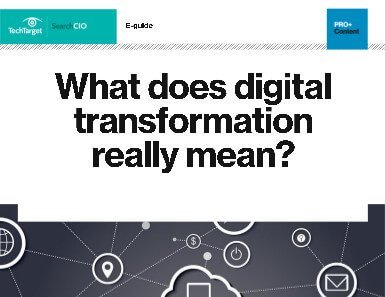 PDF: What does "digital transformation" really mean?
What exactly is digital transformation? You may hear the term often, but everyone seems to have a different definition. See how our experts define digitization, and how you can get started in this free guide.
Certainly, nonprofits' strategic use of IT tends to lag behind that of the private sector. But it's a myth that nonprofits don't understand the power of IT the way private companies do, Thie says. He's seen some for-profit companies "in worse shape" than nonprofits. "It's really about ... whether IT is focused on the business."
Recently Habitat's board completed a five-year strategic plan, and Thie's job involves identifying the tools that support the organization's goals. In Habitat's case, the primary mission is to eradicate poverty-level housing -- a Herculean goal when nearly 1 billion people live in substandard conditions. Thie is implementing an optical character recognition system that streamlines donation processing. Incoming donations are scanned and touched once by an employee, with exceptions routed electronically using workflow software. It allows Habitat to process more donations without additional staff, he says.
Thie is also implementing a new customer relationship management (CRM) system called Team Approach from Target Software Inc. Set to go live in the second quarter of 2007, the system will standardize business processes for Habitat's global network of offices.
Donation Dollars Don't Flow to IT
For most of the country's 400 largest charities, 2005 was a good year. In 2004, public charities had nearly $1.1 trillion in total revenue and roughly $1 trillion in total costs.
The largest charities saw donations increase 13% over 2004 for a total of more than $62 billion, according to a Chronicle of Philanthropy survey.
Yet the survey also reveals that these increases didn't often benefit IT. "Nonprofits are trailing behind the corporate sector in operational areas like infrastructure, and technology just isn't up to par," says Laura Quinn, director of Idealware, an organization that provides nonprofits with Consumer Reports-style information about software.
Mark Bolgiano, vice president and CIO of the Council on Foundations, a Washington, D.C.-based trade association that serves charitable foundations, says that IT's lack of prominence in nonprofits reflects the stature of the sector's IT executives. "CIOs are not always viewed as key to formulating an organization's strategy," he says. "Often we're turned to at the production end of those decisions."
Bolgiano spends lots of time promoting technology adoption among foundations that his organization serves. "CIOs are not at the table, but they are making decisions that have profound implications" for organizational mission, he says.
If Bolgiano's take on CIOs is right, John Rhon is an exception. At LifeLink Foundation, a Tampa, Fla.-based nonprofit that's charged with the recovery and transplantation of organs and tissue, VP of IS Rhon serves a critical role in helping his organization achieve its mission. He and his 12-person department devote much of their time to keeping the organization's 40 servers, 350 devices and numerous custom applications running 24/7. Rhon recently deployed software from Persystent Technology Corp. that automates IT support previously handled by its call center.
While automating support may not seem like strategic use of technology by private-sector standards, it's critical for LifeLink. With divisions in multiple states, Rhon has to muster lean resources to facilitate matters of life and death. With many surgeons and nurses working remotely, "we can support all of our users throughout the organization," he says.
But Rhon is hampered by the fiscal limitations inherent to nonprofits. He wrestles with how to adopt emerging technology "without breaking the bank," he says.
Quinn says that one of the biggest challenges for nonprofits, whose lifeblood is donors and volunteers, is managing the databases that track donor dollars and the processes for contacting participants.

Meeting the Mission With IT
Finding the right software is an ongoing challenge, says Quinn. In an Idealware survey of 261 nonprofits, only 58% of respondents say that their organization has the right tools. Several vendors have identified the nonprofit market niche and offer products like CiviCRM, open source software that is designed to help nonprofits manage fundraising campaigns and recruit and communicate with members.
At the same time, Quinn says that integrated CRM offerings from Salesforce.com have gained traction among nonprofits. She says that several consultants have standardized on Salesforce.com and are creating plug-ins and configurations that are tailored to the needs of nonprofits.
Nonprofit CIOs say that Web 2.0 is particularly exciting because it enables two-way engagement among advocates who are working on the same cause, such as poverty. Blogs and wikis do more than build community; users create content for free, and nonprofits can generate buzz. Nonprofits can use these tools "to contribute to a body of knowledge" or "get collective muscle behind advocacy," Bolgiano says.
World Wildlife Fund (WWF), a Switzerland-based conservation group with $127 million in revenue and more than 5 million members, has been adept at mining its constituent data. "I don't push out any IT project -- other than infrastructure -- that doesn't tie into one or more of the organizational goals set at the CEO level," says CIO Greg Smith.
WWF uses software from SAS to analyze the performance of its online, email and direct-mail fundraising campaigns. With more than 60% of operating revenue coming from contributions, Smith takes business intelligence seriously. "We're not running Tinker-toy BI tools here," he says. "We're running great stuff that gets business results."
The WWF has targeted 19 priority locations for conservation efforts; Smith says IT's job is to help deliver results in these places. "We have large teams of people working in remote geographic locations such as the Galapagos Islands. We utilize a secure Web portal with collaboration software to share information." WWF employees in the field also have PDAs for wireless access to email systems.
At LifeLink, Rhon is also looking to facilitate remote operations. When organs become available for donation, medical facilities are increasingly notified electronically as well as by phone. Rhon plans to equip physicians with tablet PCs so they can receive notifications quickly and collect clinical information at a patient's bedside. And despite the constraints of a limited budget, Rhon likens his role to that of a steward entrusted with the well-being of his organization. Thie agrees. "The most important thing," he says, is to focus on goals and identify tools that "lead to a solution."
Megan Santosus, a former senior editor at CIO Decisions, is now a features editor for SearchDataCenter.com. Write to her at msantosus@techtarget.com.
An Insider View
Getting Nonprofits On Board With Technology

In 1985, I went to work at Monticello, the home of Thomas Jefferson in Charlottesville, Va. My office was in the 200-year-old Weaver's Cottage overlooking the vineyards that Jefferson had planted. Monticello lives and breathes history. And when I think about IT at Monticello during the mid-1980s, it seems pretty historic, too. The estate had only islands of IT usage: a bit of word processing here, an early accounting system there, even a custom-designed database that the archaeologists used to record their findings, such as pottery shards and other colonial-era trash.

Since Monticello, I have worked at the Phillips Collection, National Public Radio (NPR) and the Corporation for Public Broadcasting, each time installing or upgrading applications and, eventually, enterprise systems.

Sector Similarities

The first thing to note about nonprofits and for-profits is that, in terms of IT, there are more similarities than differences. When I joined NPR, I assumed that the general counsel did a lot of interesting First Amendment work (it was NPR, after all). But in fact, he spent most of his time on leases, employment agreements, phone contracts -- exactly the same focus as that of legal counsel at a for-profit. Only a small percentage of his work had to do with "sexy" NPR issues. The same can be said for IT work. Whether we work at a for-profit or a nonprofit -- we all need email, accounting systems and websites.

In two categories, there are major differences between nonprofits and for-profits. One is the nature of the equation: Revenue minus expenses equals net. In the for-profit world, the bottom line is the bottom line. For nonprofits, the action is in the expenditure line -- the money spent on the mission -- measured in terms of the dollars spent as well as the effectiveness of the programs. The other essential difference is cultural. Nonprofits are more likely to manage through consensus, so if a stakeholder doesn't support a technology project, dissent can more easily derail the endeavor.

Dollar for dollar, nonprofits are more complex. Consider two $10-million organizations, one for-profit and one nonprofit: While the for-profit provides different services (i.e., products), both organizations use the fee-for-service model. Nonprofits, however, have widely varying slices in the revenue pie: government support, individual giving, foundation grants, corporate support, among others. Revenue diversification has long been recognized as a best practice in the nonprofit world, but it comes at a price. Each one of those different revenue streams has different IT needs.

For example, to maintain government support, nonprofits have to focus on advocacy -- having experts who follow the issues, communicating to government officials and so on. There's a need for a good Web presence, work-sharing programs and real-time communication tools such as BlackBerrys. To target individual donors, on the other hand, a nonprofit needs customer relationship management tools much like those a for-profit uses for marketing and retail. For both constituents, nonprofits must use a dual strategy of online plus "on land," and they must process donations or payments securely.

Bringing Metrics to the Fore

In terms of fondation grants, sophisticated "philanthropreneurs" -- Bill Gates is the most visible -- want evidence of return on their effort. The Bill & Melinda Gates Foundation, for example, spends some 17% of its grants on exploring the results of its philanthropy.

Much like for-profits, nonprofits need to measure program effectiveness, which can be challenging. Water purity rates, reading scores and incidence of disease are all outcomes in the nonprofit sphere that can be measured. Driving technology to the "point of service" -- giving handhelds to doctors who collect birth weight information in health clinics, for example -- is an essential way for nonprofits to start effectively measuring outcomes.

New-style entrepreneurs are pushing nonprofits to better use technology so that these organizations can track results and deliver services. Great examples abound. One nonprofit uses supply chain management solutions to reduce waste in delivering humanitarian aid. Another uses Internet-based voting to determine allocation of grants.

Many obstacles -- from funding to culture -- stand in the way of more effective use of IT at nonprofits. But I'm optimistic. Major changes within the workforce will drive technology change at nonprofits. As baby boomers are replaced by a younger generation that is more tech-savvy, much of the resistance to technology will disappear.


Elizabeth Griffith is an associate managing partner in the Washington, D.C., office of Tatum LLC, an executive services firm.
Write to her at InsiderView@ciodecisions.com.
Dig Deeper on Small-business IT strategy