Manage
Learn to apply best practices and optimize your operations.
The Value of Connectivity - (bookshelf)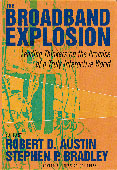 In 2003, Michael Powell, chairman of the Federal Communications Commission, asserted that broadband deployment was the "central" U.S. communications policy objective. And with collaborative, real-time potential, broadband is a core source of economic value (able to contribute an estimated $500 billion to the economy if widely adopted).
Tapping such value is the premise of The Broadband Explosion, a collection of essays edited by Robert Austin and Stephen Bradley. But as the contributors note, future deployment begs questions about optimal economic policy, physical architecture and security: Should future broadband infrastructure be championed by a regulated monopoly or by multiple competing providers? Is expansion better achieved by upgrading to an all-fiber architecture or with the existing hybrid structure? What levels of security are acceptable, and who should secure them? These 16 essays incisively address the technological, economic and social questions that new technology invariably raises. A great primer. ($45, 384 pages)
Lauren Horwitz, former managing editor, production, for CIO Decisions, is now managing editor for TechTarget's Data Center Media Group. Write to her at lhorwitz@techtarget.com.
Dig Deeper on Small-business infrastructure and operations