Manage
Learn to apply best practices and optimize your operations.
The Next-Gen Network
Multiprotocol Label Switching is kicking midmarket companies into high-bandwidth gear, but deployment can trip you up. Here's how to avoid the pitfalls.
MPLS outpaces frame relay in prioritizing traffic, increasing bandwidth and, often, cost. Just don't underestimate what's involved in deploying it.
When O'Neal Steel began rolling out its new ERP system, 28 remote sites needed fast, reliable access to the Oracle EnterpriseOne software running on a data center host. As a result, bandwidth demands increased fourfold or more, which caused serious response-time problems on the company's frame relay network, reports Michael Gooldrup, vice president of IS at the privately held midmarket metals processor.

Download this free guide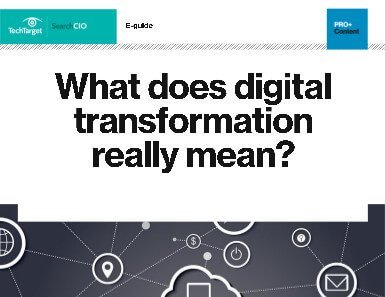 PDF: What does "digital transformation" really mean?
What exactly is digital transformation? You may hear the term often, but everyone seems to have a different definition. See how our experts define digitization, and how you can get started in this free guide.
By submitting your personal information, you agree that TechTarget and its partners may contact you regarding relevant content, products and special offers.
You also agree that your personal information may be transferred and processed in the United States, and that you have read and agree to the Terms of Use and the Privacy Policy.
So a move to MPLS service became pretty much a no-brainer.
"Frame relay offers no way to prioritize bandwidth; all applications compete equally," says Gooldrup, who finished rolling out AT&T's Multiprotocol Label Switching (MPLS) offering at his Birmingham, Ala.-based company in February. MPLS enabled O'Neal Steel to define a class of service that guaranteed adequate response time for the enterprise resource planning (ERP) application. Frame relay doesn't offer that capability.
O'Neal Steel's situation is far from atypical. For corporate America as a whole, and midmarket companies in particular, the move to MPLS is more a matter of when than if, according to Lisa Pierce, a vice president at Forrester Research. "MPLS is more than an upgrade path for frame relay or ATM [Asynchronous Transfer Mode]: It's the basis by which we'll be doing all kinds of transactions," from Voice over Internet Protocol (VoIP) to disaster recovery to service-oriented architecture, she says.
In traditional IP backbones, each router maps out the next segment of a packet's journey based on current traffic conditions and least-cost routing algorithms. This minimizes congestion and latency for the network as a whole but doesn't ensure that a particular packet stream gets from point A to point B by a specific time.
With an MPLS network, each packet carries a label that tells intervening nodes exactly how to route it to its final destination. The label can also designate class of service, ensuring that a packet stream gets where it's going in a timely fashion, even during peak traffic periods. In fact, MPLS service providers can deploy bandwidth and reconfigure network traffic within minutes -- some in nearly real time. This makes it a reliable, cost-effective solution for companies with geographically distributed offices that need to exchange voice and/or data on a regular basis.
In addition to flexibility, MPLS offers two other primary benefits: converged networking (carrying both voice and data) and cost. That's right: This supernetwork can be cheaper than other technologies in terms of cost for bandwidth.
In 2005, Forrester found that about 18% of North American firms with more than 1,000 employees had already deployed MPLS, and another 27% were evaluating it. Not bad for an industry standard that's been commercially viable for about five years. In the mid-1990s, leading network switch vendors Cisco, IBM and Ipsilon each had a label-switching protocol. Together, under the auspices of the Internet Engineering Task Force, they began working on a standard in 1997. A fairly complex set of specifications, MPLS was officially released in 2001 and is still under development.
This year, Forrester predicts that MPLS deployments will take off. Major carriers, including AT&T/SBC, MCI/Verizon, Sprint and Qwest, are collectively investing billions in their MPLS infrastructures, Forrester's Pierce reports.
Corporate decision makers are getting the message. "Based on the fact that all major carriers are going with MPLS as the underpinnings of their networks, we felt it was the only way to go," says Shelly Barnes, vice president of technology and process at Arizona Tile in Tempe, Ariz., which is currently selecting an MPLS provider. But she also knows the dangers of adopting a relatively new technology: Hidden costs. Reliability concerns. Management headaches. "Even though carriers say it'll be a slam dunk, we all know there's likely to be some little glitch in there," she says.
Choosing an MPLS Service Provider
Corporate decision makers need to do their homework so they can negotiate from a position of strength and make informed choices when choosing an MPLS provider. What follows are a few tips from the trenches.

When reviewing your options, consider virtual network operators (VNOs) like Virtela, Masergy and Megapath. Un-burdened by a legacy infrastructure, VNOs have partnered aggressively with other carriers to extend their services and support a variety of local-access technologies, says Johna Till Johnson, president of Nemertes Research. Masergy, for example, recently announced what is said to be the industry's first global Ethernet wide area network (WAN) service. On the other hand, major telcos have more mature offerings and are somewhat less likely to get acquired.

When evaluating service providers, get their vital statistics, including metrics like jitter, delay and loss -- "actual, not average," advises Lisa Pierce, a vice president at Forrester Research. "Get it in writing if possible." And talk to customers, particularly about reliability and performance over time.

Then ask a service provider sales rep these questions:
What kind of backup does the service provider offer, particularly over the last mile? Byram Healthcare migrated to MCI/Verizon's MPLS service because its former MPLS provider, AT&T, could not provide ISDN backup links to all major sites, Entrup reports. "The network was always important to us, but now we need that redundancy because we have more eggs in one basket."



How secure is the network? Can your MPLS service support secured links to VPN SSL clients over the public Internet? This is important if you want to communicate with extranet partners and support your road warriors' mobile devices.



What kind of monitoring and tracking capabilities will the carrier provide? How easily can you request a change? A growing number of carriers provide a Web-based portal through which in-house staff can monitor traffic, issue and track trouble tickets, and input change-of-service requests.



How quickly can you deploy bandwidth or reconfigure class of service for a given application? How granular is class of service?



How accurate and responsive is billing? Does your monthly bill reflect changes in bandwidth and quality-of-service parameters? Can you get a consolidated bill across all your services?
Once you choose a carrier, give it traffic data so it can size your bandwidth correctly. "Carriers should do that without your asking, but they don't always," says Bob McGuire, a vice president at iWave. "A company that's not IT-savvy can wind up buying something that makes sense on paper but is overkill."

And finally, "Moving off MPLS is tougher than getting off frame relay, because it supports more applications," says Forrester's Pierce. "So treat it as a long-term bet. You're buying a package: Take a good look at it before you commit."

--E.H.

The Truth Behind the Cost
When it comes to infrastructure, cost is king. A growing number of midmarket companies are adopting MPLS as a cost-efficient way to increase bandwidth, particularly at smaller sites. Midmarket companies are especially vulnerable to out-of-control telecom costs for remote sites, says Johna Till Johnson, president of Nemertes Research, a New York-based firm that specializes in analyzing emerging technologies. "They're not big enough to negotiate [major rate breaks] with a carrier, but they still need a lot of bandwidth," she says.
Going from frame relay to MPLS enables a company to double its bandwidth network-wide while paying only about 10% more overall, Pierce says. One of Forrester's enterprise clients expects to save about 40% in telecom charges by moving from frame relay to an MPLS data network, she adds.
In the past year, network systems integrator iWave has helped approximately 20 midmarket companies migrate to MPLS. Many clients see cost savings across the network, or at least in areas where leased lines are pricey, says Bob McGuire, a managing partner at the New York-based company. Even if the move is cost-neutral, the improvements make it worthwhile, he adds. "They get a real private network, higher port speeds, higher bandwidth, better management."
But industry sources warn that corporate decision makers should by no means assume that MPLS is a good move for their organization. "Sometimes MPLS can be overkill" in terms of a firm's networking needs, McGuire says. He recommends an in-depth, circuit-by-circuit cost analysis -- old versus new -- to calculate what, if any, savings there will be. The salient expense items include leased routers at every site, local-access charges, port charges for carrier links (which vary according to a site's bandwidth needs), plus monthly charges for class of service and bandwidth management.
Then there are the human costs of designing and installing an MPLS network that meets your particular needs and continues to meet them over time. "These are not easy installations," McGuire warns. "I've been on multiple projects that lasted 10-plus weeks. You're building your own network with your own special design instead of just using the public network."
Figuring out class of service and bandwidth prioritization can be complex, not to mention politically sensitive (which application or user group comes first and which gets bumped during a traffic jam?). "All that has to be implemented, then tested, to make sure it works; then you have to build backup," says McGuire. "The schematics are fairly complex. You have to ask, 'Is it worth doing?'"
"When you're doing a full-mesh network [with every site needing to talk to every other site], you begin to see a price distinction between frame relay and MPLS, particularly when the number of PVCs [private virtual circuits] gets larger than the total number of sites," says Manish Malhotra, AT&T's director of virtual private network services.
Conversely, companies with a hub-and-spoke network configuration -- remote sites linked to a data center, for example -- are unlikely to realize significant cost savings moving from frame relay to MPLS, Verizon and AT&T spokespeople agree. As O'Neal Steel illustrates, however, companies may still want to use MPLS' class of service to ensure adequate response time for business-critical remote applications.
Natural Candidates
A growing number of midmarket companies see MPLS, and its class-of-service feature, as an important element of long-term converged IP network strategies -- in particular, VoIP.
Byram Healthcare, a distributor of home medical supplies, wanted to deploy an interactive voice-response system that would provide quick, automated responses to common customer queries and direct other calls to the appropriate service representative. It adopted VoIP as the most cost-efficient and reliable way to route customer calls between its three call centers. This in turn led to the decision to migrate from frame relay to MPLS, reports Richard Entrup, the company's CIO. "We needed to make sure customer calls to service representatives got priority over email or Internet surfing -- or anything else," he says.
Indeed, any firm that that needs to guarantee bandwidth and response time between multiple sites is a natural candidate for MPLS. Arizona Tile sees MPLS as a means of ensuring that point-of-sale and ERP transactions travel quickly and reliably between a central host and some 27 facilities in seven states. Last year, when the tile manufacturer's network service contract was about to expire, it decided it was time to replace its frame relay service. The company had suffered several outages, some lasting as long as 20 minutes, during which retail outlets had to handle orders manually. This was simply unacceptable for a firm that emphasizes efficient customer service, Barnes says.
"Based on what we learned about packet speeds, quality of service, overall performance and failure rerouting around trunks, we decided that MPLS is a much stronger network environment that we can rely on for our remote locations," she says. The company is now considering request-for-proposal responses from several leading MPLS service providers.
Business continuity was the chief reason that $33-million Nicholas Financial moved to an MPLS network. A couple of years ago, "when hurricanes were ganging up on Florida," the Clearwater, Fla.-based firm decided that a disaster recovery site was necessary, says CIO Mike Marika. The company, which does business financing for cars and light trucks, has 44 full-service branch offices in 10 states, all linked to a central Unix server at headquarters. Branch managers need to access the server regularly to look up a customer's credit history, enter a loan in the books and so on. "So there's a lot of real-time back-and-forth" over the remote links, Marika says.
Nicholas Financial needed a backup facility that would ensure business continuance in the event that a storm or other disaster took out the main server. "But we didn't want it to be elaborate or expensive," Marika says. The firm's carrier, MCI (now Verizon), suggested MPLS: "It seemed ideal."
If a hurricane threatens, Nicholas Financial alerts Verizon to go into disaster recovery mode. That means doing a full update of the backup server, which resides at the carrier's hardened facility in Tampa. Verizon then reconfigures the MPLS network to route all branch-office traffic from the primary data center to the backup facility.
Verizon's MPLS service costs about the same as a regular VPN but offers additional services, such as 24/7 proactive monitoring of a customer's circuits, Marika says. Another plus: The carrier's private MPLS backbone is isolated from the Internet, which helps the firm comply with regulations like the Sarbanes-Oxley Act.
Risk Factor: Management
Whether MPLS proves to be a viable solution for your company will also depend on choosing the right type of service and configuration. One critical question that needs to be answered up front: How much management responsibility do you want your in-house staff to take?
MPLS comes in two flavors: managed and transport-centric. In the former, the carrier takes over the entire management and provisioning of a customer's WAN infrastructure, including on-site MPLS edge routers. In the latter case, the service provider is responsible for providing site-to-site MPLS connectivity across its backbone, but the customer maintains on-site MPLS edge routers and is responsible for end-to-end network performance.
Midrange companies typically go with transport-centric networks because they are cheaper, says Pierce. The downside: "Risk of performance and security problems can be high," especially when a firm has a limited IT staff and a bare-bones network management infrastructure. "The more applications are riding on top of MPLS links, the more management you need," Pierce notes. In such cases, decision makers should consider turning management over to a third-party service.
Byram Healthcare and Nicholas Financial both went with a managed MPLS service: "We don't have three or four network engineers," Marika says. Managing in-house might work with only 10 branches, "but when you're getting close to 50, it becomes tough and expensive." Arizona Tile, by contrast, "might go to a managed network down the road, but right now we own and manage our edge routers," Barnes says. A future deployment of a disaster recovery site might motivate the company to go with a managed solution, she adds.
Another important choice with tradeoffs is whether to migrate gradually or all at once. As Forrester's Pierce says, "It's harder to move your entire network to a new service than to just change out the core and keep your edge frame relay or ATM [router]." But in order to have end-to-end class of service for VoIP or video over IP, you need end-to-end MPLS.
Byram Healthcare is making a onetime transition from frame relay to MPLS so that it can implement class of service for a business-critical voice over IP application. Arizona Tile plans a gradual move from frame relay to MPLS, with a significant period of coexistence. "Let's say we have four stores on one remote frame relay link," says Barnes. "We can move one store at a time, honing quality of service and reliability as we go. And if something goes wrong, we can point traffic back to the old frame relay circuit." Having that failsafe extra line is important for Barnes' peace of mind, particularly given that "MPLS is a new technology for us."
Are We There Yet?
Indeed, MPLS is new for everyone, so safeguards are good insurance. Moreover, while the technology itself is mature, commercial MPLS offerings are still in the ramp-up stage, according to Forrester's Pierce. For instance, few providers have fully meshed MPLS backbones, which means that IP packets may be forced to make several hops to reach their destination. This can affect the network's overall ability to recover and route around problems and delivery times.
Further, while MPLS carriers provide secure intra-company connections over their own backbones (not the Internet) some do not yet support network-based Secure Sockets Layer (SSL) VPN connectivity. This limits customers' ability to provide secure connections between their MPLS-connected sites and extranet partners and mobile users.
CIOs also say that service providers need to give customers more dynamic and granular control over bandwidth allocation and quality of service. "Applications come and go; there are acquisitions and restructurings, all of which require dynamic changes in the organization and the flexibility to adjust the network infrastructure to support those changes," Byram Healthcare's Entrup says. "We have yet to see the ability to throttle, turn up or turn down circuits in real time as we need bandwidth."
MPLS is clearly in the fuzzy area of its adoption curve, where the benefits are within sight but the pitfalls remain obscured. And there's no question that companies will eventually get there; the technology itself is forward-looking and dynamic enough to support a growing company's telecom needs for at least the next few years.
The CIOs we spoke with expressed confidence that MPLS is a worthy bet for their midsized companies. "Once we rolled out MPLS, our network was a lot more stable," O'Neal Steel's Gooldrup reports. "With frame relay, we seldom went a month without some kind of outage; with MPLS, we've had none." In addition, telecom costs went down, even after the company installed a backup DSL line at each location. "When we can upgrade our network and still reduce cost, that's great."
"Going forward, we don't want same old, same old," says Barnes. "Frame relay was the way to go in the '80 and '90s. Why lock ourselves into an old technology for the next three years? For us, the time for MPLS is now."
Elizabeth Horwitt is a contributing writer based in Waban, Mass. To comment on this story, email editor@ciodecisions.com.
Dig Deeper on Small-business IT strategy