Manage
Learn to apply best practices and optimize your operations.
The New Requirement for the CIO's Role: Learn to Work at CEO Speed
CIOs who report to the CEO have a tall order: keeping pace with their chief executive's penchant for quick action. But they can't leave careful analysis in the dust.
CIOs are fast becoming the chief executive's go-to guy. Which means they need to adapt to a blistering pace without getting burned.
CIO Ken Young ambled over to CEO Patrick MacLeamy's desk 15 feet away to show his boss WebEx, an online conferencing technology he'd been toying with. Neat, huh? The CEO's eyes lit up.

Download this free guide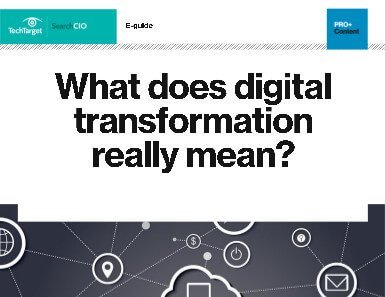 PDF: What does "digital transformation" really mean?
What exactly is digital transformation? You may hear the term often, but everyone seems to have a different definition. See how our experts define digitization, and how you can get started in this free guide.
"Ken, I want one of these in every office," MacLeamy ordered. "Do whatever it takes to make it work for the whole company."
Most CIOs' jaws would drop, but not Young's. After working for the techno-savvy MacLeamy for more than a decade at Hellmuth Obata + Kassabaum, a $405-million global architecture firm, this CIO knows how to manage up. Young swung into action: a contract signed in less than two weeks, the application installed on some 2,000 computers, employees trained in 24 offices, and wheels set in motion to get the board of directors up to speed.
"He's a really impatient guy. He likes things to go fast. And he's a guy who likes action," Young says of his CEO. "I've learned a lot about his personality in terms of time frames he thinks are acceptable. The CEO says, 'Yes, do it,' and I'm on the rollercoaster."
CIOs better learn to operate at this warp speed. As technology and business merge, more and more midmarket CIOs must answer directly to the go-go CEO. In a 2005 survey by CIO Decisions, almost half of CIO respondents said they report directly to the CEO -- a figure that's on the rise.
Data from the Society for Information Management in 2004 showed 55% of CIOs reporting to the CEO, compared with 41% in 2002. And a new Forrester Research study of 1,000 companies, 70% of them in the midmarket, also shows an upward trend: 35% of CIOs report to the CEO in 2006, up from 29% in 2004.
Health Quest Systems Inc., a three-hospital chain in Poughkeepsie, N.Y., is part of this trend. In 2003, CEO Adil Ameer restructured his executive suite so that CIO Nick Christiano reports directly to him. "The CIO's role is becoming extremely critical in health care, and therefore it should not be buffered by layers between the CIO and CEO," Ameer says. "There needs to be rapid exchange of ideas and information, and that can only be done if there is unfettered access."
The problem is that CEOs and CIOs tend to come from opposite ends of the corporate world. Their personalities often clash, like a tuxedo jacket with plaid pants. Consider the strikingly different approaches MacLeamy and Young take when tackling challenges.
"Once I have an idea in my mind that would be a good thing for us, I can be politely pushy," MacLeamy says. "OK, quite demanding. I like to get things done."
"I tend to be a bit more methodical, because I have to dot the i's and cross the t's," Young says. "With technology, sometimes I want to be more cautious."
The Well-Prepared CIO
Some CIOs have been able to make the leap, becoming trusted sidekicks of the CEO. Their secret? They've become double agents of information: as fleet-footed as their whirling dervish of a boss and as controlling and measured as, well, a CIO. In other words, what makes these relationships work is that the CIO is able to appear as decisive as the CEO but, behind the scenes, continues to toil in due diligence to know beforehand how things will turn out.
The position is often a tough one. "CIOs have to be faster," says Health Quest's Christiano. "Anything my CEO wants, the chances of me being able to do it in the time frame he wants is not going to match. If he wants a major IT infrastructure put in place in three months, and I know the typical installation takes 18 months, it is very, very hard to say, 'Hey, look, let me explain why there's a gap of 15 months in your understanding.'"
The trick is to anticipate the CEO's headlong rush, says Christiano, who has 30 years in IT and an MBA in finance. "If you've been in technology and you know where IT is going, and you know where business is going -- which is all your CEO is concerned about -- you have the alternatives ready." When the request is made, the answer should already be in the works.
Put another way, don't go floating an idea without a battleship of data behind it. Christiano saw the folly of launching empty vessels not long after his new CEO took the helm.
For their first few meetings, the hyper-verbal Christiano remembers keeping his mouth zipped. Naysayers, he noticed, were getting nowhere. Ditto for the theorist colleagues who came up with solutions but lacked facts. "I'm seeing [CEO Ameer] is a guy who likes the 100,000-foot-view down: problem clearly stated, three alternatives, a recommendation and then -- depending on the decision -- 15 pages of details supporting the recommendation," says Christiano.
When Christiano finally pitched a major project, he was prepared. The IT veteran put together a complete decision matrix: options, contingencies, the cost of contingencies, a risk analysis and time lines for completion of each of the options. When he presented his proposal, it was covered in about 15 minutes, not the hours expended on less developed ideas. "The CEO opens it up to questions. Someone says, 'How do you do this?' I say, 'It's on page 3.' The CEO says, 'OK, let's do it.'"
Colleagues collared him after the meeting, asking him how he got this through so fast. "I said, 'This is how the CEO responds to information, this is how he wants it done, and this is how he is evaluating whether it is a good or bad business decision.'"
And he adds, "I've found that if I can distill down what people perceive as a highly complex topic and boil it down so that a sixth-grader could figure it out, then they can assimilate the challenges, the risks and the exposures of dealing with this in the technology world. A CEO has an attention span of about 15 seconds," he notes. "That's not a bad thing; I have an attention span of 15 seconds."
This approach gets a strong endorsement from Shelly Barnes, vice president of technology and process at Arizona Tile LLC, a rapidly expanding stone and tile chain. Like Christiano and Young, Barnes sees managing up as putting in the prep work prior to the big talk.
"Granted, I have a very good relationship with [CEO Robert Traxler]," she says. "But it's because I take the time, I do the due diligence. I don't sit down there and give him problems or just talk. I give him pieces of paper with information that he can take on a plane or wherever he goes and mark up. We're very efficient and effective with our time."
The Virtue of Bluntness
So how does a CIO get the CEO for a boss? In some cases, he is pulled along by a techno-savvy CEO. In other cases, he needs to do some pushing. While Young accompanied MacLeamy up the ranks at Hellmuth Obata's San Francisco office, and Christiano has a CEO who changed the reporting structure to gain direct access to the CIO, Barnes blazed her own trail to Arizona Tile's commander in chief.
Barnes had three bosses when she arrived at the company: Traxler, the CFO and the vice president of finance. "They all had different levels of appreciation of technology," she says. "So I had to break it down in different chunks to get them on the same page.
"It was a juggling act," Barnes says.
So much so that Barnes called a meeting. "I'm a very direct player, pretty blunt," says Barnes, who grew up working on her family's 100-acre ranch in Southern California. "I said, 'This is causing me a lot of work and time and sometimes aggravation. Even if we agree to disagree, somebody has the final say, and I need to know who that is.'" Her message came across loud and clear. In the office, Barnes sits directly across from Traxler, and she now reports only to him.
If you're thinking Barnes' boldness is a liability, think again. According to headhunter Dan Slavin, her proactive approach makes her a tremendous asset in the executive ranks. The best CIOs and CEOs have something special in common, he says: Both are strategic and need to be what he calls "extroverted influencers."
But therein lies a challenge. "Ten years into his or her career, the person who's on track to be a CEO will likely have lots of really good influencers to look at," says Slavin, who co-leads the technology practice for Egon Zehnder International's East Coast offices. Talented technologists, on the other hand, climb the ranks by being good at what they do. Their role models are mainly "introverted experts," and it is usually not until later in their careers that CIO-track talent gets the opportunity to lead, he says.
Nonetheless, CEOs expect their CIOs to be bold leaders.
"I don't want people who are my direct reports to sit there and listen to me and yes me to death; that's not going to make the company better," says Landstar System Inc. CEO Henry Gerkens. "I need people [like CIO Larry Thomas] who are going to challenge me and come up with innovative ideas."
Landstar is a $2.5-billion carrier and logistics company that relies heavily on technology. "The communication I have with Larry is almost daily. He's one door down from me," says Gerkens. "Technology makes a company better. If that CIO is not involved with the CEO, he loses the flavor of the direction of the company."
Breaking the Code
In fact, CEOs expect analysis-driven CIOs to rein in hasty, ill-conceived decisions. CIO Michael Lehman was in his job six months at Batteries Plus and reporting to an old-school CFO when he had to muster the courage to make a weekend call to CEO Russ Reynolds.
It was 2000. Reynolds, a thirty-something marketing whiz, was champing at the bit to take the company's franchise-operated stores into the Information Age. "He was extremely excited about this thing called the Internet and sales opportunities," says Lehman. "Everybody wanted to be in the e-commerce world, and we were not. We were bricks and mortar." The company had been talking to Siebel, a big player in customer relationship management space with a nice e-commerce product to boot. The executive team was close to signing a "huge engagement."
But Lehman was having serious doubts.
"I was extremely uncomfortable with the dollars we were going to spend and the fact that we were going about this backwards," Lehman says. "We didn't have the infrastructure to make it work." The company didn't have a point-of-sales system that could tie into its franchisees' systems, an intranet, a supply chain strategy or a warehouse. "We could have put up a nice-looking Web site, and there would have been no way to get orders fulfilled," says Lehman.
Scared for his job, on rocky terms with his immediate boss and wet behind the ears, Lehman made the weekend call. "We're not ready. We don't have the infrastructure," he told Reynolds. "Luckily he was having some of the same fears. At the last minute, we pulled the plug. Upset Siebel quite a bit."
"Thankfully, we decided against implementing an e-commerce in 2000 for several reasons," says Reynolds. "Mike Lehman and his team thought we needed to get significantly more internal infrastructure and capability in place first. They were right. If we had plowed forward, we would have a lot of problems."
As for Lehman, the experience was a lesson in leadership. "I really hadn't been in that position before -- to make the big decisions and see tempers flare," he says. "It was wonderful."
Indeed, for most CIOs, reporting to the CEO is a lesson in strategy; it's a front-row seat to where the company is going, plus the chance to bring IT to bear on that future from the start. "You can work with others, but typically when you report to a CFO or COO, IT is a cost center to be managed, as opposed to a vehicle to bring value," says Hellmuth Obata's Young, who learned that through experience at a previous company, where he reported to an operations guy and wasn't involved in strategic change. "I think it's critical to report to the CEO; it really is."
Of course the frontlines can be a scary place. "Absolutely you're more exposed," Young says. "But you know what? That's OK. That's good."
Linda Tucci is senior news writer for SearchCIO.com. Write to her at ltucci@techtarget.com.
Dig Deeper on Small-business IT strategy