Manage
Learn to apply best practices and optimize your operations.
The Latest Retail Accessory: Business Intelligence Tools
Retail's greatest business challenge today is competing on the customer experience. Here's how IT can help.
News flash: Men don't like to shop for clothes.
That's a problem if you're a men's specialty retailer. The Men's Wearhouse Inc., a Houston-based chain with more than 500 stores and $1.4 billion in revenue, is acutely aware of male "shopophobia" and is attacking it with an application that lets store clerks help shoppers build entire wardrobes in a single trip.
"Guys don't like to go shopping, so we want to satisfy them once they've made the trip to a store," says Jeff Marshall, former CIO at Men's Wearhouse and now CEO of its uniform and tuxedos division.
The proprietary software helps ensure that customers buy not only the sport coat they came in for, but also matching slacks, shirts, ties, belts and shoes -- even if some of those items need to be shipped overnight from another store or warehouse.
Few industries possess as much raw customer data as retail. And in today's retail world of limitless choice, overlapping niches and savage price competition, driving sales through differentiation and a unique customer experience is more important than ever.
"When you have parity in other aspects, you have to look for another angle, especially to drive topline growth," says Carl Steidtmann, chief economist at Deloitte Research and author of a paper titled "Synchronicity: An Emerging Vision of the Retail Future."
Focus on: Retail
Top business challenge: Increase sales in face of ever-expanding "nichification" that retailers face.

Solution: Squeeze more revenue out of existing customer base, especially most frequent shoppers.

How IT can help: Do a better job turning customer data (which is plentiful) into predictive information.
With the industry forecast to grow a tight 3.5% this year, compared with 6.7% last year, according to the National Retail Federation, new business is a big concern. One way to achieve differentiation and thus drive sales is to do a better job identifying and catering to the most frequent shoppers.
That's an effort far too few retailers have undertaken despite its benefits, Steidtmann says. "Those that are doing anything are doing it on an ad hoc basis," he notes.
Indeed, retail is not yet maximizing analytic or business intelligence (BI) tools. The industry ranks sixth in its use of BI, behind financial services, communications, manufacturing, health care and technology, respectively, according to London-based BI research firm Datamonitor PLC.
"Most CIOs live in a world where IT cuts cost," says Greg Buzek, president of IHL Consulting Group Inc., a retail consultancy in Franklin, Tenn. He cites an IHL event for CIOs at which attendees were asked what they would prefer: a 10% increase in sales or a 10% decrease in cost. "Eighty percent chose the cost reduction," Buzek says. "These programs [to maximize revenue from frequent shoppers] must be sold internally by marketing, or they won't get through the organization."
For IT, that means partnering with the business side, but with no guarantee of new budget dollars. The number of retailers that plan to increase IT spending in 2005 is below average, according to Cambridge, Mass.-based Forrester Research Inc. Of those that will increase budgets, the survey found, infrastructure is the top priority. That means IT must achieve better results with existing tools in any effort to squeeze more revenue out of existing customers.
Cleaning up and consolidating customer data is a solid, if unspectacular, way to get started.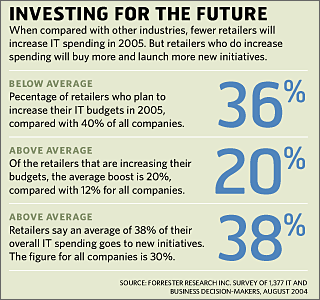 Back to Basics
Data cleansing and consolidation can be a tough sell because these activities don't have an immediate positive impact on the business, but they are a necessary step for retailers seeking to create loyalty programs and otherwise improve relationships with existing customers, says Rob Garf, a retail analyst at Boston-based AMR Research Inc. "It's easy to get caught up in some of this advanced technology, like kiosks or self-checkout, but retailers need to look at their core foundation and infrastructure first," Garf says.
Lenox Inc., the retailer of gifts and collectibles that's a subsidiary of $2.2 billion Brown-Forman Corp., is in the early stages of an effort to better target existing customers. Bob Palmer, vice president of IT at Langhorne, Pa.-based Lenox Collections, believes the company may have a head start because of its longtime usage of direct marketing. "In that kind of world, more so than at a typical retailer, a database has always been fundamental," Palmer says.
Last year, Lenox's senior executives launched an intensive effort to capitalize on that database. "We always had a great deal of customer data [gathered] through various touch points: our Web site, direct mail, point of sale," Palmer says. "What's critical is a holistic view."
Garf says this desire is universal: "Retailers have been collecting [point of sale] data forever," he says, "but they haven't done a great job of analyzing it to drive their business decisions. It's so much data that turning it into actionable information is hard."
Lenox opted for a database from Acxiom Corp. and the Affinium suite of analysis and predictive modeling software sold by Unica Corp. After months of testing, Palmer's team went live with the applications in early November. While the initiative is too new to be deemed a success, Palmer says he's seen some positive results. "It's almost circular," he says. "We get information on consumers from various touch points. We do business intelligence and data mining. Then we feed the results into Affinium to come up with customized offers."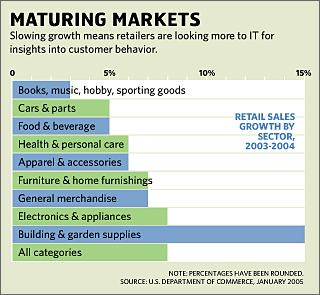 'Bellwether'
Another compelling reason to learn more about frequent shoppers is the "80/20 rule," which in retail means that 20% of a store's customers drive 80% of its sales (although some analysts say the ratio is more like 90/10). Thus retailers are anxious to study how pricing and merchandising affect the purchase decisions of this group.
That's one of the goals at the privately held Orvis Co., a $250 million (according to Vermont Business Magazine) maker of sporting goods with 46 stores and online sales. The nation's oldest mail-order company, it's working with Exigent Partners LLC, a BI consultancy in Warwick, N.Y., to improve its understanding of how dedicated customers react to change. "We've created what we call our Best Customer Control Group," says Mark Holmes, Orvis' vice president of IS. "These people behave consistently -- they've been shopping regularly with us for a long period of time, and we send them all our catalogs. We can use that group as a bellwether for merchandising: If we change price points or merchandising, we should get a good indication [of how customers as a whole will respond]."
Most retailers, like Lenox, are trying to take a vast collection of raw customer data and make it usable information that will bring new insights.
"The trick is for retailers to truly incorporate this rich data into their planning and business activities," Garf says. "Is marketing working closely with merchandising? Are both groups working with IT to make sure they get the reports they need? Retailers are starting to change to leverage all this data, but we're still in the early stages."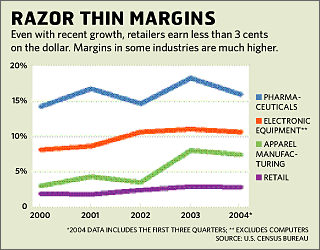 For Retailers, Customer Centricity Is Back to the Future
by Cathy Hotka
A hundred years ago, store owners knew neighborhood customers by name. They knew which items would sell and which would not. They knew when to extend credit to favored customers. They practiced micro-merchandising. It was that personal contact that enabled exceptional customer intimacy.
Fast forward to 2005. Many retailers are huge (Starbucks has 7,000 stores). Regaining insight into customer motivation is the subject of feverish activity, as stores try to figure out how to survive and thrive in the 21st century.
It's called customer centricity, and customer-facing businesses like retail, banking, hospitality and food services are all over it. They are concentrating on thinking like the customer, examining the customer experience and providing superior service. A recent Retail Industry Leaders Association (RILA) survey of 100 top retail CIOs found that technology leaders are key figures in these companywide efforts to replicate in huge institutions the kind of customer intimacy that corner store owners enjoyed 100 years ago.
CIOs are already involved in massive data cleansing and synchronization projects, and are using nifty new statistical analysis tools to optimize prices, markdowns and merchandise assortments. Their presence provides needed process knowledge and discipline, and some CIOs report that they lunch regularly with line of business executives who own different parts of the same project.
Midmarket Innovators
As retailers work hard to regain that personal touch, the medium-sized ones are perhaps the most innovative because they cannot simply throw money at projects. Instead, they test concepts with modest skunkworks teams, then roll out interesting approaches that work. Here are some recent examples:
An office supply retailer realized that some customers regularly paid in cash while in the store. Some were small-business people who had only recently emigrated from other companies and had not established credit. Concerned that these customers would have access only to the limited selection in the store, the retailer installed Web kiosks in the store and attached a receipt printer. Now customers can choose from the larger Web inventory, ask for delivery to the store, print off a receipt and take it to the register to pay in cash.
A footwear chain tapped its IT department to study selling patterns. Perhaps not surprisingly, it learned that women's shoes sold best when there was a sale on children's shoes. Fashion-starved moms held off on indulging themselves until they had bought necessary school shoes for their kids. The chain modified its point-of-sale system to enable special sales on adult shoes when children's were purchased; sales shot up.
A menswear retailer recognized that women purchase most men's clothing. To spur sales, the chain deployed a new database to hold male customers' measurements. It's available to every store through persistent connectivity. Now men have no excuse for shabby outfits -- their significant others can purchase them clothes they know will fit.
Application to Business Problems
This isn't the whiz-bang, "if it plugs in we want it" technology frenzy we saw 10 years ago. This is the thoughtful application of business tools to well-defined business problems by technology and process experts. The result is a startling transformation of C+ businesses into A+ powerhouses that own categories and redefine the retail world.
There are big-bucks innovations around the corner, too. IBM is showing a system that integrates cameras with sensors to detect a customer's hand motion toward a display. It can then create a virtual terminal on a wall nearby to provide additional information. Need to know where the product you want is located? The new system will display light-up footprints on the floor to guide you there.
Much of this work has surprisingly humble origins. Sure, there are some customer-centricity consultants with if-you-have-to-ask-you-can't-afford-it rates. But some companies are reading business books, talking to colleagues and (gasp) shopping in their own stores to learn more about what can be done.
If your company hasn't included IT in its customer efforts, seek out some business colleagues and do some blue-sky analysis of advancements that your business needs. Ask customers what drives them to shop -- and what drives them crazy. Have a burger with a marketing person and volunteer to help. Your bottom line will thank you.
Hotka, a former CIO, is principal of Cathy Hotka Associates, a retail consultancy.
Dig Deeper on Small-business IT strategy