Manage
Learn to apply best practices and optimize your operations.
The Gamer Gap - (bookshelf)
Video-game fanatics aren't the office slackers, according to the book "The Kids Are Alright." In fact, they may just be natural-born leaders.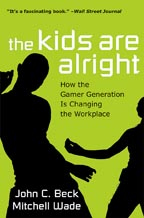 Are video-game players the slackers who helped usher in the dot-com bust, or are they the next generation of business leaders who have successfully established a new work style?
In The Kids Are Alright, co-authors John C. Beck and Mitchell Wade argue that the 90 million gamers raised on Nintendo may not have much in common with the previous generation, but their workplace habits are actually encouraging signs for the future of business.
Baby-boomer colleagues often see gamers as irreverent, careless risk takers who treat the workplace like a break-time installment of Blue Dragon and who believe they can simply "reset" in the face of professional failure, say the authors. In fact, gamers bring serious business game: They think on the fly; learn best through hands-on, self-education; use trial and error to problem-solve; and have a big-picture perspective that makes them natural-born leaders.
But, say the authors, neither generation can gain benefit from the other without bridging the cultural gap. The authors counsel giving Game Boys to your board and getting gamers to work alongside their older colleagues to learn that "real leadership is more complex" than conquering every level of Tetris. (224 pages, $14.95)
Lauren Horwitz, former managing editor, production, for CIO Decisions, is now managing editor for TechTarget's Data Center Media Group. Write to her at lhorwitz@techtarget.com.
Dig Deeper on Small-business IT strategy