Manage
Learn to apply best practices and optimize your operations.
The Eternal Quest for IT and Business Alignment
The next step in IT-business alignment requires that CIOs move from reactive to proactive roles.
Over the past 50 years of computing, a near-mythic quest has arisen. Urged upon us by scholars, management gurus and overzealous regulators, a state of alignment has been touted as the ultimate goal. In its broadest sense, alignment is the process of adjusting all the moving parts so they are properly positioned and in harmonious synchronization.
Total alignment hasn't happened, of course, nor is it ever likely to. There are simply too many moving parts. That's especially true in the business world, where alignment with technology is an endlessly moving target. So rather than frustrate you with roadmaps to places that don't exist, this CIO Habitat addresses the problem of misalignment and what midmarket IT leaders can do to minimize its effects.
Distilling the experience of our 105 responding organizations (78 midsized and 27 large enterprises), we identified three stages in seeking alignment:
Assessment. Establishing who is involved and from which starting points the alignment process begins.
Agreement. Creating consensus about what needs to be done, by whom and with what constraints.
Execution. Ensuring follow-through on the agreed-upon business objectives.
But by far the most important ingredient of alignment is time -- and where you spend it.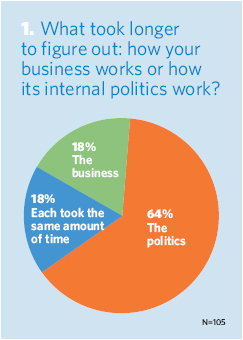 Assessment
In seeking alignment, executives frequently make the mistake of failing to devote sufficient time to assess who needs to be aligned. Once you determine "who needs to be on the bus," as Jim Collins writes in Good to Great, you are ready to do what we at the IT Leadership Academy identify as most important for alignment: You have to figure out what the people on the bus are thinking.
As Figure 1 shows, we asked respondents how much time it took them to figure out how their organizations work (about 10 months) and how much time it took them to figure out company politics (about 28 months) -- nearly three times longer (though female respondents understood internal politics in six to nine months). And the most effective aligners increasingly use social networking frameworks to guide their behavior.
While social networking certainly scores high on the hype meter these days, there are some powerful and useful ideas at work here. Social networking theory posits that people play different roles within networks. The primary roles are hub, gatekeeper and pulse taker. The hub -- as in a hub-and-spoke system on a bicycle wheel -- is the central point of activity. The gatekeeper is positioned at critical pathways that connect hubs to one another within an organization. The pulse taker is connected to just about everyone via the shortest route and knows what everyone is thinking and feeling.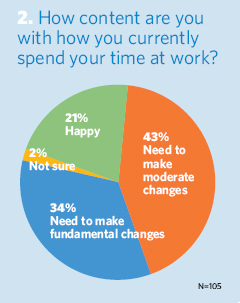 Taking Alignment Out to Lunch
One of the best practices of our respondents was collecting and understanding the metrics that resonate most with the business side. The VP and technical director at a midsized Midwestern bank explains that the first thing he does is identify "what metrics [business users] use to judge success." Every time an executive is hired or promoted, the VP schedules three lunches with the executive.
At the first lunch, the VP asks the executive to discuss the mission of the enterprise and the metrics he plans to use to gauge progress. At the second, the VP highlights how these metrics line up with existing IT initiatives, then the two brainstorm on future IT projects to elevate performance. At the third lunch, the executive tells the VP how IT is doing.
We also asked respondents how satisfied they are with how they spend their time (see Figure 2). Only one-fifth of respondents are happy with the status quo, and one-third want to make fundamental changes in their daily activities. Spending more time with customers is a high priority (see Figure 3). Indeed, CIOs tend to associate alignment with greater customer contact. That holds true for both large and midmarket enterprises.
As one C-level technology executive at a financial services firm explains, alignment is "working with the business to supply them with technology that makes them more efficient, profitable and [that] increases customer satisfaction. I visit branches and departments. I sit in on departmental meetings. I ask my team to keep their ears open to hear what employees need to make their jobs easier."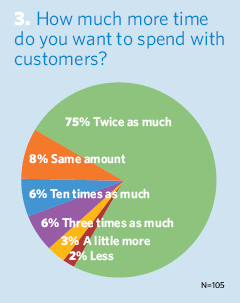 A senior IT executive at an aerospace firm concurs. "Alignment is the support of our internal customers' strategic goals with technology products capable of increasing customer satisfaction. It is delivered in products in terms of cost, quality, schedule, morale and safety."
The CIO at a services firm agrees that one must "get physical" to get alignment. "In my first two years as CIO, I was constantly surprised by the reaction of our business partners to our plans, proposals, budgets, etc.," he says. "I was pretty discouraged until I had a lunch with our chairman."
The company chairman explained to the CIO that building consensus couldn't be accomplished through "fancy PowerPoints and complex reports" but by "taking people to lunch and having conversations," he says. "I learned that the opinions of the business unit heads are shaped just as much by their interactions with you as [by] your interactions with their subordinates."
Agreement
For quite some time, there's been a running argument in business and academia about whether IT should play a leadership role in shaping the strategy of the firm. Organizations generating supranormal returns to their shareholders frequently have activist IT, meaning an IT organization that both challenges and works hand in hand with the business to do amazing things in impossible time frames.
Another school of thought maintains that IT is essentially a support function, attending to the wishes of the business. David Norton and Robert Kaplan present this hypothesis in Alignment: Using the Balanced Scorecard to Create Corporate Synergies. But with all due respect, I think they are wrong. IT can and must be much more than a support function.
For CIOs to believe otherwise is to head for career extinction. In The Minding Organization, Moshe Rubinstein describes many examples of individuals working under constraints to creatively solve problems. Essential to creativity is the ability -- indeed the mandate -- not just to follow but to lead. As one CIO from an aerospace firm puts it, "If your organization doesn't want you to behave strategically, force them to. Failing that, quit."
Most IT shops start out by saying, "This is what we do," but then move to asking, "What do you need us to do?" notes the chief architect at a midmarket telecom firm. "Business units have demanded that IT come out of its operating cave and help explore the requirements of customers necessary to grow the business."
The next stage in the evolution of IT is stepping up as an equal and saying, "This is what we need to do." CEOs are asking their CIOs to do more than take orders. They are asking them to scan the globe for game-changing ideas. "Alignment means that IT is trusted to provide advice and guidance when changes to the business are anticipated," as one respondent puts it.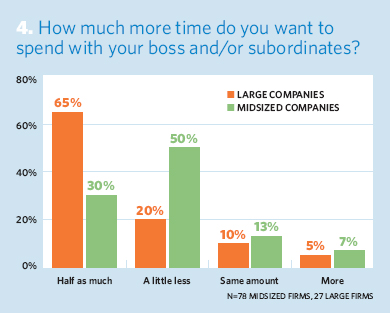 If your enterprise has consensus on the strategic role that IT should play, the question of how to put it into practice remains. The CIO at a federal agency identifies an alignment trouble spot: middle management. "All the executives are on board with the vision. It's the people in the middle who don't really know what is going on," he notes. This is a subtle but important point. Even CIOs at smaller enterprises can end up disconnected from their IT staff. Their direct reports may understand the alignment imperative, but somewhere in the chain the message gets lost. Using tools of social analysis to ask the pulse takers what they're hearing can help here.
Another federal IT agency has moved aggressively to ensure that people get on the same bus. It has set up a requirements office staffed with experienced business analysts and program managers. A person in such a role generally "started as a business user of IT and morphed into the IT go-to person in the department," this executive explains.
These business liaisons are assigned to critical departments to work with department heads and key business users, ensuring that IT is used appropriately. "We also have a systems engineering group that works with middle management in business groups to determine what types of technologies are needed [and to] identify and implement solutions," this CIO says.
The CIO at a professional services firm believes that alignment has changed over the years. "During the 1990s, alignment for my organization meant the president of a business unit saying, 'I need XYZ,' and our response was to start immediately working on XYZ," he recalls. "We were judged on responsiveness and flexibility. During the recession, we transitioned to looking at projects based on business value. We started to prioritize."
Execution
Our respondents don't have as much to say about execution, because once they achieve alignment, most IT organizations can make things happen. But there is a danger of over-executing. Organizations march forward and implement without noting that the business situation may have changed. Great organizations and CIOs stay attuned to context. When the environment changes, alignment has to be recalibrated.
The CIO at a transportation firm explains how his company executes alignment: "The business department heads are beginning to understand that they need to guide/focus the operations based on a central purpose/plan without adding a lot of staff. One way to accomplish this is through the effective use of work management systems."
In the field, managers are still able to plan their activities, but they report against an overall plan, says this CIO. "We have three line functions that are all working on implementing this capability. In the past, IT was an afterthought with these departments.
"Now IT is critical, because not only are [these departments] dependent on the systems to fulfill their daily responsibilities, [but] they understand there is valuable trend information that can be derived." For this firm, alignment means staying close to business groups and using IT to solve issues rather than waiting for users to ask.
Some companies are executing alignment by taking the goals of their business partners and drawing a direct line to the goals of the IT department. "If I can do that -- and execute at the pace the business needs and deliver results -- then we are in alignment," says Kevin Apperson, CIO of Allegis Group, a global IT staffing company based in Hanover, Md. "We do that by defining for each IS service who the customer is, what their goals are, how much the IS service costs (metrics are based on the customer) and a business plan for delivering the expected results," Apperson adds.
If alignment is a mutually agreed-upon vision of business direction broken into time-boxed technology milestones, it can indeed provide a powerful, recurring source of competitive advantage. But in truth, many large organizations lack clear direction. Midmarket companies have the advantage of smaller size and sharper business focus.
In Why Things Bite Back, Edward Tenner writes, "Humankind is either on its way to the stars, or hurtling out of a high-rise window to the street and mumbling, 'So far, so good.'" The aligned organization is bound for the stars; the misaligned enterprise is a couple of stories short of splat. Happy landings.
SURVEY METHODOLOGY: We surveyed 105 thought leaders and practitioners on their companies' IT-business alignment practices. The sample comprised large enterprises (26%) and midsized companies (74%) in industries such as aerospace, banking, health care and telecom. Researchers followed up with some respondents by e-mail.
Thornton May is a respected futurist, adviser and educator whose insights on IT strategy have appeared in Harvard Business Review, The Wall Street Journal, BusinessWeek and numerous computer industry publications. To comment on this story, email editor@ciodecisions.com.
Dig Deeper on Small-business IT strategy