Manage
Learn to apply best practices and optimize your operations.
That CIO Decision Point: What Does the CIO Title Imply?
In the few months that we've been publishing CIO Decisions I've run into a handful of readers who are chief information officers in everything but title. The surprising thing is that they actually don't want the title.

Download this free guide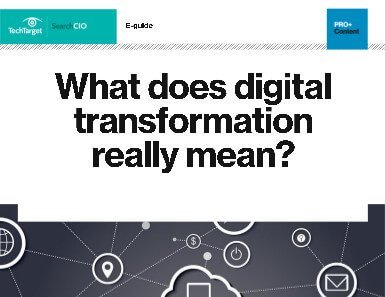 PDF: What does "digital transformation" really mean?
What exactly is digital transformation? You may hear the term often, but everyone seems to have a different definition. See how our experts define digitization, and how you can get started in this free guide.
By submitting your personal information, you agree that TechTarget and its partners may contact you regarding relevant content, products and special offers.
You also agree that your personal information may be transferred and processed in the United States, and that you have read and agree to the Terms of Use and the Privacy Policy.
Listen to Michael Pate, IT director for Complete Energy Services in Houston. "I think that [the] CIO title implies too many things, one of them being 'big corporation.' It's too grandiose," he says. With only four executives in the headquarters of this $290 million oil services company, even the CEO and CFO don't use the "C" word in their titles. "They'll call themselves vice president or head of finance," he adds. "To us, those 'C' titles convey a giant corporation mentality, and it's not in our best interest. We need to stay flexible and nimble."
Other technology executives I've talked with say they sidestep the CIO tag because they want to be viewed more as businesspeople than technoids or because it sounds too much like expensive overhead to their frugally minded employers.
But this avoidance of the actual title is an intriguing phenomenon in the midmarket, which we broadly define in CIO Decisions as those companies with annual revenues of $50 million to $2 billion. At what point does a smaller enterprise really need a CIO? Or title aside, someone who can both manage the technology function and envision ways for IT to advance the business?
Executive Editor Anne McCrory delves into those questions in Their First CIO, a case study of a $500 million biopharmaceutical supplier reaching its own CIO decision point. "We knew where we wanted to go, technologically, but we didn't know how to speak the language; we didn't know what things were out there; we didn't know how to put it in place," says the senior vice president of national accounts at FFF Enterprises Inc. in Temecula, Calif. "We didn't have the horsepower to do that."
Dan Gingras, a consultant with Atlanta-based Tatum Partners and a five-time CIO himself, says the CIO hiring moment usually arrives after a few years of rapid growth push company revenues over the $200 million mark. By then, the technology has grown pervasive and complex enough that it's critical to ongoing company success. Yet Gartner Inc. analysts estimate that only 10% to 15% of the companies at the lower end of the midmarket -- $500 million in revenues and below -- have CIOs or IT executives in strategic, influential roles. Once companies hit the $1 billion mark, Gartner says, only 50% of them have such IT strategists.
If true, that's either an enormous opportunity for the profession to expand -- or yet another serious question about its future. With all the rapid growth and the rising IT spending going on throughout the midmarket these days, I'm betting with the opportunity crowd. I believe more companies than ever will be approaching that CIO decision moment.
Throughout our issue this month, you'll find a range of stories, columns and information that we hope prove useful to your company's IT plans and strategies. They include the latest research on measuring IT value (CIO Habitat), an in-depth look at the impact of VoIP technology on midmarket companies (Making Strides with VoIP) and a thought-provoking piece on the coming IT labor shortage (Talent Crisis Redux).
I'd also love to hear from you -- whatever your title may be -- so drop me a line and share your thoughts.
Maryfran Johnson, is the founding editor in chief of CIO Decisions. To comment on this story, email editor@ciodecisions.com.
Dig Deeper on Small-business IT strategy